Take Hosting

&

Toasting

to

New Levels

with

Vegware™ Compostable Glassware
GOBLETS DISCONTINUED
The holiday season is approaching and for many, it is a time for reflection, turkey, shopping and most importantly-parties. Every hostess needs to coordinate what they're going to serve and what to serve it in.
Whether you are throwing a party, planning a picnic or coordinating an outdoor wedding, you should consider implementing these disposable, and more importantly, compostable drinking glasses and goblets from Vegware™ at your next catered function!
Replace Petroleum Based Plastics with Compostable Plant-Based PLA
There is a new technology available for foodservice and catering establishments and it's called Polyactic Acid (PLA). PLA is a plastic substrate made from fermented plant starch (usually corn) and it is fast becoming a popular alternative to traditional petroleum based plastics such as polyethylene. Products made from annually renewable plants are non-toxic, non-polluting and breakdown into healthy soil within 12 weeks. PLA based products also conserve oil resources and support cleaner production methods while protecting the health of our planet, ourselves and diverting waste from landfills.
Awesome For Outdoor Events
Your party guests or customers won't believe that these fancy disposable wine goblets, shot glasses and beer glasses are made of a certified compostable plant-based plastic substrate! These upscale Award Winning Vegware™ plastic drinking cups are priced to help you stay within your budget and will add an elegant touch to your spa, outdoor bar, wedding or party décor. They will also eliminate concerns over accidental breakage, theft or loss too!
Shop Now
Attractive, durable and stylish, these crystal-clear R175W-PLA Vegware™ 6-ounce compostable goblets are ideal for wine, eggnog, canapé salads, prawn cocktails and desserts. Cleverly designed and sold together, these elegant goblets arrive as a top and a base. Simply and quickly snap the two pieces together and serve away. They come packed 400 units per carton. *DISCONTINUED*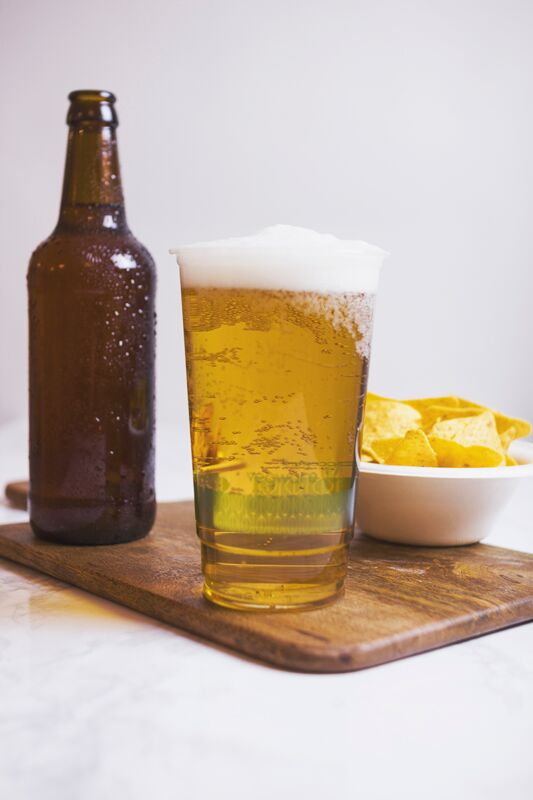 The crystal-clear and strong R700Y-G Vegware™ 24-ounce compostable beer glasses feature an award winning Green Leaf Band and are also used for non-alcoholic cold drinks, desserts, fruit, salads or snacks. They come packed 50 cups per poly sleeve, 20 sleeves per carton (1000).
If you will be serving shots, try these strong, crystal clear VWPP1 Vegware 1-ounce compostable portion cups. They are also ideal for cold dressings, sauces, sampling and juice shots. They are packed 100 cups per poly sleeve, 50 sleeves per carton (5000).
Vegware™ economical Wine Goblets and Cold Beverage Cups complement both casual and formal settings. They're a great addition to any indoor or outdoor reception or catered event.
Order these today and you'll spend more time at the party and less time at the sink - simply dispose them in the garbage along with the food scraps. Don't be surprised if these compostable drinking cups from Vegware™ turn out to be the talk of the event!
+shop for Compostable Beer Glasses here
+shop for Compostable Wine Goblets here
+shop for Compostable Shot Glasses here
Questions. Orders. Volume Discounts.
Monday - Friday 8:30am - 4:30pm EST
Toll-Free +800-274-4637 | +716-668-4001 | [email protected]
*We Can Ship to Canada*