LIGHT UP THE NIGHT WITH THESE
RECHARGABLE LED BEANIE HEADLAMPS
Industrial Winter Beanie Caps with Built-in LED Headlight Allow Wearers to Participate in Activities in Any Conditions Completely Hands-Free!

---
As the summer ends and fall proceeds, each day brings an ever-dwindling dose of daylight as the sun droops lower and lower each night. The farther north you go, the earlier it gets dark and here in Buffalo New York, it can get dark before many of us even have to leave work. This is due to our longitudinal position, the earth's spherical shape and a natural phenomenon called winter solstice.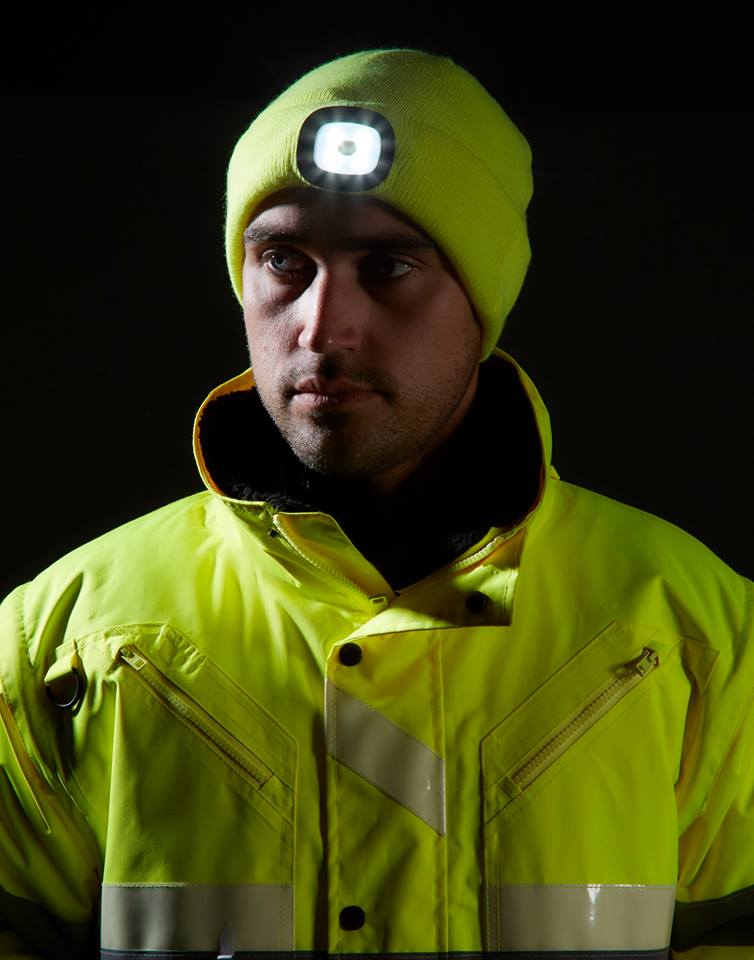 THE JOB MUST GO ON
Unfortunately some tasks, like snow removal or car towing can't be pushed off because of the lack of daylight. If you're searching for a light source that allows you to use your hands in dark conditions without the use of electricity, be sure to check out these high-performance industrial work beanies with built-in LED headlights.
Made from a super-soft acrylic knit material that will keep your head toasty warm in the cold conditions, our Portwest® brand of industrial unisex work beanies have rechargeable LED headlights that illuminate the zones directly in front and to the sides of you to help guide the way in the dark.
HIGH-TECH
The light fixture has four bulbs, and it has three brightness modes to choose from (high, medium and SOS/flash), allowing you to easily find the proper lighting setting for your need(s).
These headlight beanies provide about 2 hours of run time on the high setting and up to 4 hours of light on the medium setting. Flash mode is ideal for emergency distress signaling or increased roadside visibility when working, walking or cyclyling in dark conditions.
RECHARGEABLE
When it is time to laundry the beanie or recharge the LED source, simply remove the housing unit from the cap. You won't have to worry about carrying around another charging cable or adapter as the LED units can be recharged in any universal USB port in about 90 minutes. But be careful not to break off the plug. If it gets damaged, the LED light will be ruined but don't fret it, replaceable batteries are available!
HANDS-FREE
You can opt to grab a portable flashlight to provide illumination but with an ordinary flashlight, one of your hands will be constantly be tied up slowing down productivity while increasing the risk of failure or an injury. Conversely, with a beanie headlamp, you can keep both hands free for a secure grip and better freedom of movement making these winter beanies great for shoveling, climbing, sewing, arts, crafts, carrying gear and more.
INDUSTRIAL CONDITIONS ANYTIME, ANYWHERE
If you're a plumber, mechanic, fireman, contractor, painter, dry waller, miner, electrician, inspector or operate a towing service a portable hands-free light source most likely is an essential piece of your equipment.
Keep your hands free while providing bright vision no matter the time of day or circumstance with Portwest® rechargeable knitted beanies. Ideal for nighttime snow removal, dog walking, reading, trick or treating, skating, climbing, camping, jogging, walking, hiking, cycling or searching for items in dark spaces like linen closets, caves, attics, garages, basements, sheds and more.
+Shop Now
Stay visible and keep your head toasty warm while illuminating the area directly in front of you with. Perfect for industrial, commercial and residential applications, these winter beanies are available in different colors and feature a bright rechargeable 150 lumens LED torch light with a beam distance of 10 yards on the high setting and 5 yards in the medium setting.
The headlamp lies flat across your forehead, making it comfortable and easy to click between three brightness settings using the central button. The LED light also has enough spotlight range to illuminate a several feet in front of you and doesn't interfere with vision.
Features:
Brightness 150 lumens

Run time 2/4 hours

USB rechargeable

Function high-medium-flash (SOS mode)

Beam distance 10 yards (high), 5 yards (medium)

RoHS Compliant

Retail tag aids presentation for retail sales
Easily illuminate your work area and let your hands do the work! Perfect for dark conditions indoors or outside, Portwest® beanie lights are a must for snow removal, jogging and dog walks. These warm, high-tech, quality made and well-fitting knitted acrylic industrial beanie caps feature a three-mode, built-in rechargeable headlamp to help get the job done faster and easy! But don't our word for it,
Hands-free illumination is just a click away!
Free Shipping on Orders Over $499
Monday - Friday 8:30am - 4:30pm EST
Click or Call Today
●Orders. ●Volume Discounts. ●Questions. ●Samples. ●Special Requests.
Toll-Free +800-274-4637 | +716-668-4001 | [email protected]
"We Want You To Return Home Safely...Every Day!™