Freezer Gloves

for

Freezing Cold Workers
For many Americans, the Holiday season means family gatherings and home cooked meals that typically includes a turkey dinner. Many folks eat and then go home with no real concern about how the food they consumed made its way to the dining table. This is ok, its human nature to take simple things for granted, especially during good times. But let me share one fact with you, without turkey processing or processors we wouldn't be enjoying holiday traditions. Remember the pandemic pork shortage?
These workers endure bone chilling working environments that rival Antarctica every working day o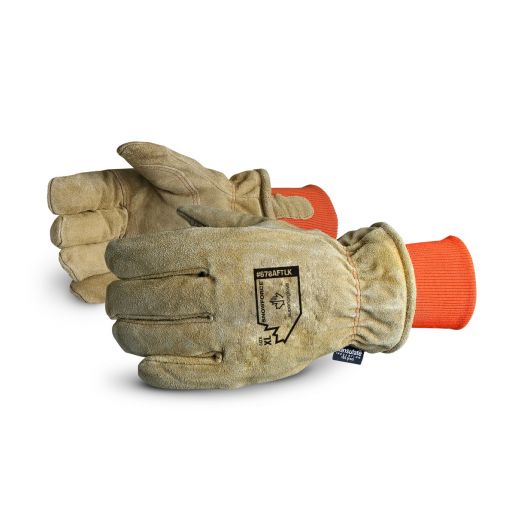 f the year. Once turkeys are dressed, they are specially packaged and then stowed inside industrial freezers rooms or cold storage warehouses where it is dark, damp and extremely frigid. With temperatures near or often below 0°F, the folks that work in these environments relay on industrial cold weather gear to keep them comfortable through their shifts, and the hands are no exception.
#678AFTLK SnowForce™
Popular among cold storage warehouse personal are these SnowForce™ Freezer Work Gloves! The #678AFTLK SnowForce™ grain cowhide leather gloves by Superior Glove® provide operators with comfortable, dependable hand protection for frigid cold working conditions down to -13°F.
Superior Glove® is one of North America's leading manufacturers and suppliers of industrial safety work gloves. As a company based out of Canada, Superior Glove® is no stranger to inclement weather. They've lived through the cold, frigid winters and that first-hand experience gives them the knowledge on exactly how to design the ideal winter work glove. From waterproof fabrication to traditional wool and nylon blends, to calfskin leather and Thinsulate™... Superior Glove® has lots of options to keep the hands protected and warm, without compromising comfort or dexterity.
Designed for industrial work settings, these 678AFTLK SnowForce™ Split Leather Thinsulate™ Lined Freezer Gloves are constructed with double leather palms and thumb patches designed for increased wear and protection. Extra-long, snug fitting Hi-Viz orange knit wrist cuffs seal in warmth and keeps the cold out. Full Thinsulate™ lining adds almost twice the insulation value of down, without being water-absorbent; gloves retain their insulating ability even in damp conditions.
Ideal for Refrigerated Warehouses, Outdoor Construction, Snow Removal, Vaccine handling, Cryogenic Labs, SnowForce™ gloves are a real asset to the worker exposed to winter elements, or any type of cold conditions. But don't our word for it, just tap the link and …
Free Shipping on Orders Over $498
Call or Click Today Questions. Samples. Special Requests.
Monday - Friday 8:30am - 4:30pm EST
Toll-Free +800-274-4637 | +716-668-4001 |

[email protected]
"We Want You To Return Home Safely...Every Day!