Yellow

Isolation Gowns

for

Hospital Isolation Procedures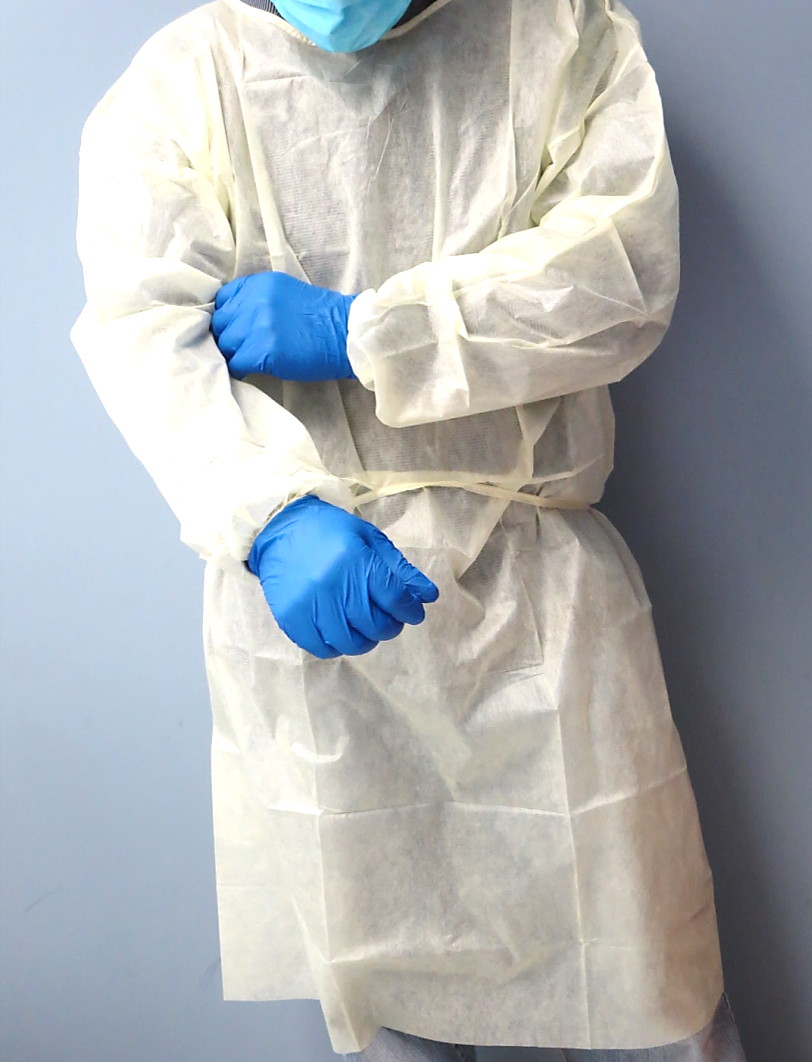 Within healthcare, the word isolation denotes a hospital or ward for patients with contagious or infectious diseases. In order to practice good infection control protocols, medical personnel working in these risky environments must wear the proper personal protective apparel to prevent exposure. Exposure could lead to personal sickness or the cross-contamination of pathogens among the patient and provider.
Virtually all mandated protective apparel worn in medical facilities are often yellow in color because it is the best color available to draw attention, it is hard to miss even from a distance, and signals contamination is possible within sensitive hospital areas.
Exposure to harmful substances can vary widely depending on the nature of the workplace. Many times, if gloves are being worn, a barrier gown is involved to complete the protection protocol for daily tasks. The main purpose of a protective gown is to protect the health care workers' skin and clothing from contamination when coming in direct contact with the patient and the patient's environment.
Disposable Yellow Isolation Gowns are a first defense for healthcare providers, patients, and visitors who spend time in a medical facility that faces the threat of emerging infectious diseases. A staple item within many hospitals, most disposable Isolation Gowns are constructed from spunbond polypropylene material.
WHERE PERFORMANCE & PRICE INTERSECT
Economical and comfortable, spunbond polypropylene is a very popular choice for basic protective apparel requiring routine light fluid spray, particulate protection, drapability and breathability. Protective barrier properties are formed by bonding fibers together to form a single layer of breathable, woven-like material that is economical, lightweight, comfortable to wear and allows operators to have full freedom of movement. When a thin polyethylene coating is applied to the outer surface, it transforms a fluid-resistant gown into an impervious gown sold in the market as PE Coated Isolation Gowns.
Personal safety starts and ends with quality protective gear and isolation gowns are a first line defense against the spread of diseases. Selecting a quality made disposable gown can be the difference between being healthy or sick. If you are searching for an economical solution to protect the personal safety of your staff against exposure, transmission or the cross-contamination of unwanted contaminates, then check out these single-use barrier gowns!
VERSATILE & POPULAR
Commonly worn in dental, healthcare, medical research, pharmaceutical and nursing homes, these popular single-use gowns are the perfect PPE solution for high consumption environments or large gatherings such as medical or dental clinics and universities, testing centers, vaccination sites. Constructed with a generous weight and length of fluid-repelling spunbond polypropylene, MDS Isolation Gowns feature a one-piece solid frontal panel, overlapping back panels, finished elastic cuffs, sewn construction, long neck and waist ties. These yellow barrier gowns are available in universal (large) and extra-large sizes and are often worn to will protect wearers against light fluid sprays, droplets, dry particulates in non-hazardous, dirty environments from the neck down past the knees!
Get covered and stay protected but first you need to tap the link and …
Free Shiping on Orders Over +$499
Monday-Friday 8:30-4:30 E.S.T.