Collect, Transport & Test Water Samples or Specimens
With These Leak-Proof Containers
Every year, millions of people living in the United States get their tap water from a public community water system which is one of the safest and most reliable drinking water systems in the world thanks to the U. S. Environmental Protection Agency (EPA). Regular sampling and testing ensures the quality of water.
Back In 1974, the United States Congress passed the Safe Drinking Water Act. This law sought to protect the nation's public drinking water supply by giving EPA authority to set the standards for drinking water quality and to oversee the states, localities, and water suppliers who implement those standards to assure that it is safe for public consumption. This law was amended back in 1986 and again in 1996 to protect drinking water and its sources, which include rivers, lakes, reservoirs, springs, and ground water wells.
There can be many sources of contamination of our water systems. The most common sources of contaminants include:
Naturally occurring chemicals and minerals (e.g., arsenic, radon, uranium)

Local land use practices (e.g., fertilizers, pesticides, livestock, concentrated animal feeding operations)

Manufacturing processes

Sewer overflows

Malfunctioning wastewater treatment systems (e.g., nearby septic systems)
Clean, stable water is very important to sustain life, and routine water quality testing ensures the health and well-being of all living species. Our disposable sample containers or jars can help assist water test experts and laboratories in rapid, accurate testing and transportation.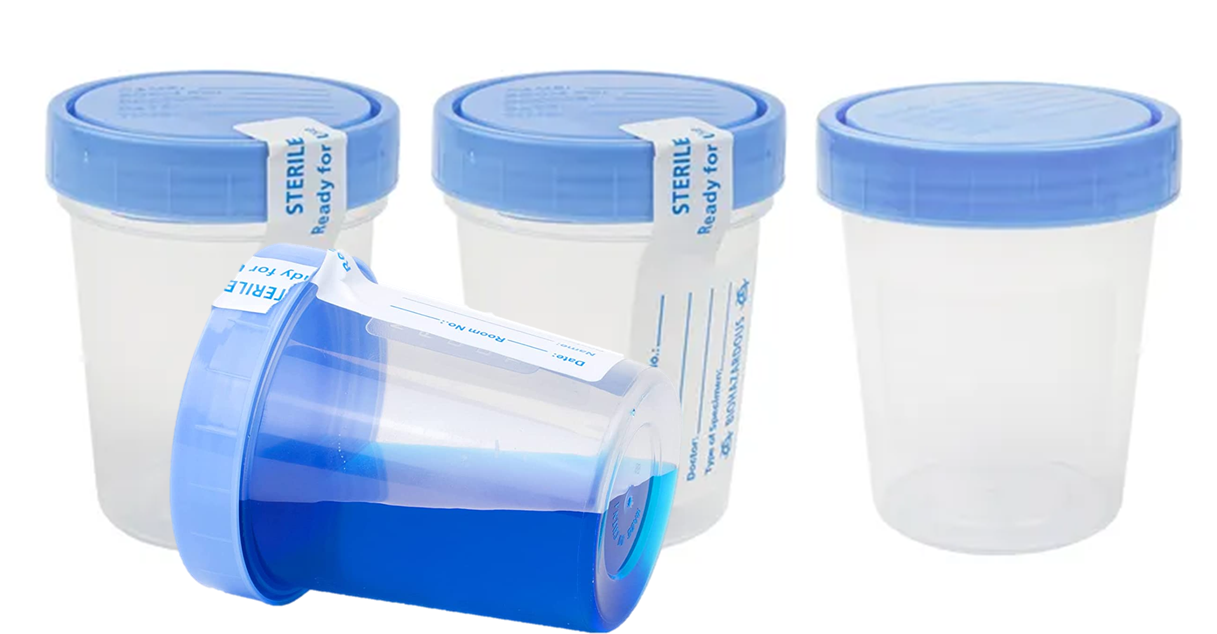 INDUSTRIAL WATER TESTING
Wells, treatment facilities, water storage tanks and distribution systems are routinely tested for the presence and levels of over 90 contaminants in public drinking water, including E. coli, Salmonella, Cryptosporidium, metals such as lead, and disinfection byproducts.
The water quality at zoos, aquariums or other animal facilities perform weekly water quality chemical tests on water barrels, aquatic systems and reservoirs, checking pH balance, turbidity, temperature, salinity, and ammonia and nitrate levels.
These disposable laboratory jars travel easily and make the handling, transportation and testing of water samples efficient and effective.
INDUSTRIAL WATER SAMPLING
Perfect for industrial water collection and environmental sampling, these translucent specimen containers ensure easy viewing of contents and allow proper handling and transportation without leaking. Constructed of very strong yet flexible polypropylene, these sampling containers feature molded graduations in ounces and milliliters with a capacity of 4 ounces. Each sample container includes an easy to use, wide-mouth blue leak-proof lid. Select from tamper-evident or reusable screw-on lid styles.
QUALITY CONTROL BATCH TESTING
Commonly used in drug testing, fertility clinics, hospitals, research, rehabilitation facilities, long term care residences, these disposable lab containers are also ideal for collecting, storing and transporting industrial, pharmaceutical, scientific, medical and environmental batch samples for laboratory testing and analysis. Chemically resistant and shatterproof, these specimen containers feature labels for writing important information such as the date, site location, name or product sampled. Uniquely stackable, these sample containers are easy to store while the sterile containers are individually wrapped to ensure cleanliness.
Versatile and practical, use these disposable medical jars to transport or store items such as paint, stain, sand, soil, powders, compounds, cosmetics, scientific formalin and fixatives, bodily fluids and specimens, dairy products, small parts, bait and much more. Punch a few holes through the lid to transport insects and small animals more safely.
+shop for Specimen Containers now
---
Questions. Orders. Volume Discounts. Sample.
Call or Click
Monday – Friday 8:30 – 4:30 Eastern Time
+800.274.4637 | +716.668.4001 | [email protected]