Try These New ZigZag Textured Grip Nitrile Gloves & Say WOW™!
If you currently use Ammex® Gloveworks HD brand gloves and grown tired of their inflated MAP pricing policy, then check out these New Industrial Latex-Free Disposable Nitrile ZigZag Grip Gloves! Better Performance-Half the Price!!
Disposable nitrile gloves are used to protect the hands from contacting fluids and to keep products clean. Nitrile style gloves typically have a smooth, satin-like surface and when it contacts wet or oily surfaces, they can become slippery making it difficult to handle wet instruments, tools and parts. To assist the gripping power, many factories emboss the gloves surface with a pronounced texture that's designed to making handling objects safer, easier and more effective.
Protective Industrial Products, Inc. (PIP®) is pleased to announce the launch of the NEW Ambi-dex® WOW™ Grip Disposable Nitrile Gloves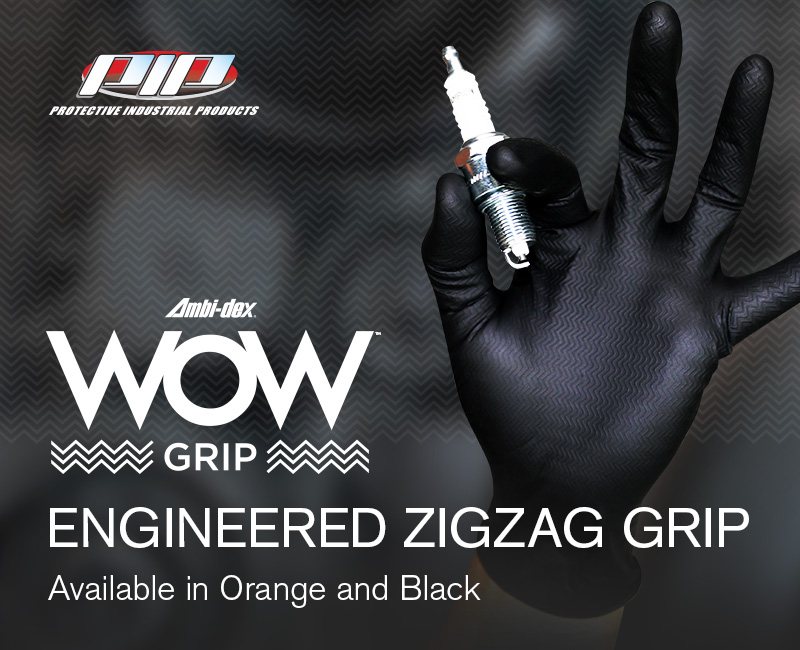 Extend budgets. Save money. Increase performance.
These Ambi-dex® WOW™ Grip Disposable Nitrile Gloves from PIP® are the next level in disposable hand protection. They're incredibly durable 8 mil thick gloves that feature a textured zigzag grip engineered to channels oil, detergent or soap away from fingers, giving the user a better grip. The ambidextrous gloves provide superior tactile sensitivity and amazing grip performance in wet or dry working conditions.
Powder-free for clean comfort, this new glove line is manufactured using a chlorination process that creates a less tacky glove surface facilitating donning and leaving no residual traces on surfaces.
Ambi-dex® WOW™ Grip Industrial Nitrile Gloves are constructed with extra strong stretch polymer nitrile that fits more snugly than traditional disposable gloves and offers maximum comfort, dexterity, good resistance to hydrocarbon derivatives, abrasion, snags, punctures and perforation. They will outperform and out last conventional gloves saving you money on waste and glove change outs.
These single-use gloves resist solvents and cleaning agents making them great for industrial, automotive, HVAC, sanitation applications and contain no natural rubber or latex proteins making them a healthy choice. Ambi-dex® WOW nitrile gloves are also compliant with FDA food handling requirements 21 CFR, Part 177.
Available in orange or black colors, Ambi-dex® WOW™ Industrial Nitrile gloves are available in dispenser boxes and sealed poly bags which conveniently travel with the operator and reduces waste. And lastly, you might want to check-out PIP's Grippaz™ Disposable Grip Gloves. These Grippaz™ gloves have a patented fish scale texture pattern on the outside and the inside of the glove for awesome traction.
+watch YouTube Video on WOW Gloves here
Order. Questions.
Monday - Friday 8:30am - 4:30pm Eastern Time
+(800) 274-4637 | +(716)668-4001 | [email protected]
We Want You to Return Home Safely Everyday