AN

EARTH FRIENDLY ALTERNATIVE TO TRADITIONAL TOOTHBRUSHES
Bamboo-Based Biodegradable Toothbrushes Eliminate Unnecessary Landfill Waste Yet Provide the Same Quality of Cleaning That Traditional Plastic ToothBrushes Can Offer
Although giant bamboo is formerly not a wood but rather a grass, it has outstand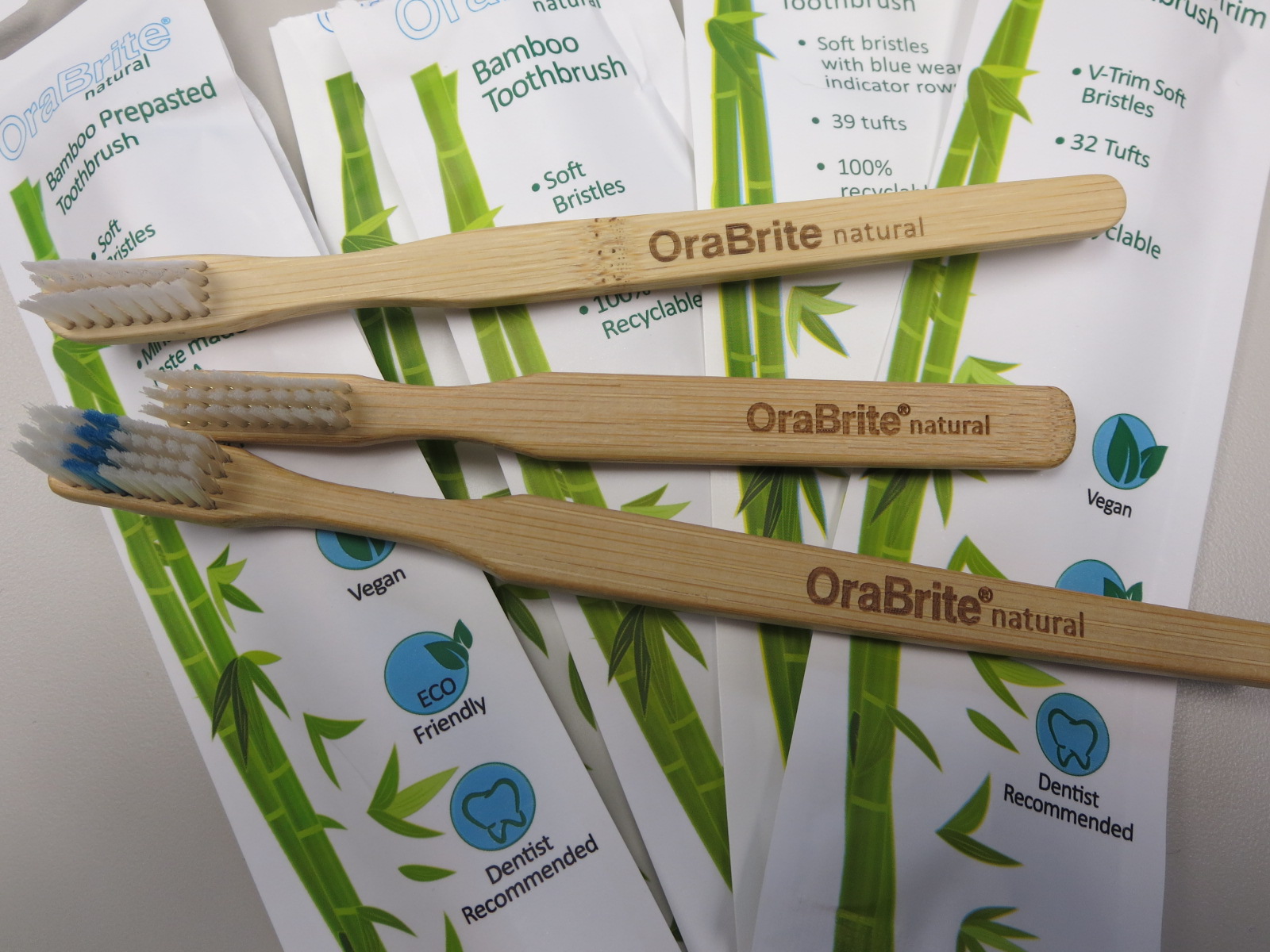 ing hardwood like characteristics. Bamboo is an 'endless' resource and grows faster than any other plant in the world – up to a yard per day making it a very sustainable crop.
A fast growing species, bamboo requires no fertilizer or pesticides and self-regenerates from its own roots quickly, rarely needs to be replanted and matures within 3-5 years. The fast growing grass is making its mark as an eco-crop and is a fast growing alternative to hardwoods that take 50+ years to mature. Phyllostachys Edulis or Moso bamboo, the species used throughout much of the world for everything from construction to consumer goods, is now available in professional toothbrushes.
Unnecessary Waste
According to the American Dental Association (ADA), people should replace their toothbrush every three months or when visibly frayed. Leading researchers claim this practice contributes to over 1 BILLION toothbrushes being disposed of annually here in the United States. This equates to 50 million pounds of additional poly waste added to our landfill and toxic microplastics into our environment ever year. Here's the worst fact ... toothbrushes take 400+ years to decompose – yikes! That means the very first toothbrush ever invented is somewhere out there!
Patients who frequent their dental office often return home with a 'free' toothbrush. This gesture signals that their dentist cares about their oral health away from the office but dental professionals contribute significantly to the problem. As the household item most Americans can't live without, the toothbrush won't be going away anytime soon. There's a new trend in dentistry and it is being well received by patients of all ages everywhere!
When it comes to manual type toothbrushes, we have a better, more sustainable solution for planet Earth. A new line of Eco-friendly, biodegradable professional dental toothbrushes from OraBrite® are designed to offer dental professionals, clinics and universities the option to transition to sustainable oral hygiene products, keeping the teeth clean and our planet cleaner!
OraBrite® Natural
Now available are quality-crafted toothbrushes constructed of biodegradable and naturally antibacterial moso bamboo handles with recyclable nylon-6 soft bristles. These bamboo brushes are individually wrapped in 100% recyclable paper packaging and bulk packaged 72 per carton. Bamboo style toothbrushes perform as well and as long as traditional plastic type toothbrushes. You may be wondering how long does it take a bamboo toothbrush to biodegrade?
If you just throw a bamboo toothbrush into your garden, it might take as long as 5-10 years to fully break down.

Buried horizontally in the soil, it will take around 3 years

A home composter should take around 4-6 months (depends on composition). You can speed this up by breaking the toothbrush down into small pieces with a hammer or saw.

An industrial composter should break a toothbrush down in a few weeks (they are much hotter and more active than any home composter).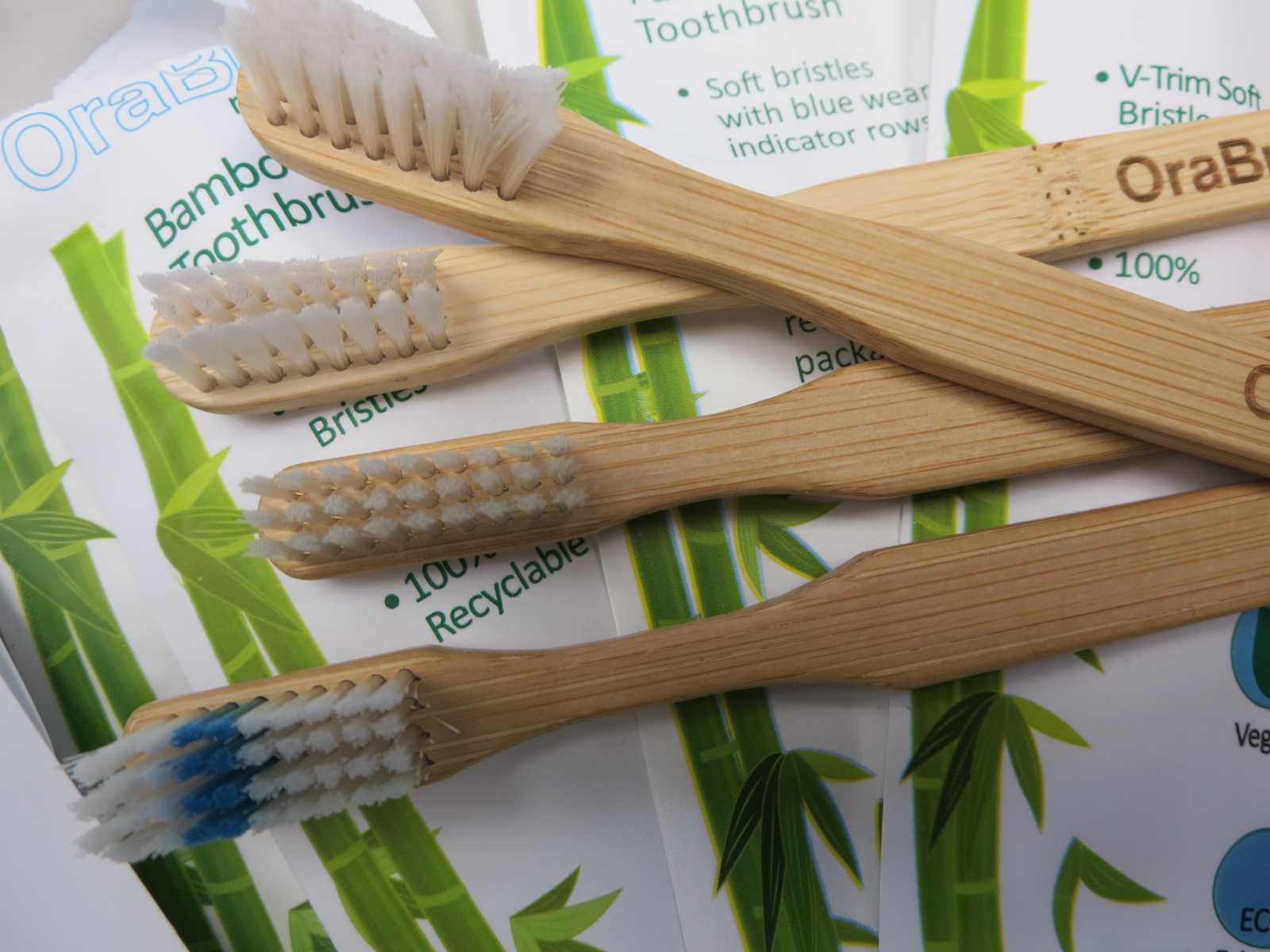 Our bamboo toothbrushes compete with national brand equivalents such as Colgate®, Oral-B® and Mentadent and can be custom imprinted quickly and affordably with your favorite slogan or contact information. They are available in the following styles:
Reduce. Reuse.

Recycle.
While toothbrushes are primarily purposed for oral hygiene, they can be a great tool for industrial or residential applications. They can clean small or tight spots, maintain electrical items, clean cooking implements, scrub sports equipment, can be used for arts/crafts and they make excellent garden markers!
Switching to a biodegradable bamboo toothbrush means there is one less plastic toothbrush floating around in the ocean or clogging up land fill. Consider reducing our plastic waste and pollution by switching to natural bamboo dental products today!
Volume Discounts. Questions. Orders. Custom Decoration.
Monday - Friday 8:30am - 4:30pm Eastern Time
+Free Shipping on Orders +$499
+(800) 274-4637 | +(716)668-4001 | [email protected]