Waterproof Winter-Lined Anti-Impact Industrial Hand Protection
Clutch Gear

®

Mechanic Gloves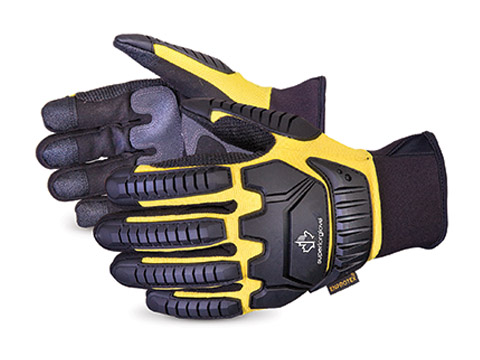 A first line defense to cold protection should always start with the hands. Hands are working instruments that complete tasks and no job is successful without them. For this reason, selecting the proper work glove for the task and condition becomes crucial to personal safety, productivity and comfort.
Cold and wet hands can cause fatigue which can lead to personal injury. In the winter, workers can experience both hot and cold hands throughout the day. Further, a job that's usually dry needs water protection if rain or snow is in the forecast. One of the primary requirements of any good work glove is the ability to manage moisture. Not only do you want to prevent water from seeping in, but it's also crucial to choose gloves that will keep your hands dry even when they're sweating.
When it comes to cold weather hand protection, the engineers at Superior Glove® take this seriously. Superior Glove® is one of North America's leading manufacturers and suppliers of industrial safety work gloves and as a company based out of Canada, they're no stranger to inclement weather.
Each of their work gloves are rigorously tested in-house to make sure they are up to the task. Using state-of-the-art digital testing equipment, Superior Glove® provides objective hard numbers on the abrasion, cut, impact and puncture resistance as well as thermal insulation data for any winter style work glove.
They test their winter gloves using thermal imaging. Thermal imaging uses a metal hand form, complete with internally heated sensors and pores for "sweating" to imitate the human hand and its characteristics. A glove is placed over the metal hand form then placed in a temperature chamber where it is tested against winter weather conditions, such as humidity, wind chills, and extreme temperatures down to -40 degrees Fahrenheit. These extensive tests and rating systems enable the designers to minimize glove thickness and maximize warmth, resulting in the ultimate protection against the harshest conditions.
Dry hands are happy hands, and that's what this Clutch Gear® style glove brings. These Clutch Gear® #MXVSBWFL Cold Weather Anti-Impact Mechanics Gloves provide warmth, breathability, wind-resistance in a water-repelling, impact-resistant glove that is ANSI safety rated against industrial punctures. Ideal for a wide range of working conditions and tasks, they're ideal for:
Mechanics

Drilling

Railroads

Construction

Assembly

Material Handling

Mining

Petro-Chemical

Baggage Handlers

Refrigerated Warehouses

Rigging
Rated to 14°F, they have a special waterproof membrane that's designed to keep the hands dry and comfortable regardless of the weather conditions. Specially placed thermoplastic rubber pads on the back of hand diffuse impact energy to protect the knuckles or hand bones against knocks, bumps and impacts without creating any stiffness or interference with hand movements.
Strategically placed PVC Sure Grip® palm patches provide gripping power with improved ­fingertip protection while Kevlar® thumb patches prevent wear-through in this high-stress area. The two-inch neoprene cuffs keep the heat in and elements out. The bright color yellow is easily seen and promotes safety. And here is the deal closer - these Clutch Gear® Water-Proof Mechanic Gloves are ANSI Level 3 Puncture-Resistant Rated making them perfect when handling or working around piercing type objects.
Available in sizes small – through 2X-Large, they have a glove to fit virtually any hand. All you need to do now is tap the link and ….
Orders. Questions. Volume Discounts.
Monday - Friday 8:30am - 4:30pm Eastern Time
+Free Shipping on Orders +$499
+800.274.4637 | +716.668.4001 | [email protected] | Fax +716.668.4496
"We want you to return home safely everyday"