Single-Use Prophy Angles for Dental Hygiene Cleanings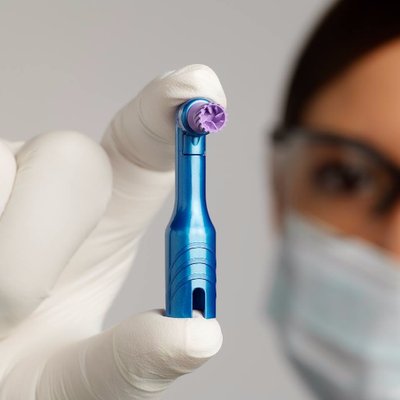 Any Dentist will tell you that your oral health is dependent on routine brushing and regular dental appointments where hygiene cleanings, oral exams and x-rays help trouble shoot potential problems. Dental prophylaxis is one of the most common in-office procedures and tooth polishing is a procedure carried out as a part of oral prophylaxis in most dental practices. It is an act of smoothening the tooth surfaces to make it glossy and lustrous.
Used by dental hygienists to polish a patient's teeth, prophy angles integrate a rubber cup into a high torque gear which can be plugged into a low speed handpiece to drive the rubber cup filled with prophy paste to polish the teeth. The focus of dental polishing today is:
To remove bacterial plaque biofilm and extrinsic stains from the exposed tooth surface

To give the teeth an esthetic appearance
Today's prophy angles are designed to be single-use which saves time and money spent sterilizing metal type prophy angles, and they also weigh much less. Disposable Prophy Angles has improved infection control and ergonomics for the clinician.
Hand fatigue and wrist positioning are serious concerns. Handpiece weight can vary dramatically - thirty years ago, polishers weighed as much as 9.5 ounces, with much of the weight concentrated at the motor end, causing unnecessary strain on the user's wrist and forearm. Compounded daily and for years, it can result in repetition type injuries. Unfortunately, many of these metal devices are still being used even though today's models are well-balanced and weigh around 3 ounces.
Science and technology have provided dental professionals with efficient products that help preserve patients' dentition and cosmetic restorations, reduce the risk of workplace-related injuries, and provide patients with amazing smiles that they all expect.
Disposable prophy angles come in all different sizes, shapes, colors, and configurations. They offer great flexibility, maneu
verability and are very cost effective. Here is some information on two of the oldest and most reliable brands available.
Young™ Dental
The Young™ brand is most commonly associated with the disposable prophy angle. Developed for dental professionals, Young's Classic and the Contra disposable prophy angles are known for stability, flexibility, maneuverability and feel. Their prophy angles are uniquely designed to fit comfortably and securely in the hand and feature Young's high quality prophy cups. The Classic body features a 90-degree bend, while the Contra has a bend in the body, which allows for easier access to posteriors. All styles are lubricated for a smooth, reliable, vibration-free operation.
Denticator®
Denticator's line of latex-free disposable prophy angles are best described by those who them as reliable and super cost effective. All styles are lubricated for a smooth, reliable, vibration-free operation that are 100% guaranteed to last an entire prophy and will fit all slow speed doriot style hand pieces. The Diamond Prophy Angle features a longer and deeper prophy cup that reduced splaater while the Original Green Prophy Angle features a 4-web cup for quick, efficient cleaning. Both style are available in a soft or regular prophy cup.
Individually wrapped with no shelf life, large count cases offer you the very best price points. If we aren't already lower, MDS we will beat your best price-just email us.!
Monday - Friday 8:30am - 4:30pm EST
Orders. Questions. Volume Discounts.
+800-274-4637 | +716-668-4001 | [email protected]
We may not list corporate promotions but both Young Dental and Denticator® offer quarterly free good promotions with purchases. Contact us for details or quarterly promotions or follow this link to Young™ here or Denticator® here. Just drop us a note in the shopping cart comment box and we will handle all the paperwork plus arrange to have the free goods shipped to your office.