Infection Prevention & Control Supplies
To prevent the spread of disease caused by blood borne pathogens, dental offices and healthcare settings follow Infection Control precautions recommended by The Centers for Disease Control and Prevention. In the quest for health safety, dental facilities purchase a variety of barrier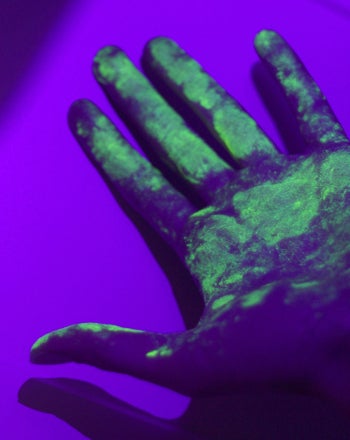 related products and specific cleaners that protect patients and provider from cross contamination and the spread of infection. Also popular are single-use dental items that replace reusable dental tools. Using disposable items within dental settings improves patient safety by eliminating the risk of patient-to-patient contamination because the item is discarded after use and not used on another patient.
For 30 years, MDS Associates has specialized in Personal Protective Equipment and Infection Control supplies. Universities, Buying Groups, Private Practices and Government agencies are encourage to shop and compare our published prices. If we aren't already less expensive, we will make every attempt to beat your best price!
+ Surface Decontamination Supplies
Germicidal Disinfectants
The necessary first step of any disinfection procedure is cleaning. Scrubbing with surfactants removes substantial numbers of microorganisms but if a surface is not cleaned first, disinfection can be compromised. Disposable disinfectant wipes, cloths, or towelettes are effective for cleaning and disinfecting environmental surfaces in dental settings. Any disinfectant used in a dental setting should be registered by the Environmental Protection Agency (EPA) and be approved for use in health care settings (i.e., hospital grade). Popular is a line of ready-to-use pre-saturated hospital-level disinfecting wipes such as SONO® Healthcare, Safetec® SaniZide Pro 1®, Sani-Cloth® and Discide® Ultra. Convenient and affordable, germicidal wipes are an effective tool in decontaminating hard non-porous surfaces in the exam rooms.
Disposable Surface Barriers
When a surface cannot be cleaned adequately, it should be protected with a disposable barrier. Disposable Surface Barriers are inexpensive, quick and effective. A full-line of adhesive barrier sheets and plastic drape covers protect dental chairs, dental stools, dental head rests, dental light handles, x-rays, bracket trays, computer mouse and keyboards and much more from germs and damaging effects of chemicals, dust and dirt. MDS has a size and style barrier cover for virtually any item!
+ Sterilization Supplies
Non-disposable items like the dental tools are cleaned and sterilized between patients. Sterilization kills all microorganisms, including substantial numbers of resistant bacterial spores, by heat (steam autoclave, dry heat, and unsaturated chemical vapor) or by liquid chemical sterilants such as Wavicide-01.Instrument reprocessing requires a series of steps to assure that contaminated patient-care items (dental instruments, devices, and equipment) are safe for reuse. There are a variety of packaging materials available for individual surgical instruments but the choice of type and size will depend on the item to be packaged.
Autoclave Pouches
Peel-apart sealing sterilization pouches with a see-through front and medical grade paper backing are often used for single instruments or small loads. Built-in indicators monitor the sterilization process with Steam, Vapor or EO gas and are available in the following popular sizes:
MDS Econo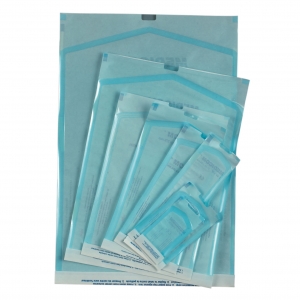 my Sterilization Pouches 3-1/2" x 6-1/2"
MDS Economy Sterilization Pouches 3-1/2" x 10"
MDS Economy Sterilization Pouches 5-1/4" x 11"
MDS Economy Sterilization Pouches 12" x 15"
CSR Wraps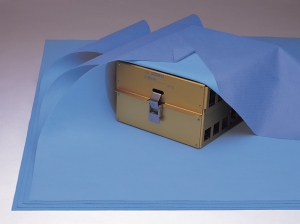 Surgical Instrument Sterilization Wraps, also referred to as
CSR wrap
,
provide a barrier to air and waterborne bacteria and help maintain the integrity of the sterile packs. MDS sells an affordable line of non-woven sterile wrap for Steam and Ethylene Oxide (EO) gas in the following sizes:
+ Personal Protective Equipment (PPE) Supplies
Infection control precautions also require all dental staff involved in patient care to use appropriate PPE. PPE are special coverings designed to protect dental health care personnel (DHCP) from exposure to or contact with infectious agents and can also prevent microorganisms from spreading from DHCP to patients. These include single-use nitrile exam gloves, face masks, protective eyewear, face shields, N95 respirators, and protective clothing (e.g., disposable gown, jacket, lab coat). After each patient, disposable wear such as gloves and masks are disposed of. Before seeing the next patient, the members of the treatment team wash their hands and put on a new pair of gloves. MDS sells a full line of comfortable protective apparel available with the newest features.
+ Hand Hygiene Supplies
Hand hygiene is a way of cleaning one's hands that substantially reduces potential pathogens (harmful microorganisms) on the hands. Hand hygiene is considered a primary measure for reducing the risk of transmitting infection among patients and health care personnel. Hand hygiene procedures include the use of alcohol-based hand sanitizers (containing 60%-95% alcohol) and hand washing with healthcare specific plain or antimicrobial soap and water. New advances in technology allow providers to select high efficacy moisturizing sanitizers and hand washes designed for professionals who clean their hands multiple times every day! Also available is a alcohol-free foam sanitizer that provides 24 hour protection with a single dose. Click here to view instant foam sanitizers, gel hand sanitizers, foam hand cleansers and liquid hand soaps.
+ Single-Use Dental Tools
Studies show that the internal portions of hand pieces and hand piece motors can become contaminated and that it is possible for retained patient material to be released into the mouths of subsequent patients. Therefore, non-disposable hand pieces and other intraoral instruments need to be removed from the air and waterlines of dental units, cleaned, and heat-sterilized between patients which is time consuming and costly. Single-use saliva ejectors, HVE tips and prophy angles allow dental health care personal to dispose items after use thus reducing reduce the risk of infection and time spent reprocessing contaminated instruments.
Industry Infection Prevention Standards
Click here for a vital information useful in addressing questions about personal protective equipment use in acute environments and in the face of highly contagious infectious diseases. Always refer to official CDC guidelines in determining the appropriate protocols and products to use for a particular patient, case, and/or risk level and always refer to any indications, directions, cautions, and warnings prior to any product application and use.
---
Contact MDS with Your Item(s) Infection Control Items Today! And, best of all, we now offer FREE SHIPPING when your order $500 or more. Contact MDS toll free at
+(800) 274-4637/+716-668-4001
or email us at
[email protected]
today!