STOP

THE

SPREAD

WITH

DISPOSABLE KEYBOARD COVERS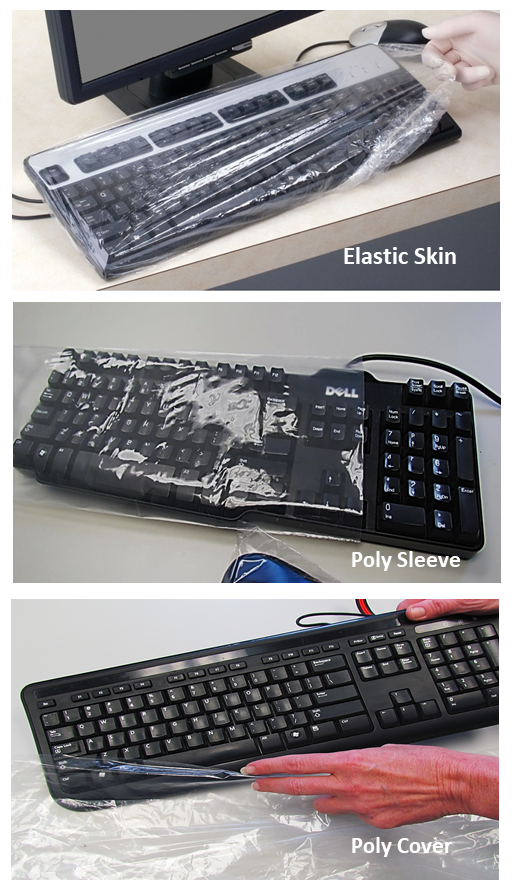 For businesses, schools, libraries and hotels, shared technology devices are front and center. Laptops, tablets, keyboards and computer mice are a breeding ground for viruses to sit and wait. In this age of the pandemic we are all looking for safer and healthier ways to conduct day-to-day life. Barrier covers for electronics address that problem.
Prevent Cross-Contamination
Virtually every business uses keyboards and often they are needed in an area where dirt or germs cannot be avoided. Think about any healthcare facility such as a hospital, dentist office or laboratory. There are many people sharing medical equipment, computers, tablets, or touchscreens, all of whom may have been exposed to any number of micro-organisms, germs and even biohazardous materials which could result in cross-contamination. For these shared machines, placing a disposable plastic cover on a keyboard, mouse or monitor and replacing it each shift could be key to infection control.
What's Your Preference?
At MDS we offer a variety of disposable keyboard covers to fit your needs – truly universal with different styles to fit small to x-large keyboards. Some of our covers are sleeve style that you slip the keyboard into, or we offer an elastic gather skin that are stretched to hug many styles, shapes, and sizes.
Swipe Compatible & Non-Restrictive
For a more adaptive approach, MDS also carries self-clinging surface barrier sheets, tablet covers, cell phone covers, mouse barriers and more. There is no second guessing on the cleanliness if you use a disposable cover – one and done for a clean safe surface each time. Not only are disposable surface barrier covers a great surface barrier for germs but also protects against:
liquid spills

dust

food

oil

lint

germs

fingerprints

grease and moisture
Forget those silicone type covers! They create an unnatural layer that changes the feel of typing (you feel a soft gel surface instead of hard key) while decreasing typing speed and tactile feedback. And cleaning/disinfecting – can you trust that every bit of the surface has been wiped down properly – if not, then why bother? Plus the use of cleaners can slowly erase the keyboard key characters!
Using disposable keyboard skins, sleeves or covers allows you the feel of the whole board and the individual keys yet is fully viewable and sanitary at all times. No flat surface to fall off or move as you type and durable enough to withstand demanding typing sessions. With disposable covers offering better "fit", cleaner surfaces (because you always start with a new one), and ease of use – you have peace of mind with this very affordable option. Take a look at our many choices - click the link below and get your order in today!
Please ask for a sample if you are unsure of the fit.
America-Together We Will Prevail!
Monday-Friday 8:30-4:30 E.S.T.
+800.274.4637 | +716.668.4001 | [email protected] | MDSassociates.com
"We want you to return home safely...everyday™"