Disposable Hygienic Surface Protectors for Hospitality Establishments
No one wants to spend a vacation or night in a dirty hotel room. In fact, the first thing many people do when they enter their rental room is pull back the bed sheets and inspect them for stains, hair, bed bugs or dirt then move the inspection to the bathroom area. Realizing this, more and more hospitality establishments such as hotels, motels, cruise lines, bed and breakfasts are recognizing that consumers often scrutinize their surroundings for unsanitary conditions before they unpack and settle in.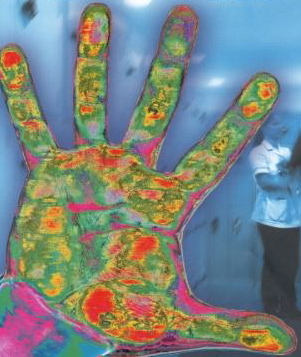 Consumers demand and expect areas like the shower, toilet, sink and linens to be sanitary or they may ask for another room or worse, potentially seek lodging elsewhere. Very often glassware, coffee cups, ice buckets and such are often wrapped in plastic to gain our confidence that these along with our surroundings are completely germ-free and ready for use.
Taking it one step further, many establishments have instituted an accord of detail when housekeeping. Common items and surfaces such as TV remotes, light switches, fixture handles, pens, door handles, thermostats, touch keypads are now being wiped cleaned and covered in disposable protectors or with adhesive barrier sheets and consumers are noticing!
In Today's Germophobic World, the Image of Cleanliness is a Powerful Selling Tool
Disposable barrier protectors provide visual cues that your staff cares about the cleanliness of their establishments. These simple yet highly effective disposable barriers are the new trend in workplace and hospitality cleanliness, and for what amounts to a few pennies is translating into big gains in brand loyalty, customer satisfaction and confidence. Knowing housekeeping or attendants have wiped down commonly touched surfaces is a powerful statement that goes a long way. In fact, car rental agencies, furniture showrooms and mattress retailers are now incorporating barriers into their business program and are now sanitizing and then covering the steering wheels, shifters and seats.
Affordable, easy and quick to apply, disposable poly protectors simply slide over an item to create a hygienic barrier. Available in different colors and sizes, barrier sheets are available on a roll and are simply placed over a surface to seal it clean. Shop MDSassociates.com to view contamination control disposable surface barriers for cell phones, tablets, chairs, head rests, trays, computer keyboards and computer mouse devices and more!
Monday - Friday 8:30am - 4:30pm Eastern Time
Orders. Questions. Sample. Volume Discounts.
+(800) 274-4637 | +(716)668-4001 | [email protected]