Roadside/Watercraft Emergency Warning Beacons
Distress Signaling
I am fortunate I never had a night time roadside emergency or a marine distress, but I have emergency supplies ready just in case. I also have a portable lighting supply, blankets, tools and emergency torches or flares, but I never used one of these before and have no idea how to ignite one. If needed, it will no doubt take sometime to figure these out and of course hinges on having a flashlight with working batteries to read the instructions. If I were able to ignite a roadside torch, I'd be afraid I would catch something on fire like my car or myself.
Here is a story I'd like to share and a reason why I say roadside emergency torches need to be replaced with something more safe and effective!
I was taking a friend for a summer joyride in my Camaro which took us out on the back roads. As we started our trek back toward home base, nightfall had fallen and so had the rain, and boy how I remember how dark of a night it was. When I say it was dark, it was BLACK! My headlights did little to illuminate the road that night.
As we traveled up a main route, I could see flares in the distance and figured a bad accident had happened. As we approached, the glare of the torches made it difficult for me to see the first responders and their signals. And in an instance it happened - I went blind for for a few seconds. The glow of these flares was similar to camera flashes going off and it wasn't until the very last second where I could finally see silhouettes, which as it turned out, was only yards away from hitting the emergency workers. The lingering effects of the flares stayed with me for several minutes like when you stare at the sun.
I often think about that moment and really wished there was a better, safer and more effective option for first responders, fire fighters, police, boaters, towing companies, truckers, mercy flight, auto owners and bikers. Well, guess what ...I found an awesome warning beacon...it's actually referred to as the E-flare™ emergency beacons and they're amazing.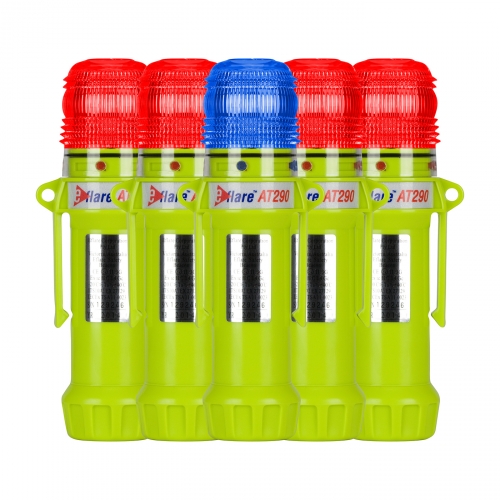 The E-flare® line of emergency beacons is not just innovative, they're life savers. They've progressed technology from a torch to electronic emergency beacons that use multi-color and sequencing of light that can be seen for over a 3/4 mile away. Now here's the best part : they can be used without the night vision, point fixation and distance judgement problems associated with flares, strobe and incandescent lights!
Here are some other neat things to know. E-flare emergency beacons are simple to use, lightweight, durable, waterproof (100ft), easily attaches to belts, clothing, vehicles, traffic cones or signs and are HAZMAT accredited for use in Class 1, Division 2/ Zone 2 hazardous areas. And most importantly, there is no risk of fire, explosion, toxic fumes or residue - they run on four AA batteries.
Buy one or more for home, recreation or for professional emergency use. E-flares are available with 1-Color Flash/Steady-On, Dual Flashing 2-Color, Flashing 1-Color in different size and color configurations. Also available are helicopter landing zone kits, base mounts, floatation collars, magnetic clips, cone clips and storage bags.
We also sell E-batons in flashing/ready/off mode in 16-in and 22-in lengths. They are ideal for police, firefighters, airport workers, traffic controllers, parking valets, construction workers and other public safety personnel. Use in conjunction with E-flares for increased nigh time visibility, distress signaling and safety!
---