Finisher Work Gloves
Being a cement/concrete worker, sometimes called a finisher, can be a very difficult job. There are a wide variety of tasks that go into preparing a site, laying down materials and making it look professional. Many of these require using an assortment of hand and power tools, as well as other construction equipment. This makes choosing proper hand protection (anti-vibration gloves) an important decision in planning any concrete project.
Concrete work involves a lot of hard, physical labor. A concrete worker may find themselves:
Operating a sledge hammer or jackhammer to break up previously existing materials

Digging trenches and removing debris with a shovel

Carrying a wheelbarrow that weighs hundreds of pounds

Placing or stripping concrete forms

Installing rebar to add tensile strength to concrete

Using a hand float to smooth out poured cement

Smoothing over wet cement with a placer, spreader or rake

Cutting a construction joint or pressure relief groove to prevent cracking from expansion or contraction due to moisture or temperature change
All of these tasks come with the risk of a serious workplace accident and many pose the very real threat of repetitive-use injuries. For example, when a worker has prolonged exposure to repetitive impacts or vibrations, they are susceptible to getting hand-arm vibration syndrome (HAVS) or carpal tunnel syndrome. This is a serious medical condition that is irreversible once it has set in.
To adequately protect themselves from injury, concrete workers need versatile hand protection. Gloves that provide dexterity yet fit well and keep your hands warm so that they do not impede circulation are ideal. They should also be designed with anti-vibration features if possible. The gloves should be designed just like Vibrastop™ Half-Finger Gloves from Superior Glove®.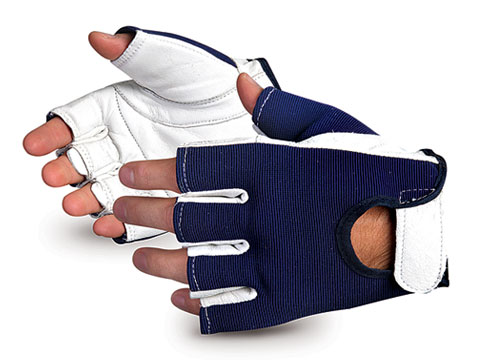 These VIBGHFV Vibrastop™ Leather Half-Finger Work Gloves are made with a durable, yet soft and pliable goatskin leather with vibration-dampening protection in the palm, base of fingers and thumb. These half-fingered gloves are padded with a layer of 60-gram vibration-dampening polymer that is recommended for hand protection from repetitive impact and pneumatic vibrating tool injuries, such as HAVS. In fact, they are certified to EN ISO 108919:1996 standards.
These vibration dampening gloves have a cool, comfortable stretch-nylon mesh back and leaves your fingers free for the ultimate in dexterity. This allows you to button your jacket, tie your shoes or operate electronic devices on the job site without having to remove your gloves. They feature an adjustable wrist closure that performs as a wrist support and are available in adult sizes small through x-large.
For concrete and cement workers, versatile gloves that provide good dexterity and also incorporate anti-vibration cushioning are a daily necessity. Vibrastop™ half-finger gloves from Superior Glove® fit perfectly with your efforts to protect your team by preventing impact and long-term use injuries.
Oh, there's one more convenience benefit. With your fingers free, you will still have the dexterity to put your initials in the wet cement.
Monday - Friday 8:30am - 4:30pm Eastern Time
Orders. Questions. Samples. Volume Discounts.
+(800) 274-4637 | +(716)668-4001 | [email protected]
"We Want You to Return Home Safely Everyday™!"