TAKE

A

SAFE STEP

WITH

EVERY STEP
For many laborers, the job doesn't stop because of inclement weather. When it comes to industrial worker safety, difficult wintery conditions present their own challenges, especially when dealing with employees who work outside in extreme weather elements
---
When dealing with snow or ice, traction is critical to personal safety and no one knows this better than Impacto® Impacto's traction line-up is created in Canada by a team of engineers that know winter weather conditions.
Ensure you always have a firm grip until the job is done. With the MidCleat® and Stride brands of ice cleats, working and walking in harsh winter conditions is almost as easy as going for a stroll on a warm day!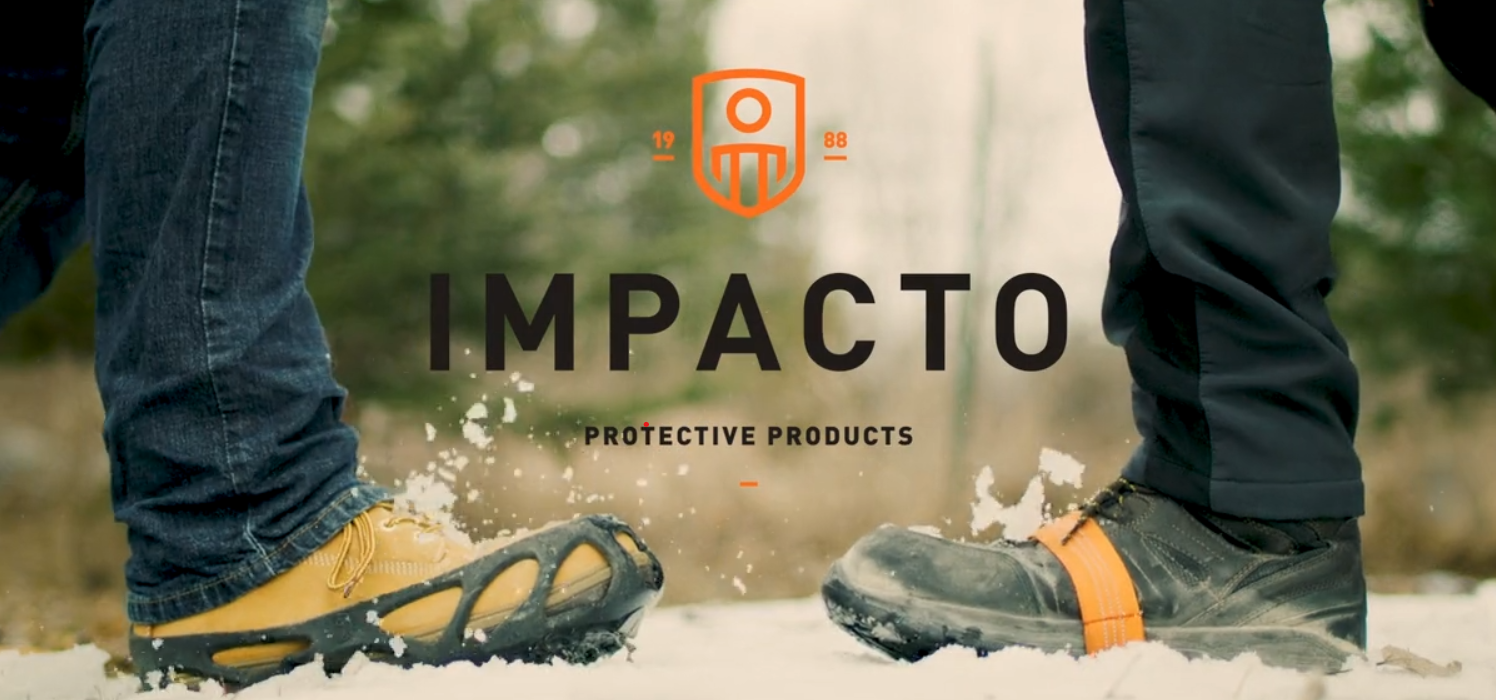 Walking outdoors during peak winter months can be dangerous because of slippery ice that builds up on sidewalks, parking surfaces and other hard surfaces. Falling on an icy surface is never a pleasant experience and more often than not, it results in a personal injury. Take one wrong step and you may strain a muscle or ligament, suffer broken bones, a spinal compression, a concussion or worse.
Ice cleats are a safety device, affixed to a shoe or boot, with small spikes on the outer bottom soles. Similar to snow tires on a car, the primary purpose of ice cleats is to provide traction on icy surfaces. Without ice cleats, it's almost impossible to perform basic work motions let alone walk naturally.
STRIDE - Maximum Traction
These Stride Ice Cleats are made of proprietary Thermoplastic elastomer (TPE) that remains flexible to -4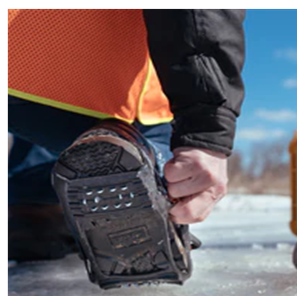 5 degrees Fahrenheit. Deep toe and heel pockets are designed for steel toe footwear, shoes and boots. Extremely durable, these patented ice traction devices fit securely to shoes or boots and feature multi-directional traction plates that dig into the hardest of ice and snow. They won't hold or pack snow and allow one to stride naturally!
Unisex design is available in men's and women's sizes.
FEATURES
Provide excellent traction on snow and ice

Maximum full boot traction easy on / off

Incredible stretch to fit tightly

Designed for maximum traction to allow a natural stride
MIDCLEAT® - Versatile Traction
These Impacto® MidCleat Ice Cleats are a versatile ice traction system which offers superior grip and stability on icy surfaces. Ideal for workers who frequently move from outdoors to indoors or from vehicles since the cleat can be quickly and easily flipped to the top of the boot to prevent slipping or marking floors or to operate machinery. The high visibility HIVIS and adjustable reflective str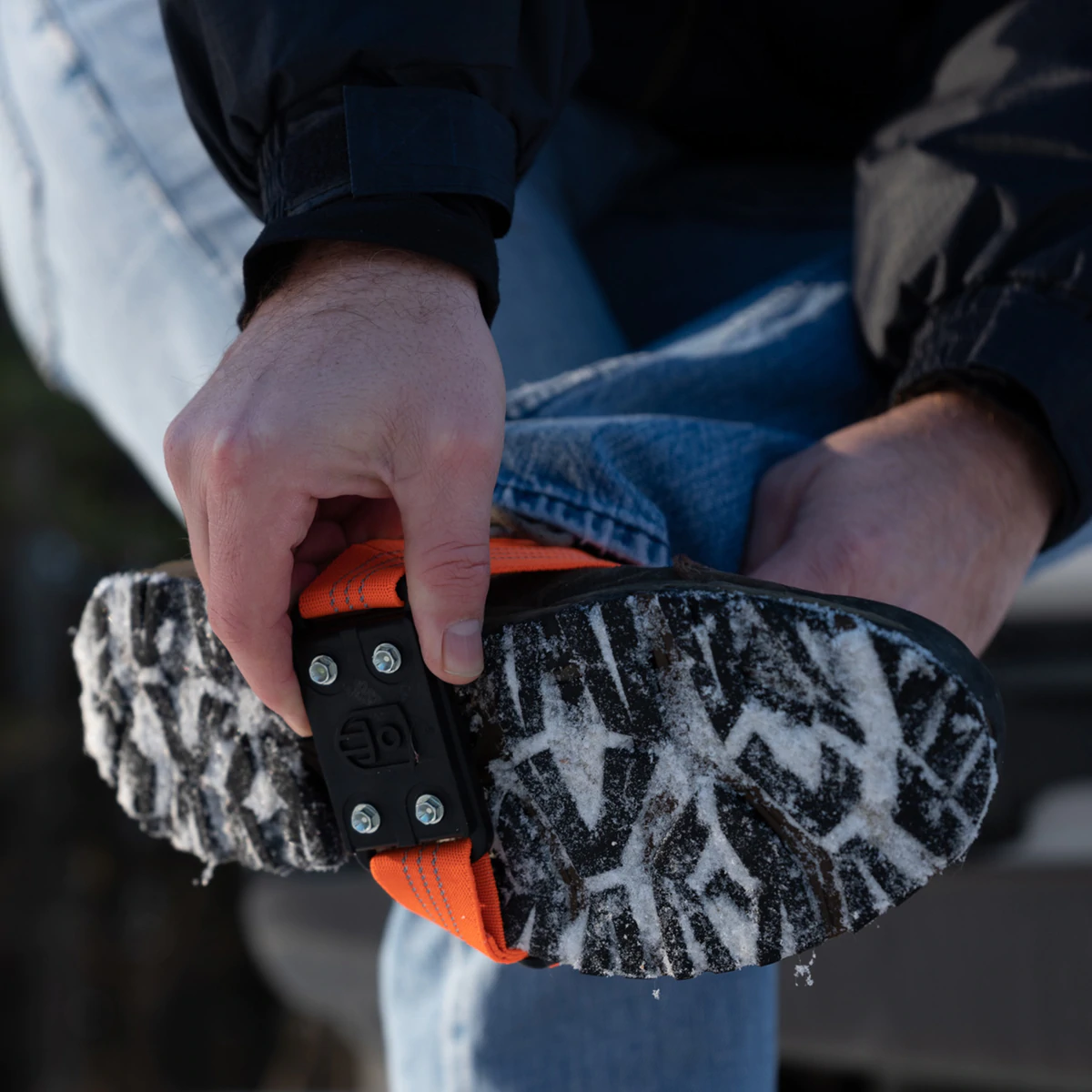 ap provides enhanced visibility in low light conditions. Lightweight for all-day comfort, MidCleat travels with you and allows you to adjust your traction virtually anytime anywhere.
One size fits all.
FEATURES
Adjustable strap and replaceable cleats provide excellent traction on snow and ice

Can be rotated to walk on concrete, floors or to operate machinery/vehicles

Non-sparking brass cleats available

High visibility HIVIS and reflective strap for enhanced visibility

Lightweight for all-day comfort
Prevent slips, trips, falls and lower workmen compensation claims with these industrial contractor-grade professional ice traction devices built for brutally cold industrial applications.
If you walk, trek, or hike in the frigid outdoors be sure to add this innovative ice traction device to your cold weather arsenal and make winter tasks easier, safer and faster. Perfect for artic scientists, deep freezer management, ski lodge employees, forestry, mining, oil and gas, outdoor laborers, recreational enthusiasts and more. But don't take our word for it, first you need to tap the link and …
Orders. Questions. Volume Discounts. Samples.
Free Shipping on Orders Over $499
Click or Call Today Monday - Friday 8:30am - 4:30pm Eastern Time
+800.274.4637 | +716.668.4001 | [email protected] | Fax +716.668.4496