Ergonomic Neck Support System Prevents Over Extension
Help Reduce Neck Pain, Fatigue and Injury For Workers That Must LOOK-UP For Sustained Periods of Time
There's a saying that too much of anything is a bad thing. If I told you that something as simple as tilting your head back to look-up could cause harm, would you believe it? Well it's true. This simple movement, when done over and over again or for sustained periods of time, can cause an injury to the neck referred to as repetitive strain injury (RSI), also known as cumulative trauma disorder (CTD).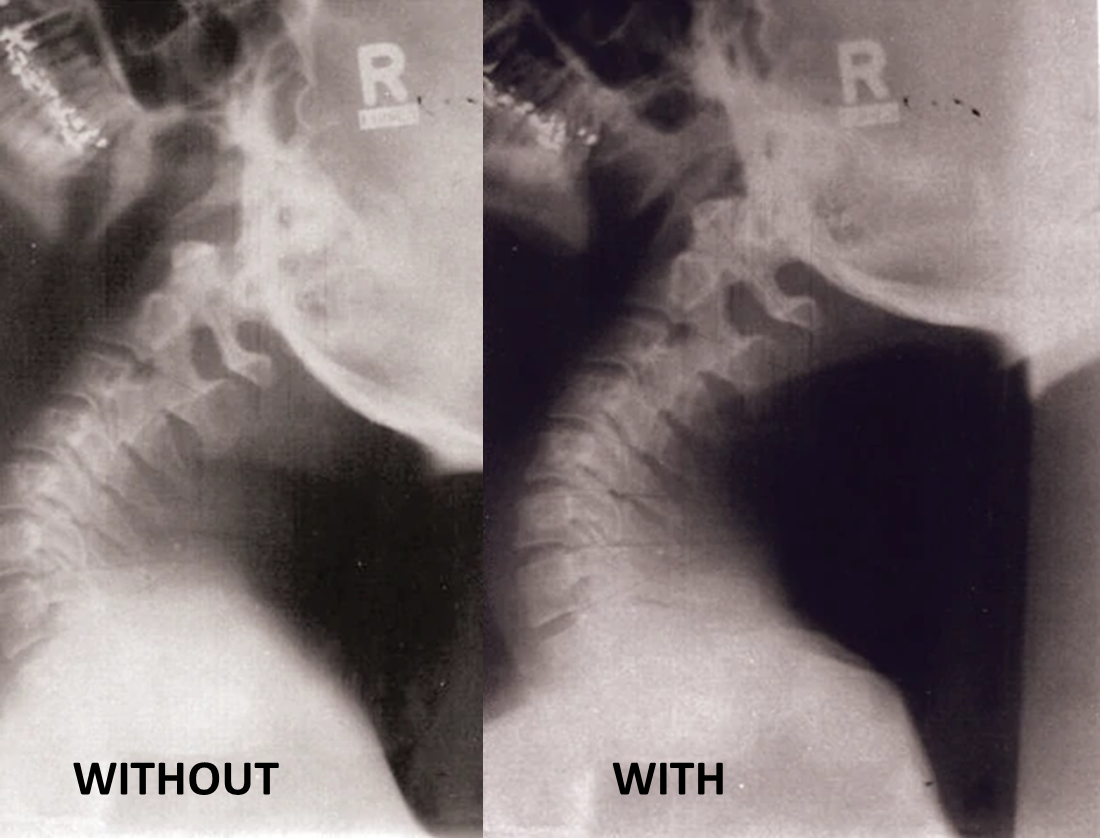 This may be bad news if you're mechanic, painter, carpenter, electrical worker, drywaller, fork lift operator, window washer or landscaper. But don't fret it, IMPACTO® Protective Products has just a workplace wellness device made with you in mind!
A repetitive strain injury (RSI) is an injury to part of the musculoskeletal or nervous system caused by repetitive use, vibrations, compression or long periods in a fixed position. They are an everyday concern in the workplace and can occur in many parts of the body including the wrist, elbow, back, hip, knees, ankles and the neck while in sustained motion or repetitive extension motion.
(Early X-Ray studies show what is occurring within many of the neck strictures with the aid of the IMPACTO® UPGUARD Ergonomic Neck Support System)
IMPACTO® UPGUARD Ergonomic Neck Support System is Doctor Designed and Approved
The IMPACTO® Neck Support System can be implemented to easily help preserve the anatomical integrity of the neck when worn regularly and before symptoms appear. The UPGUARD rests on the upper back and approaches the neck when the head is extended, or tilted backwards. The support serves as a reminder to restrict motion and limit extension rather than to compl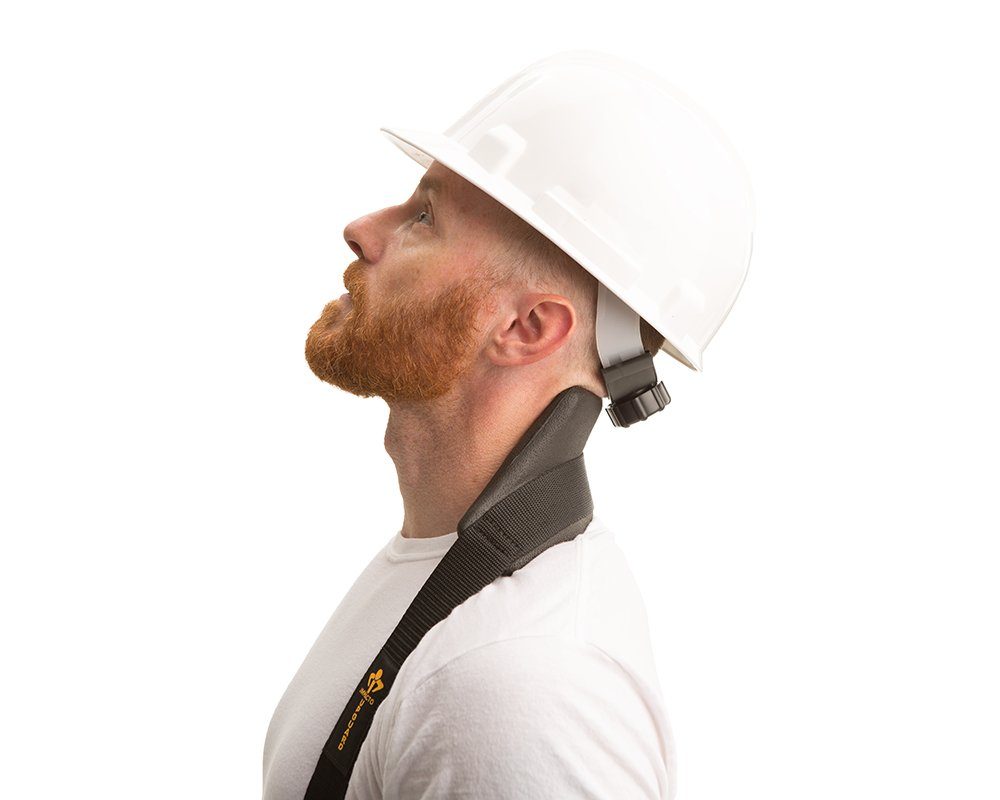 etely block motion.
Made of lightweight molded polyurethane foam offers comfortable fit to cradle the neck

Adjustable fire retardant polypropylene straps with large capacity clips attach securely to the waist

Ideal for many activities that involve looking-up including mechanics, forestry, painting, plumbing, carpentry, electrical work, building maintenance, drywall installation, operating lift trucks, working on assembly lines, utility jobs, washing windows, automotive, maintenance

One Size Fits All
PREVETION IS CRITICAL
Prevention is critical to preserving the anatomical integrity of the neck as long term exposure can cause permanent changes that are increasingly painful and irreversible over time. It's very important that you protect yourself before any symptoms appear! The IMPACTO® Neck Safety Support is doctor designed and approved for use.
IMPACTO® PERSONAL PROTECTION
Specializing in improving worker safety and comfort, Impacto® has been manufacturing and marketing cutting-edge ergonomically designed personal protective equipment that focuses on reducing industrial impacts, vibrations and repetitive motions in any work environment since 1988. The Impacto® line of products includes vibration dampening gloves, anti-impact gloves, wrist protector gloves, a wide range of knee pads, body pads and cushions, lumbar supports, specialized insoles and wrist supports.
If you're a laborer, landscaper or construction worker then repetitive strain and/or sustained motions are unfortunately part of the job. Long-term exposure to these work motions will have an adverse effect on your neck's health. The next time you prune branches, fix overhead lines, squeegee windows, drywall, or watch your co-worker from below, simply rest UPGUARD on the upper back and get to it.Don't wait any longer.If you haven't already tried this specialized ergonomic neck support, what are you waiting for?
Injury prevention is just a click away - all you need to do is tap the link and …
Monday - Friday 8:30am - 4:30pm EST
Call or Click
Questions. Samples. Special Requests.
Toll-Free +800-274-4637 | +716-668-4001 |

[email protected]
"We Want You To Return Home Safely...Every day!™