Treat Wrist Pain, Strain & Stress
Repetitive Tasks or Motions Can Cause Irreversible Injuries
Impacto® Industrial Wrist Suppoorts Deliver Supplemental Support To Relieve The Strain Associated With Repetitive Stress & Overuse Injuries That Includes Minor Strains, Sprains, Inflammation or Arthritis.
---
If we told you that something as simple as keyboarding or clicking your computer mouse could cause you serious harm, would you believe it? Well it's true. This simple movement, when done over and over again or for sustained periods of time, can cause an injury to the wrist referred to as repetitive strain injury (RSI), also known as cumulative trauma disorder (CTD) or overuse syndro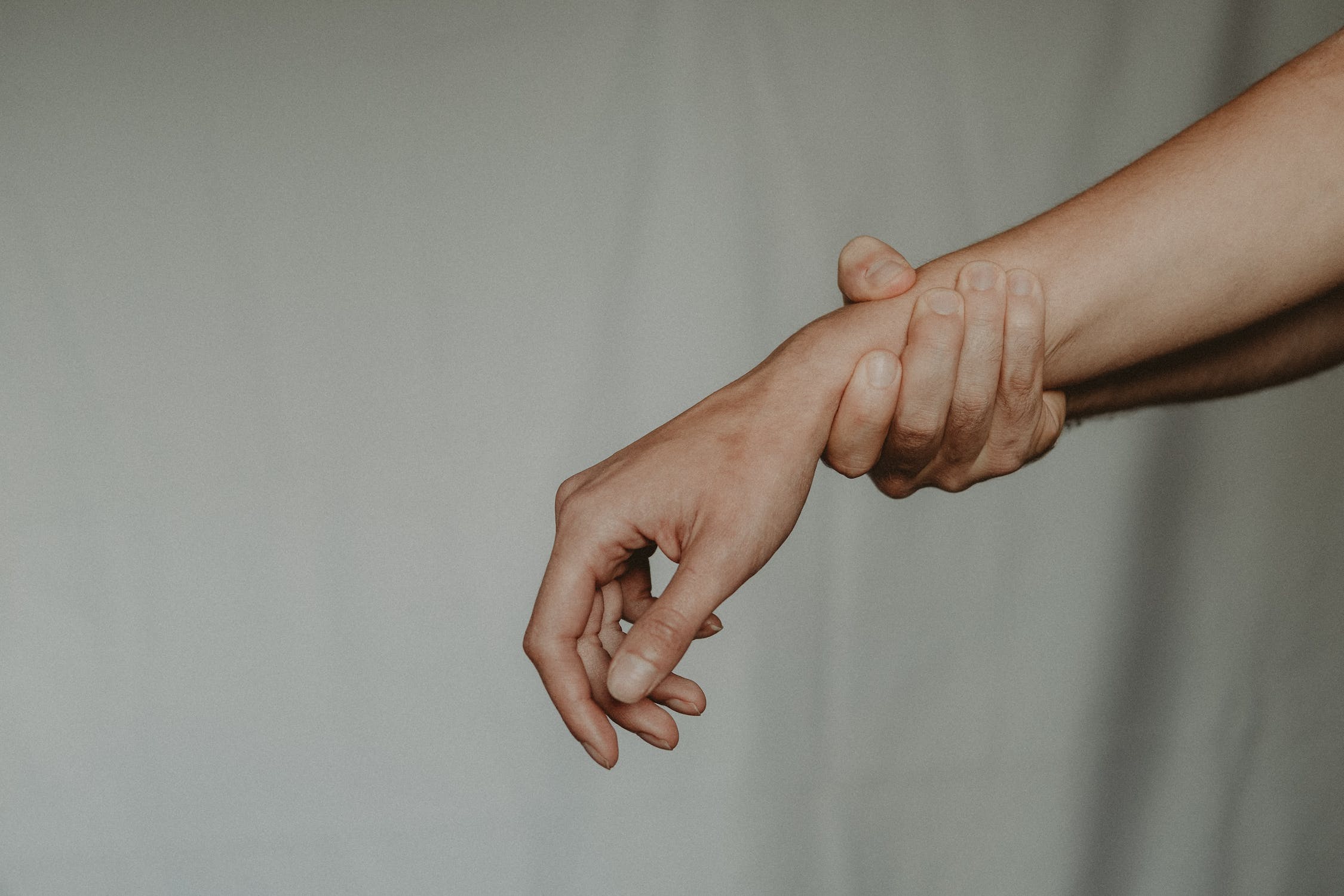 me.
A repetitive strain injury (RSI) is an injury to part of the musculoskeletal or nervous system caused by repetitive or continual use, vibrations, compression or long periods in a fixed position. Other common names include repetitive stress disorders, cumulative trauma disorders (CTDs), and overuse syndrome which can lead to Carpal Tunnel Syndrome and Tendonitis.
Activities that can raise the risk of RSI include:
repetitions

doing the same activity over a long period of time without rest

working with force such as lifting heavy objects

maintaining a poor or awkward posture or position for a long time without rest

working in cold climates, with instruments that vibrate and stress
Prevention is critical to long term hand health and productivity as persistence can cause permanent changes that are increasingly painful and irreversible over time. Impacto® cutting-edge industrial wrist supports and therapeutic technologies are designed to offset musculoskeletal injuries by reducing overextension and over flexion of the wrist without limiting mobility.
IMPACTO WRIST SUPPORTS
Wrist Supports or wrist splints are for people who need protection and support for painful, swollen or weak joints and can relieve symptoms of conditions such as Carpal Tunnel Syndrome, Arthritis, Wrist Tendonitis, fractures, sprains and strains. The purpose of a wrist wrap is to provide support to the wrist joint during heavy or max effort lifts in pressing movements and overhead lifts preventing the wrist from being pulled into excessive extension under load resulting in compromised mechanics, possible injury and failed lifts.
The +TS226 Thermo Wrap Wrist Support captures body heat, increases circulation, and provides light but firm compression treatment to counteract tissue swelling and improve blood flow support throughout the day.
The breathable +EL40 Elastic Wrist Restrainer is available in left or right hand styles and has a single elastic support strap limits flexion without hindering movemnet while +Model EL41 Wrist Restrainers features a double strap with hook and loop closure with flexible spiral stay on palmer and dorsal side. It is worn for temporary relief from pain/soreness associated with sports injuries, arthritis, carpal tunnel and to restrict the wrist from over flexion and over extension for repetitive activities such as cashier, keyboarding, drivers, assembly line packaging.
Impacto's Neoprene Wrap Wrist Supports with hook and loop closure keep the wrist area warm and increase circulation to provide comfortable all-day support. +Model ER101 Wrist Supports provides economical support with high energy absorption while +Model 715-00 Wrist Wrap Support is comortable all day wear and features plastic stays on dorsal and palm side that provide additional support to prevent RSI during repetitive activities.
The +Model 710-10 Padded Wrist Supports feature stretchy knit polyester fabric, VEP palm pads with suede leather that protects the palm while an elastic wrist support with adjustable hook and loop closure that minimizes extension and over flexion of the wrist to prevent RSI such as Carpal Tunnel Syndrome or Tendinitis.
The +Universal EL420 Wrist Wrap Support is ambidextrous and features a fully adjustable elastic strap, a neoprene lining and plastic stays on dorsal and palm sides that prevent over extension and over flexion of the wrist.
The +TS216 Pull-On Wrist Support is an easy to wear, and provides natural heat therapy with a soft breathable lining that wicks moisture. The non-porous rubberized material captures body heat, increases circulation and provides compression to counteract tissue swelling to aid in the prevention of sports injuries, arthritic pain and repetitive strain injuries. Ideal for repetitive activities such as cashiering, keyboarding or assembly line work.
IMPACTO® WRIST SUPPORT OPEN FINGER GLOVES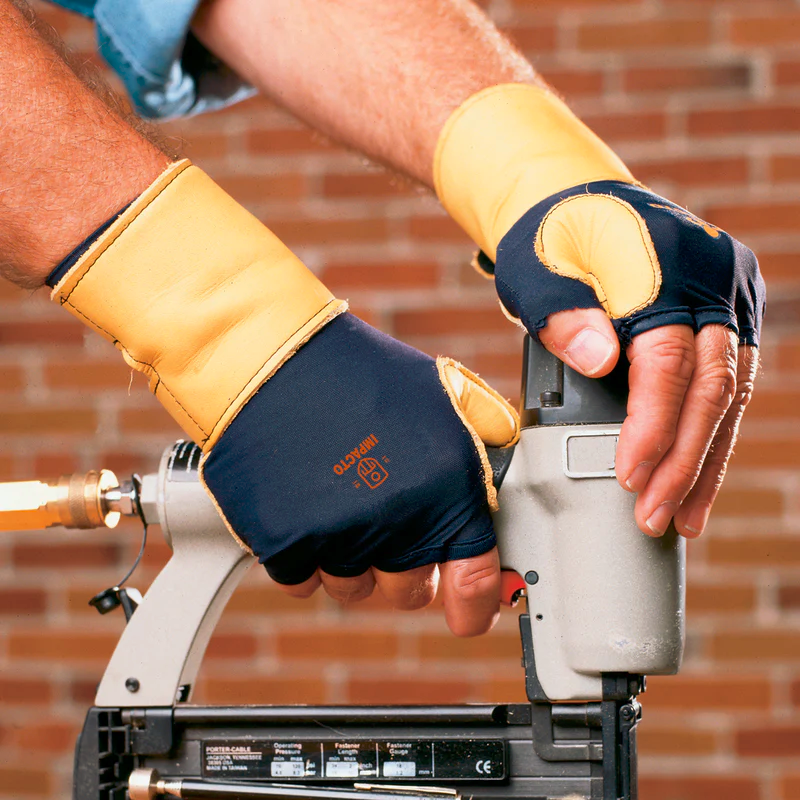 These fingerless industrial work gloves that feature wrist supports designed to minimize extension and over flexion of the wrist to prevent RSI such as Carpal Tunnel or Tendinitis. VEP padded palms protect from impact, vibration and shock. These styles are ideal protection from electric, manual and power tools in applications including construction, assembly, manufacturing, maintenance and warehousing.
+Model 479-31 Anti-Impact Trigger Half Finger Glove features soft pearl leather construction, VEP padding in the palms, trigger finger and thumb area with a padded, adjustable elastic wrist support. Fingertips have tabs to take off glove easily.
+Model 704-20 Anti-Impact Wrist Suppport Glove is constructed with fingerless nylon Lycra and grain leather with VEP padding in the palm and web areas with a detachable grain leather wrist support.
+Model 714-20 Anti-Impact Wrist Support Glove Liner is designed to be worn under work glove. Made of 4-way stretch breathable poly/cotton fabric, VEP palm padding and a detachable grain leather wrist.
+Model ER509 ErgoTech Anti-Impact Wrist Support Glove is breathable, stretchy and comfortable while the detachable Wrist Support features nylon Spandex, black suede leather cover, hook loop closure and VEP palm padding.
+Model 720-20 Anti-Impact Anti-Slash Wrist Support is made with 100% Kevlar® knit, grain leather palm and wrist support with VEP padding in the palms. Ideal when working with sharp objects such as glass or metal.
Prevention is critical to the well being of your staff so don't wait until the symptoms appear. If you haven't already tried these specialized industrial safety products, what are you waiting for? Injury prevention is just a click away - all you need to do is tap the link and …
Orders. Questions. Volume Discounts. Special Requests.
Call or Click Today
Monday - Friday 8:30am - 4:30 EST
+800-274-4637 | +716-668-4001 | Fax +716-668-4496 | [email protected]
"We Want You to Return Home Safely Every Day"