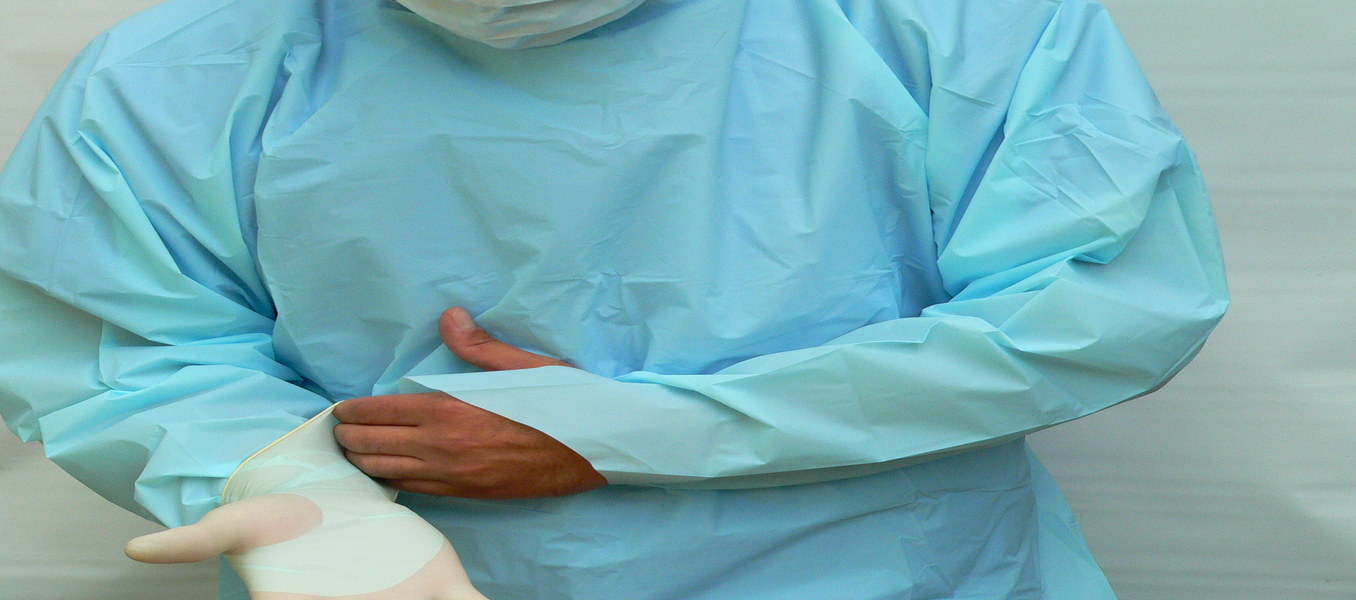 A SIMPLE GUIDE

to

ISOLATION GOWN GUIDELINES
Exposure to infectious agents or harmful substances often requires personal protective equipment or PPE. Originally developed to protect healthcare workers, PPE, when used properly, can also represent the first line of infection prevention against the spread of infection or illness if the wearer comes in contact with potentially infectious liquid and solid material. PPE apparel may also be used to help prevent the wearer from transferring microorganisms that could harm vulnerable patients, such as those with weakened immune systems.
Gowns are one part of an overall infection-control strategy that includes protective gloves, face masks, face shields and disinfectants. Most single-use gowns feature a one-piece solid panel for full frontal coverage against particulate or liquid migration. Most wearers slide into the garment, wrap the back panels and secure the gown with ties or a similar closure but recently gowns that are pulled on, or over-the-head are becoming common in emergency type situations. Barrier Gowns come with finished sleeve cuffs in elastic, knit or thumb-loop styles and are available in different protective fabrics such as spunbond polypropylene, poly coated polypropylene, SMS (multi-ply), spunlace or polyethylene. Protective gowns are often referred to as surgical gowns, isolation gowns, surgical isolation gowns, nonsurgical gowns, procedural gowns, barrier gowns, cover gowns or clinical gowns.
With so many styles available, how does one select the proper garment for the task? Well, there are a few guidelines established to help healthcare facilities decide which gown is appropriate protection for their staff, but which guidelines should be followed? Before you choose your gowns, know the organizations and what their guidelines cover. Below is a summary to help assist you.
AORN GUIDELINES
The Association of periOperative Registered Nurses (AORN) offers comprehensive guidance1 that includes the types of gown protection needed for operative and other invasive procedures.
Must provide a barrier resistant to blood and fluid penetration that is based on the gown's intended use

Seams and points of attachment minimize penetration of liquid and contaminants

Resistant to tears, punctures and abrasions

Made of non-abrasive and non-toxic materials

Appropriate gown size and sleeve length

As lint-free as possible
More details available at www.aornstandards.org
AAMI GUIDELINES
ANSI/AAMI PB70:2012 provides standards for liquid barrier performance, with ratings for different levels of gown protection.2 AAMI addresses fluid protection in the critical zone, the gown area where an OR staff member is most likely to come in direct contact with potentially infectious material.
WHAT IS THE CRITICAL ZONE? In surgical gowns, it includes much of the sleeves and front. Both fabric and construction (sleeve seams and front tie attachment) are tested. The back of the gown may be non-protective.
WHICH PROTECTION LEVEL? It depends on the type of procedure.
AAMI LEVEL 4 HIGHEST FLUID AND MICROBIAL BARRIER protection against blood-borne pathogens in critical zones. Needed for long, fluid-intensive procedures. Also for operating on patients with potential blood-borne pathogen risk
AAMI LEVEL 3 MODERATE FLUID BARRIER PROTECTIOB used for the widest range of surgical procedures, where moderate fluid protection is indicated
AAMI LEVEL 2 MINIMAL TO LOW FLUID BARRIER PROTECTION for use only in low-fluid minimally invasive surgical procedures, lumps and bumbs
AAMI LEVEL 1 MINIMAL FLUID BARRIER PROTECTTION
To minimize your risk of accidental exposure, MDS Associates carries an extensive collection of Protective Barrier Gowns to keep your staff prepared in any situation.
For detailed guidelines, go to www.aami.org
FDA GUIDELINES
Because surgical gowns are classified as Class 2 Medical Devices, they are regulated by the US Food and Drug Administration (FDA)
In December 2015, the FDA issued new, more stringent guidance3 for pre-market verification of surgical gowns. Before performance claims are made on labeling and published materials, surgical gowns are thoroughly reviewed by the FDA to ensure that:
The gown complies with the claimed liquid barrier protection (ANSI/AAMI PB70 or equivalent standard)

Performance test data backs up that claim

Drawings are clearly labeled with barrier protection level and dimensions/location of critical and non-critical zones

Sample labeling clearly identifies the level of liquid barrier protection (per ANSI/AAMI PB70) as well as directions and indications for use.
For more information, go to www.FDA.gov
HOW ARE GOWNS TESTED?
To make sure surgical gowns meet the standards set out by these organizations, they undergo a variety of standard tests, including:
FLUID AND BACTERIOPHAGE BARRIER (ASTM 1671)Measures resistance of materials used in protective clothing to bloodborne pathogens using viral penetration at 2psi and ambient pressure
HYDROSTATIC PRESSURE TEST (AATCC 127) Tests for fluid resistance by measuring the force required for water to penetrate a fabric (including seams)GELBO LINT TEST Determines the relative number of lint particles released from a fabric
MARTINDALE ABRASION TEST (ASTM D4966) A visual test of the abrasion resistance of fabric using a standard abrasive surface and a specified force to assess barrier/fabric integrity and lint production
LASER AND IGNITION RESISTANCE (ISO 11810)Used to assess the laser-induced flammability properties of gown fabrics, in the oxygen-rich environment of the OR. Includes front and back panels and sleeves.
CPSC STANDARD FOR THE FLAMMABILITY OF CLOTHING TEXTILES Measures a fabric's burn rate
Because of the stringent testing, the cost of AAMI gowns are considerably more expensive. Non-AAMI isolation gowns are worn in mass everyday to protect employees and patients during routine tasks in dental, healthcare, research, pharmaceutical where classification is more relaxed. Select AAMI, FDA, AORN complaint Isoaltion gowns to minimize microorganism transfer to susceptible open wounds. Surgical gowns are typically packaged sterile with hand towels and wraps and commonly used in dental implants, clean rooms, labs, research, surgi-centers and in the O.R..
We're in an unprecedented time with an immense demand in the healthcare community. MDS is continually sourcing disposable gowns for our customers. Please visit our website for gown availability or you can click the link below and
Monday-Friday 8:30-4:30 E.S.T.
+800.274.4637 | +716.668.4001 | in[email protected] | MDSassociates.com
"We want you to return home safely...everyday™"
1 Burlingame et al, AORN Guidelines for Perioperative Practice 2016 Edition, Vol.1, Jan 2016. §3, II.a2 Association for the Advancement of Medical Instrumentation (AAMI), Liquid barrier performance and classification of protective apparel and drapes intended for use in health care facilities (ANSI/AAMI PB70:2012), May 2012, pp 6-7 (§4.2.1-4.2.3)3 U.S Food and Drug Administration (FDA), Premarket Notification Requirements Concerning Gowns Intended for Use in Health Care Settings, Guidance for Industry and Food and Drug Administration Staff, Doc. #1500025, pp 1-9.©2016 HYH. All rights reserved. C16173