Industrial Orthotic Shoe Insoles | Personal Anti-Fatigue ESD Mat®
An Ergonomic Alternative to Costly Anti-Fatigue ESD Workstation Matting!
For Maximum Shock Absorption, Comfort & Anti-Static Control in Industrial and Extra Depth Footwear
Static electricity occurs when two different materials or surfaces contact and rub together creating an unexpected nuisance referred to electrical static discharge, known as ESD. One very common Electrostatic Discharge event occurs when a person walks across the floor where static electricity is generated as shoe soles contact and then separate from the floor surface.
Electrostatic Discharge events of only a few volts is enough to cause serious damage to electronic components that costs companies billions of dollars annually. As a result it's vital in cleanrooms and other technical sensitive areas that these Electrostatic Discharges are controlled and MEGAComfort® Personal Anti-Fatigue ESD Mat® industrial insoles are just the answer!
"Wear Anti-Fatigue ESD Matting in Your Boots®"
Designed by a Podiatrist, MEGAComfort® Personal Anti-Fatigue Mat® insoles blend orthotics with ESD control. These industrial insoles feature ESD threads that provide proven electro-static dissipation, while the patented dual layer memory foam provides unparalleled ergonomic comfort and shock absorption making them ideal for individuals who stand or walk more than four hours a day on any hard surface.
The Ultimate Ergonomic Industrial Insole
The MEGAComfort® Personal Anti-Fatigue ESD Insoles, are an ergonomic solution for any individual standing or walking more than four hours a day on any hard surface. It is the ultimate alternative to ESD anti-fatigue matting or for areas that cannot have floor mats, where procurement costs of anti-fatigue matting has become too high or where risk of occupational injuries from trips and falls has become too great.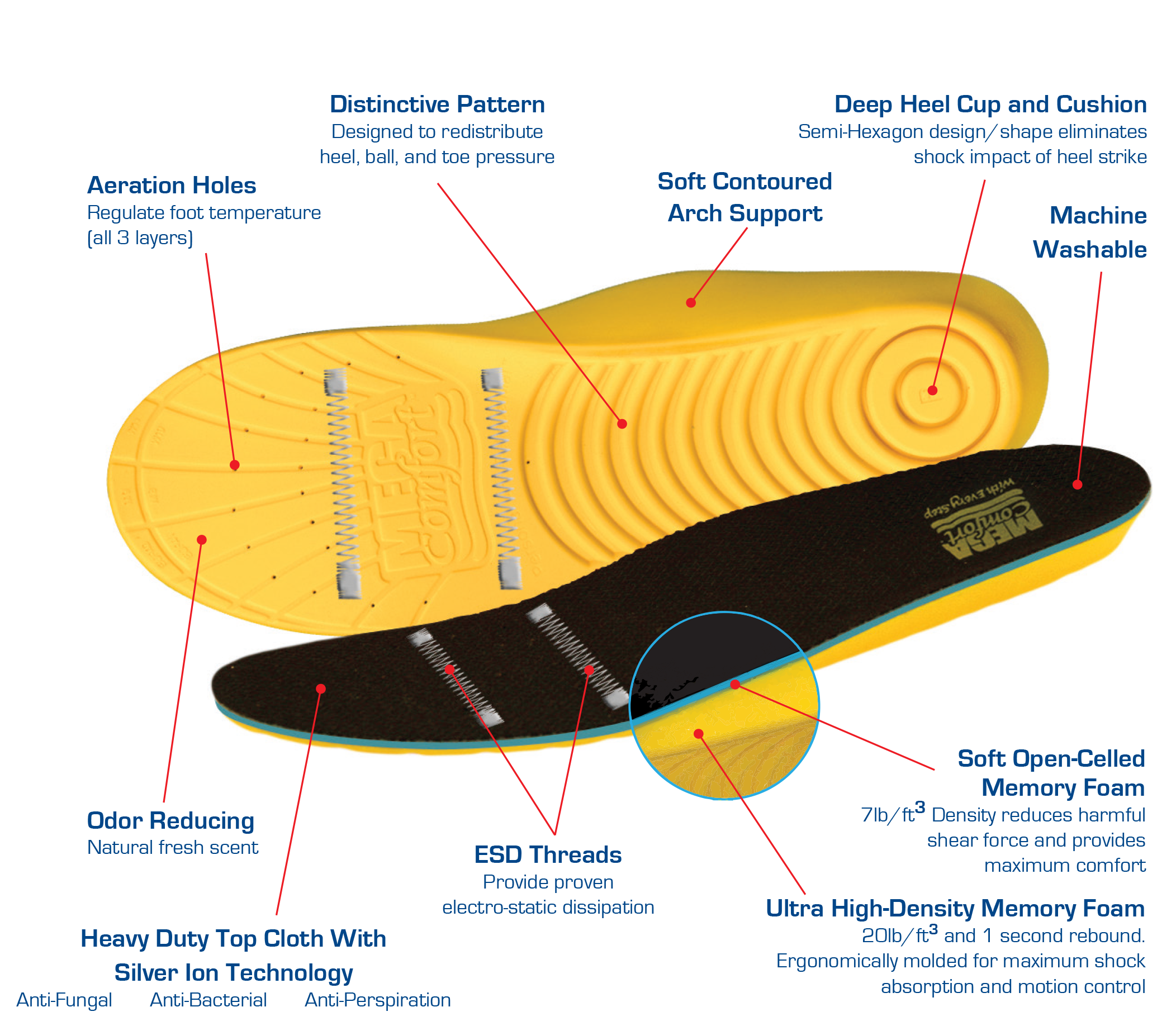 MEGAComfort® Personal Anti-Fatigue ESD Mat® Features
ESD Threads Provide Proven Electro-Static Dissipation

Maximum Shock Absorption

Dual Layered Memory Foam Technology

Soft Contoured Arch Support

Extra Deep Semi-Hexagonal Heel Cup

Maximum Comfort

Machine Washable

Available in 12 Unique Sizes

Memory Foam Compresses for Safe Clearance in Steel Toe Footwear

Heavy Duty Top Cloth with Silver Ion Technology

Anti-Fungal, Anti-Bacterial, Anti-Perspiration, Odor Reducing Scent
Employee Accepted & Appreciated!
Perfect for semiconductor manufacturing, laboratory, warehouse, maintenance, service, cleanroom, construction and gas/oil, the Personal Anti-Fatigue ESD Mat® insoles are always in direct contact with the feet and body and are scientifically proven more effective than standard anti-fatigue floor mats at reducing muscle strain, improving balance reactions and increasing blood circulation.
---
Reduce Costs, Lower Workplace Liabilities and Increase Productivity. Contact us for volume or corporate discounts, to place an order or answer questions today
+800-274-4637 | +716-668-4001 | [email protected] | MDS Associates Authorized Wholesale Distributor