Featured News - Current News - Archived News - News Categories
New!: CarSorb Automotive Preservation Packs
by mdsassociates
Wed, Sep 5th 2018 09:00 am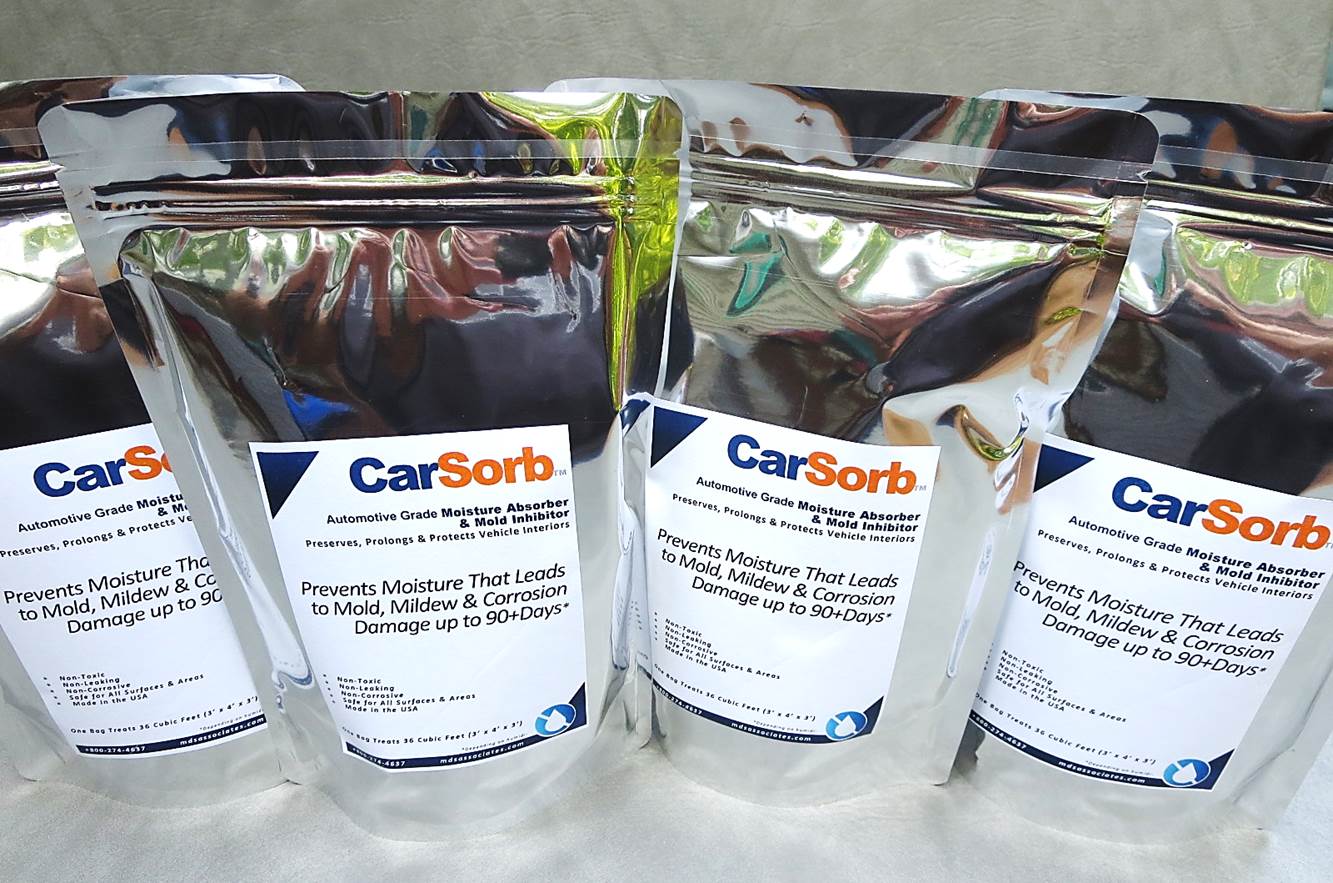 Just because we can't see potential harm doesn't mean you won't see the consequences down the road and forces such as humidity or moisture can ruin automobile interior materials and components in a short period of time, often beyound repair.
Those little DO NOT EAT Chinese desiccant packets commonly found inside bottles, bags and boxes are packaged to prolong and protect pharmaceuticals, food products and consumer goods but why aren't they used to protect automobiles? After all, cars put into storage or sealed for extended periods are at risk to mold and mildew growth or corrision damage!
Preserve, Prolong & Protect Classic Collectable Auto Interiors with CarSorb Mositure Absorber & Mold/Rust Inhibitor Packs.
Over here in Buffalo NY USA we took those China made DO NOT EAT packs and "put them on steroids" to create a premium line of industrial-sized, commercial-grade American-Made desiccants designed to safeguard the interior of your antique, classic collectible, exotic sports or muscle car while in storage or sealed for extended periods of time. For a few dollars, they safely and effectively attract and absorb moisture to prevent potential mold, mildew or corrosion damages for up to 90+ days (depending on humidity) and will keep automotive interiors dry and fresh!.
CarSorb Preservation Packs were originally patented to absorb "cargo sweat" in oceanic shipping containers, our technology automatically shuts "off" and turns "on" in the presence of moisture and always remain in a dry condition - even when desiccant cycle has reached full capacity-meaning ther's no water by-product and no leaching! You won't ever have to empty or recahrge your mositure absorbers ever again!
CarSorb can travel with you making it perfect for year round use. Protects all automotive interior surfaces, materials and componets against humidity related damages during shipping or when stored outside in dealership yards, inside sheds, barns, storage units, garages. Here are some other features:
Non-dripping
Non-leaching
Non-corrosive
No VOC's
Safe to dispose
Safe for all surfaces
Non-toxic
No water by product
Made in the USA!
+Ask for samples or buy a trial pack of CarSorb Moisture Absorber & Mold/Rust Inhibitor Pouches here
+Read more about CarSorb Automotive-Grade Moisture Absorber & Mold/Rust Inhibitor Pouches here
____________________________________________________________
Seeking Retail Partners - Please Contact Jon/Chris
Related Articles