Featured News - Current News - Archived News - News Categories
Protect Products with MiniPax® Desiccants
by mdsassociates
Mon, Jan 21st 2019 08:00 am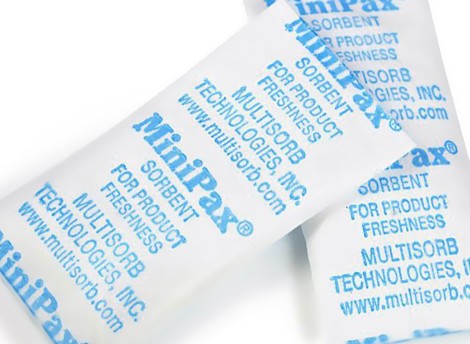 Well, there's a saying that big things come in little packages and MiniPax® moisture adsorbing packets are no exception. Simple, dependable and proven effective, MiniPax® desiccant packs protect sealed products susceptible to moisture damage along the distribution chain and are ideal for automatic or hand packaging operations.
Quality made in the USA, these economical MiniPax® sachets are compact, extremely durable, non-dusting sorbent packets which take up little space in packaging yet have high moisture adsorbing capacity that prevents mold, mildew, odor and rust.
MiniPax® sare supported by a Type III Drug Master File, use 21 CFR-compliant materials and are suitable for use in all regulated product packaging. Formed of welded, uncoated medical grade Tyvek® for high strength, these non-lint pillow packs are virtually puncture proof to eliminate risk of leakage and product contamination making them ideal for the most rugged applications.
Shop here for #100-0200039AG109 MiniPax® 2-gram Silica Gel Packets
Shop here for #100-0200040AG104 MiniPax® 1-gram Blue Indicating Silica Gel Packets
Shop here for #100-0200041AG104 MiniPax® 1-gram Molecular Sieve Packets
_____________________________________________________________________________________________
Related Articles