Featured News - Current News - Archived News - News Categories
Compostable Waxed Paper Can Prevent Cross-Contamination
by mdsassociates
Fri, Aug 7th 2020 08:00 am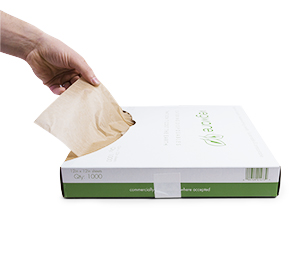 Growing in popularity are these certified compostable waxed paper Kraft sheets from Vegware™. Made with sustainably sourced FSC-certified unbleached paper, they are fast becoming a popular alternative to traditional petroleum based plastics such as polyethylene.
Constructed of polyethylene or heavy weight stock paper, disposable tray liners serve as a convenient infection prevention surface barrier. They can minimize noise, reduce the need for chemicals, improve the visibility of tools and protect against contaminants, liquids, grease, bodily fluids and debris.
When you select these Kraft sheets you help conserve oil resources and support cleaner production methods while protecting the health of our planet, ourselves and diverting waste from landfills.
The sheets come in their own handy dispenser box for easy use and cleanliness. Here is the best. When they are finally disposed, they will fully breakdown within 12 weeks into healthy soil! These wax coated pre-cut sheets will repel fluids, comes in a handy dispenser for easy use and available in the following three sizes:
Vegware Waxed Deli Sheets are ideal for use in cafeterias, bakeries, sub/deli shops or as a tray liner.
_____________________________________________________________________________________________________
Related Articles