Featured News - Current News - Archived News - News Categories
Disinfectant Products Trusted by Hospitals
by mdsassociates
Sat, Mar 6th 2021 08:00 am
Like many companies, SONO® was founded as a unique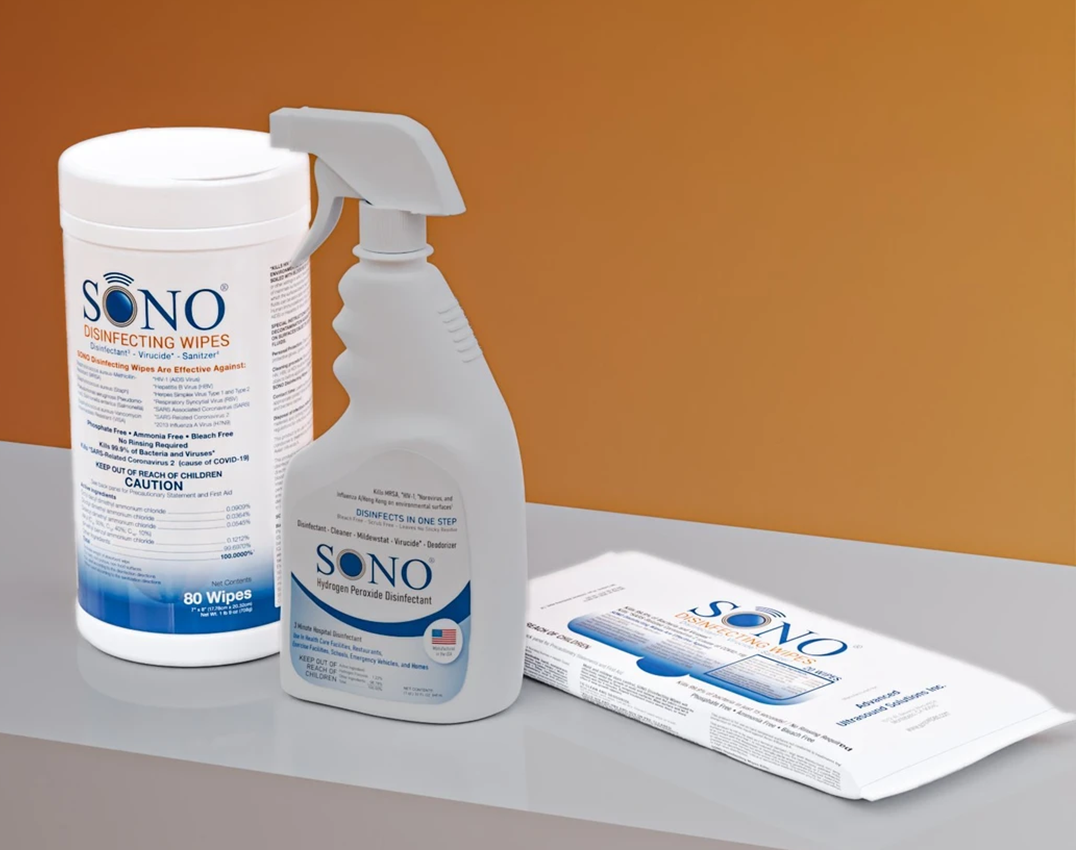 solution to a particular industry problem. Fast forward to today and SONO® disinfecting products have become the standard for cleaning delicate equipment after proving their effectiveness year-after-year.
Serving in the Ultrasound industry since 1998, the SONO® team had identified a growing pattern among doctors, sonographers, and their machines they used. Unbeknownst to them, the disinfectant supplies they were applying had been degrading sensitive ultrasound components, leaving them worn and possibly unsafe to use. This not only posed a liability for the facilities using such machinery, but more importantly, it placed patients at risk.
SAFE FOR USE ON ALL SURFACES
Medical facilities and professionals now not only trust and depend on SONO® to maintain the integrity of their equipment, but also garner the confidence and comfort of their patients.
A BRAND YOU CAN TRUST
Protect yourself and those around you with SONO®. SONO® has invested a considerable amount of time, energy, and resources into ensuring that they are delivering a product that is not only effective and safe for the medical community, but the global community as well. Developed with over 20 years of experience in the ultrasound industry and exclusively manufactured in the USA, SONO's hospital-grade products are second to none in quality, efficacy and material compatibility. Regular use will not degrade surfaces.
SONO® Disinfecting Spray kills 99.9% of mold, mildew, bacteria and viruses on nonporous surfaces and it's safe to use everywhere from homes to gyms to offices. Use it to keep your patients, customers, employees, visitors and family safe with a quick spray on high-touch surfaces where germs can easily be transferred from person to person such as day care centers, schools, colleges, universities, commercial kitchens, gyms, health clubs, locker rooms, lodging establishments, military installations, office buildings, play areas, public restrooms, restaurants, recreational facilities, retail businesses, sports arenas, transportation terminals and more.
SONO® Disinfecting Spray can also be used on fabrics that are composed of 100% cotton or 100% polyester. This product is safe for mattresses, couches, drapes and cushions to stop the spread of infection-causing bacteria, as well as to remove smoke odors from fabrics.
When you use SONO® Hospital-Grade disinfecting and sanitizing products in your business, you are letting your customers know you have their best interest at heart.
+read more about SONO® Hospital-Grade Sanitizing Products here now
+shop for SONO® Hospital-Grade Sanitizing Products here now
______________________________________________________________________________________________
Related Articles