Featured News - Current News - Archived News - News Categories
UB Dental School Shows Its Support with Pink PPE!
by mdsassociates
Thu, Oct 14th 2021 03:00 pm
OCTOBER IS CANCER AWARENESS MONTH
THE UNIVERSITY AT BUFFALO DENTAL SCHOOL OF MEDICINE SHOWS ITS SUPPORT with PINK PPE!
According to the World Health Organization (WHO), breast cancer is the second most common cancer in the world and the most common cancer in women worldwide, accounting for 25% of all incident cases of female cancers.
The month of October signals Cancer Awareness Month, an annual health campaign to increase awareness of this terrible disease around the world and to raise funds for research into its cause, prevention, diagnosis, treatment and cure. From sporting events to patient exams, the color pink expresses moral support for cancer patients particularly women with breast cancer and encourages women to seek preventative measures such as annual mammograms.
Three years ago, when a UB faculty member and cancer survivor proposed the idea that the UB Dental School should promote cancer awareness during the month of October and convert to pink PPE throughout its clinics, it was welcomed with wide open arms and destined to become an annual event.
What many never realized then was that a pandemic would hit our shores and devastate global supply chains of PPE for the next two years making niche PPE difficult to obtain.
OCTOBER 2021: The UB Dental School promotes both cancer awareness throughout its dental clinics and celebrates those who have bravely won the fight! Photo provided by Jason Chwirut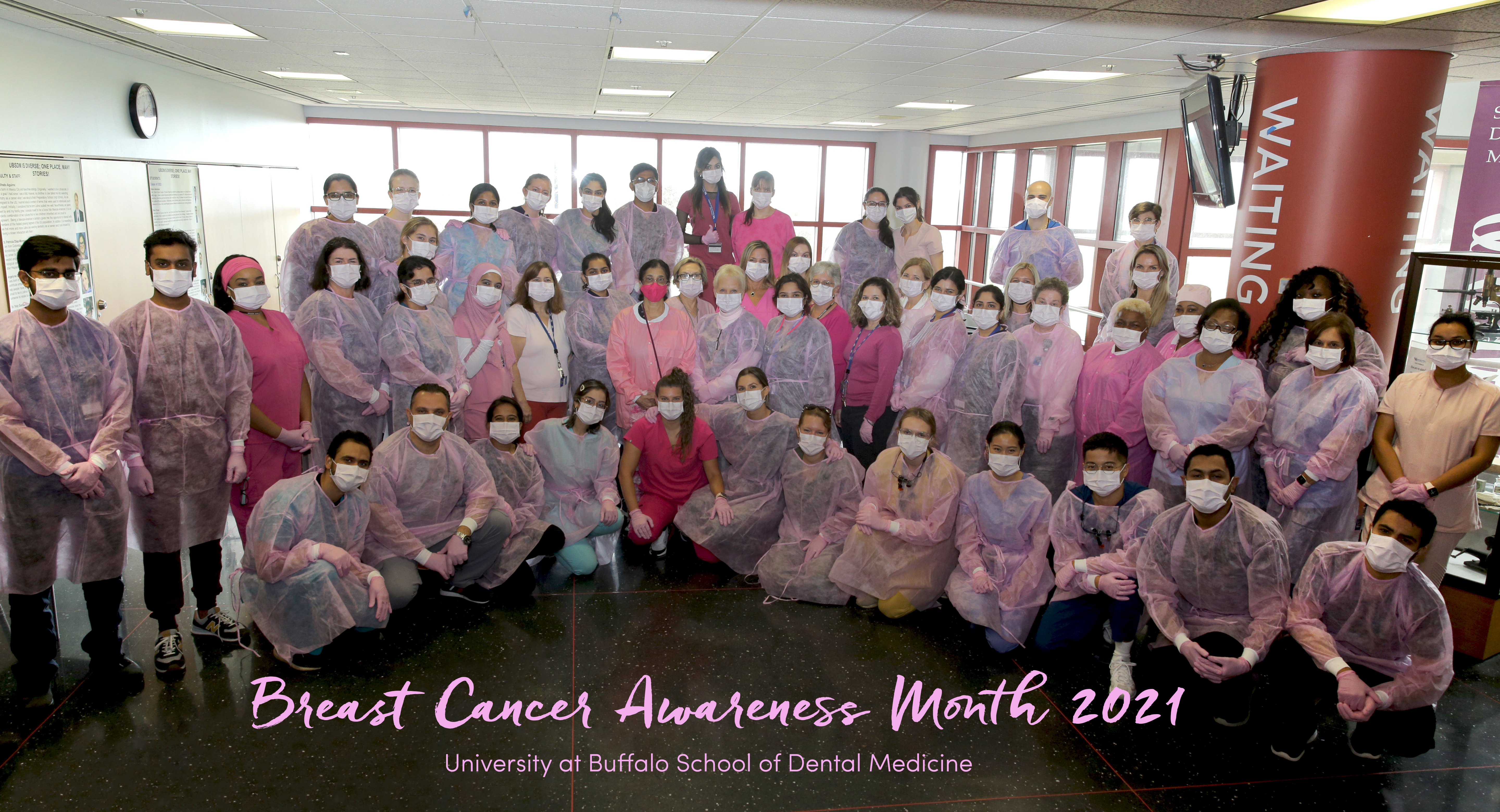 Fighting Cancer and The Pandemic Together
When the University at Buffalo School of Dental Medicine contacted us for pink colored PPE again this year, we weren't sure it could be procured. The pandemic crushed supply chains last October causing them to skip the 2020 campaign. And while the supply of PPE has healed somewhat since then, the pandemic effects still linger along global supply chains making niche PPE supplies such as +pink nitrile gloves, +pink ear-loop facemasks and +pink isolation gowns very difficult to source.
With 1 in 8 women diagnosed with breast cancer, almost everyone knows someone affected by the disease. Having lost our company's founder to cancer, the MDS staff was on a mission to help the University at Buffalo Dental School procure pink PPE, pandemic or not.
Despite record high prices and global PPE shortages, MDS is proud that we could help support the UB Dental School with reasonably priced, high quality pink colored PPE for their clinics. Thank you University at Buffalo School of Dental Medicine for calling awareness and promoting early detection!
In Loving Memory Marianne Stec 12-07-2010
Related Articles