Featured News - Current News - Archived News - News Categories
SHIELD® Freeze Pops Replaces What The Body Sweats Out
by mdsassociates
Tue, Jul 5th 2022 07:30 am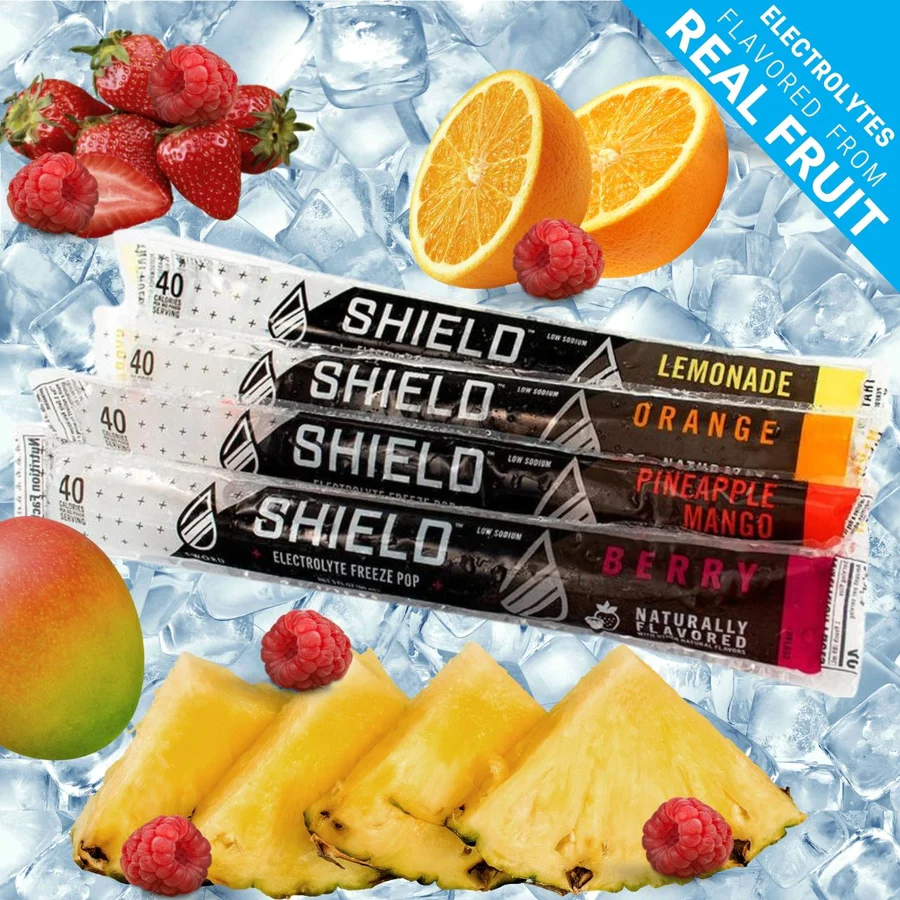 Manage The Core Body Temperature In Extreme Heat
As the summer's temperatures soar, heat-stress becomes a concern, especially when working outdoors. Any time the body's deep core temperature is raised and the body can't cool itself down, a fun and unique way to rehydrate and cool the body's core temperature is to digest anything cold like ice or better, a Popsicle!
Replace What The Body Sweats Out
There's no tastier way to keep cool than enjoying a cold treat like SHIELD® Electrolyte Freeze Pops from Sword Performance. The fluids help rehydrate the body while the coldness helps reduce the body's core temperature and enhance endurance performance. SHIELD® is your daily defense against dehydration. Flavored from REAL FRUIT, it's light and refreshing with a finely tuned ratio of Sodium and Potassium electrolytes to support fluid balance, muscles, and nerves. SHIELD® is also low-calorie so you can drink it anytime without worry.
Product Details, Features and Nutritional Facts:
3 Fl oz. (10.2-inch) individually wrapped, thick plastic pouches available in Real Fruit Flavors such as Berry, Orange, Pineapple Mango and Lemonade
Replenish electrolytes lost during hard work and help regulate the body's core temperature in extreme heat without high fructose corn syrup, artifical sweeteners, or added colors
Serving Size: 1 Pouch | 40 calories | 0 grams of fat | 25mg Sodium | 11g Carbs | 11g Sugar | 0g Protein
Ingredients: Water, Cane Sugar, Natural Flavors, Ctric Acid, Salt, Xanthan Gum, Sodium Benzonate (preservative), Potassium Citrate, Potassium Sorbate (preservative)
Packaged and sold 36 mixed flavors per case (pallet quantitites available)
-----------------------------------------------------------------------------------------------------------------------------
Related Articles