Featured News - Current News - Archived News - News Categories
Portwest® Peak View™ Translucent Hard Hats
by mdsassociates
Wed, Aug 3rd 2022 08:00 am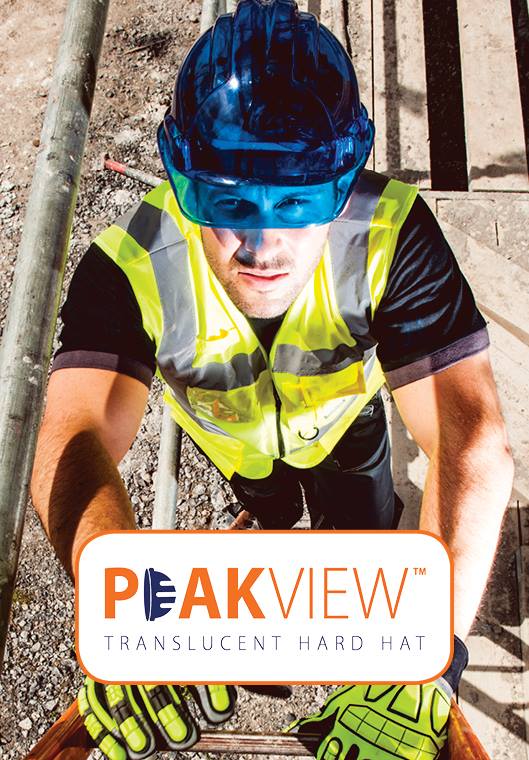 Can You See Through Your Hard Hat?
Typical cap style hard hats are constructed with a safety brim that's designed to enhance protection to the facial region and block the sun's rays. This protruding brim often handicaps a worker's upward vision causing anyone who's required to climb ladders or stairs to tilt their head to the side to look up. This awkward motion causes a shift in body position/weight putting one at risk to a slip or fall. As a response, some laborers opt out to the safety brim and reverse their hard hats putting them at heightened risk to injury.
Peak View™ Patented Translucent Hard Hats
The Peak View™ safety helmet is a Portwest® exclusive design. The translucent shell and see through peak and sides allow the wearer to look upwards without the need to tilt the head. The extra strong yet ultra-light weight polycarbonate shell offers UV ray protection. This innovative, market leading design is available in 2 styles options (vented or non-vented) in 8 color ways and includes a 6 point textile suspension with wheel ratchet adjustment.
Peak View™ is the safest and most comfortable solution, revolutionizing industrial head protection PPE and growing in popularity.
Features:
ANSI/ISEA Z89.1 EN 14683 - TYPE II certified

Buckle size adjustment for easy fitting

6 point textile harness

with wheel ratchet size adjustment

Compatible accessories available

Available in an excellent choice of corporate colors

Vented hard hat allowing a refreshing airflow around the head

Non-vented style has electrical properties

Soft foam sweat band included

UV 400 stabilized

Extra strong yet ultra light weight Polycarbonate shell

Translucent shell to see through peak and side
--------------------------------------------------------------------------------------------------------------------------------
+ Learn more about PortWest® Peak View™ Translucent Safety Helmets here
+ Shop PortWest® Peak View™ Translucent Safety Helmets here
Related Articles