Accidents Happen.
DOES YOUR

SAFETY HELMET HAVE MIPS®

?
ADVANCED HEAD PROTECTION WITH LOGIC TO PREVENT WORKPLACE CONCUSSIONS AND BRAIN TRAUMA
Drive by any construction site and you'll see laborers wearing helmets in different styles and colors. That's because workers are at risk to many hazards from above. The basic purpose of hard hats has always remained the same – to help protect the head against severe impacts from falling debris, however data is telling us that nearly 60% of head injuries are caused by fall accidents such as a trip. It has also shown that the human brain is very sensitive to rotational forces. If your crew is at increased risk to trips or falls, then you need consider this new safety helmet safety system - it's revolutionizing industrial head protection PPE!
Dangerous Angles Impacts
Work sites are filled with tripping hazards such as lumber, pallets, cable, beams and more. Do you know that most concussions and traumatic brain injuries are the result of rotational force and strain to the brain? Well, injury statistics demonstrate that when a person trips on a level surface, they're more likely to fall at an angle instead of directly on top of the head which can cause rotational forces. This is due to the forward energy of motion that may extend to the head when hitting the ground.
Mips® safety system was created to diffuse forward energy that can cause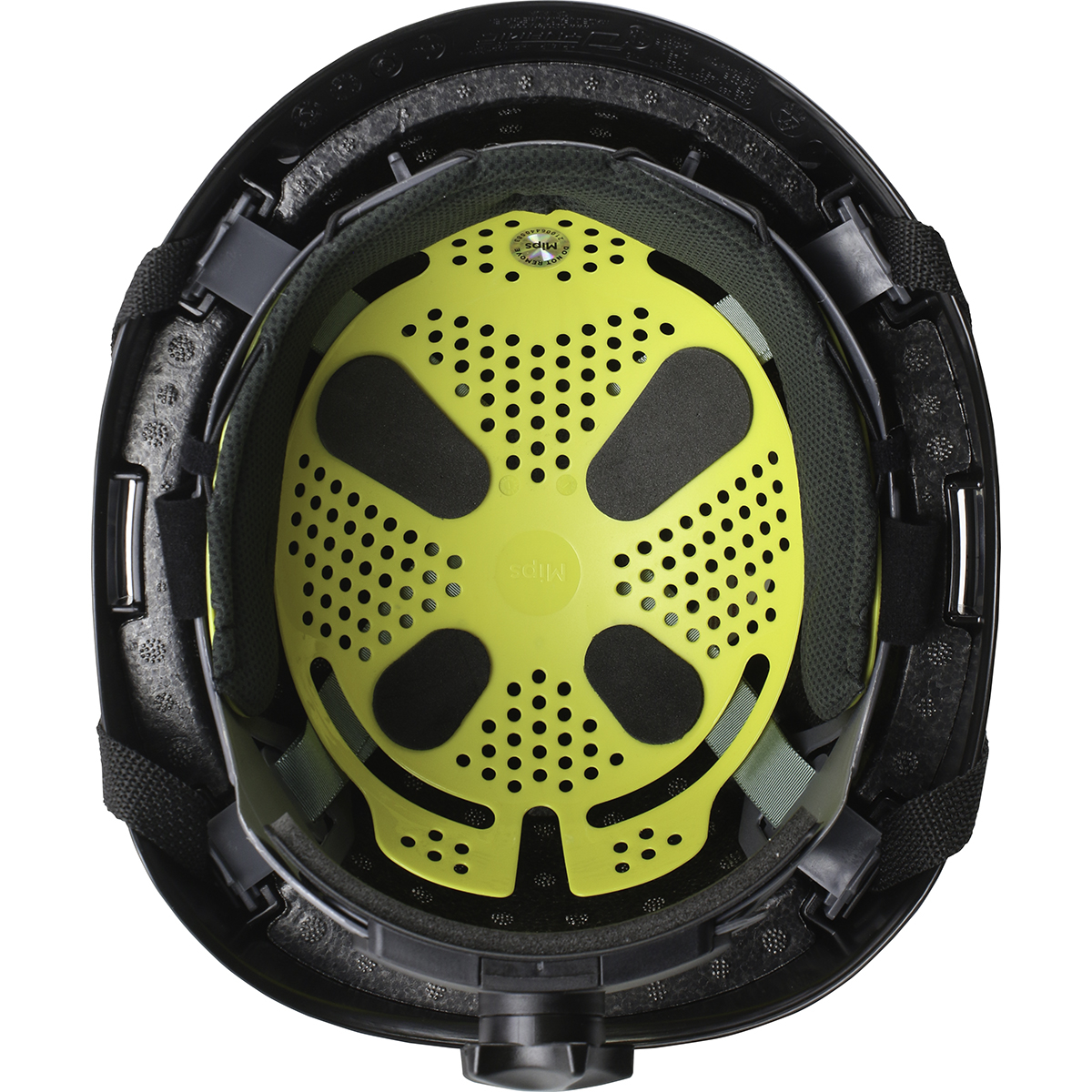 a traumatic brain injury.
When Conventional Hard Hats Aren't Enough
Mips® is a new patented safety system technology born from 25 years of science, research and incorporated on the Rocky™ Safety Helmet available from PIP® (Protective Industrial Product). Mips® is designed to protect workers from fallen objects, lateral impacts and to redirect the harmful forces generated by dangerous angled impacts thereby reducing the severity of head injuries from rotational forces that may be transferred to the head when falling.
Dynamic Rocky™ Industrial Climbing Helmet with Mips® |
Features
The Rocky™ is an ANSI Certified Type II, Class E industrial climbing helmet that offers wearers with sleek styling and superior impact protection while working at heights or in confined spaces. The super lightweight, non-vented Polycarbonate/ABS shell and an integrated hi-density inner shell foam liner that work in conjunction with the highly adjustable, quick release 4-point nylon inner suspension to provide exceptional protection from top of head and lateral impact hazards.
The Dynamic Rocky™ - Mips® technology offers a low friction layer that allows the head to move inside the helmet (10mm – 15mm relative motion in all directions) which can redirect the harmful rotational motion otherwise transferred to the head.
Ultra lightweight shell made with Polycarbonate / ABS material provides superior protection

Mips® (Multi-directional Impact Protection System) is a low frictional layer designed to reduce rotational motion transferred to the head from angled impacts

4-point quick release suspension with dual position height adjustment ensures a proper fit

Strong double-layer woven nylon straps provide durability and secure fit for all day wear

Inner suspension includes comfortable padding for above the brow line, crown and back of head

Rugged non-slip adjustable SURE-LOCK wheel ratchet ensures proper suspension performance and effortless fit for all head sizes

Universal accessory slots accommodate eye, face and hearing protection

Foam impact liner helps absorb the forces of front, side, or rear impacts
-Meets ANSI Z89.1-2014 Type II and CSA Z94.1-15 requirements
-Fulfills Class E Electrical Insulation requirements (20,000 volts)
Protecting your skull is an important part of safety and safety helmets (also known as hard hats) can prevent or minimize injuries to the head and brain, protecting against falling debris, impact, electric shock and rain. Increase wearer acceptability and reduce workplace injuries. When selecting helmets for the jobsite, consider the Dynamic Rocky™ Safety Helmet with Mips® safety system.
Engineered for comfort, safety and fit, elevating PPE compliance is as easy as tap the link below.
Questions. Orders. Volume Discounts.
Call or Click Today
Monday - Friday 8:30am - 4:30pm EST
Toll-Free +800-274-4637 | +716-668-4001 | [email protected]
"We Want You to Return Home Safely Every Day™!"