BEWARE

: DON'T MIX MASKS

with

MRIs'

or

ELSE!
The Wearing of a Mask During MRI's Could Be Dangerous. Protect Against Radio Frequency (RF)-Induced Heating Injuries!
---
Wearing a mask during the pandemic is a good thing right? Face masks, surgical masks, and certain respirators, such as N95 filtering face piece respirators without exhalation valves, help slow the spread of diseases that pass from person to person in respiratory droplets.
While many states and business may have relaxed mask mandates, many healthcare providers and medical facilities are still requiring individuals to wear a mask regardless of the vaccination status, which isn't necessarily a bad thing. However, if you will be visiting the radiology facility for a MRI, you best beware that the mask you wear could potentially hurt you.
FDA ANNOUNEMENT
Magnetic Resonance Imaging (MRI) uses strong magnets and radio waves (radiofrequency energy) to make pictures of the inside of the body. MRIs help health care providers diagnose a disease or injury, and monitor medical treatment but there's a negative side to this procedure which has caused the U.S. Food and Drug Administration (FDA) to make an important announcement.
When it is appropriate for a patient to wear a face mask during an MRI exam, such as during the COVID-19 public health emergency, the FDA is informing patients and health care providers that patients may be injured if they wear face masks or respirator masks with metal parts or specialized coatings during a Magnetic Resonance Imaging (MRI) exam that could result in radio frequency (RF)-induced heating burn.
While the FDA recommends patients and workers wear metal-free face masks during MRIs, is there such a thing? After all, many of the face masks offered today include flexible metal nose pieces or bands, headband staples or have nanoparticles or antimicrobial coatings that may contain metal such as copper or silver all of which can become hot and lead to a burn injury.
We Have

MRI SAFE Masks

Made in the

USA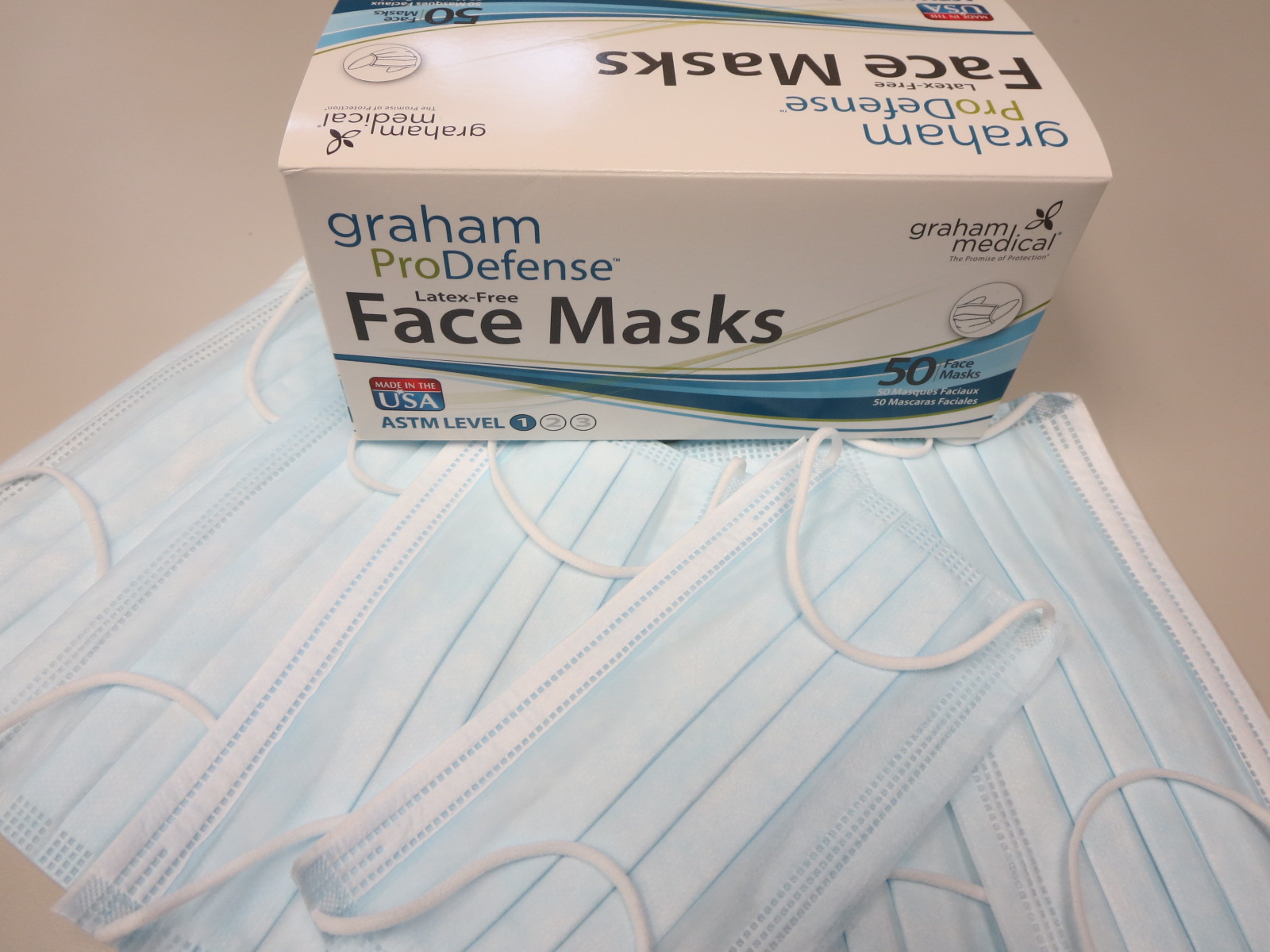 After a lengthy search, we're proud to share with you that we have located just the mask! Graham Medical®, a reputable supplier of disposable PPE and healthcare disposables, provides a domestically manufactured mask that has no metal or metal nose band.
Made from MRI's, these metal-free masks are also perfect for X-rays, transportation security screening and especially for correctional services as there are no components that can be used as a shank.
The 88589 ProDefense™ Masks are not only MRI safe, they're also ASTM F2100-11 Level 1 performance rated and feature a skin-friendly contact inner layer that meets ISO standard 10993 making these ideal for wearers who suffer from 'maskne' or have sensitive skin.
Other features include:
3-layer combination of breathable films that resist fluid penetration

Generous 7" x 3.75" size

Pleated design

Latex-Free ear loops

Popular blue color
Burns from metal objects worn by a patient during an MRI exam are a known issue and patients should not wear any metal during an MRI. Given the increased use of face masks during the COVID-19 pandemic, the FDA wants patients and health care providers to be aware of the potential risk of face burns related to the use of patient face masks containing metal during an MRI.
If you are seeking a metal-free MRI safe face mask for your staff or patients, then look no further. All you need to do is tap the link and …
Monday - Friday 8:30am - 4:30pm EST
Call or Click Today
Questions. Samples. Special Requests.
Toll-Free +800-274-4637 | +716-668-4001 |

[email protected]
"We Want You To Return Home Safely...Every Day!