Stay Hydrated with Sqwincher® Products
Low energy levels are, unfortunately, almost unavoidable once the hot summer months hit. Working out in the sun or non-air conditioned environments can take a toll on your body and sometimes lead to serious healthcare problems, like dehydration or heat exhaustion. And, if you're not at 100%, your productivity and job performance will suffer.
Sqwincher® offers a line of products created to help you stay safe and productive while working. They boost your electrolytes to keep your mind sharp and on task, and give your body the essential minerals it needs to hydrate and get the job done. Combine these with cooling kits on hand and have a great way to fight heat stress all summer long. Available in an array of flavors and styles, such as instant powder packets and chews, Sqwincher® has something for everyone!
---
Sqwincher® Top Picks

Sqweeze Electrolyte Pops are the perfect choice for those work sites out under the scorching sun. These 3 oz. electrolyte replenishing treats do the trick in a variety flavors and come in an assorted bundle pack! Replenish vitamins like Potassium and Vitamin C for an energy boost in a convenient on the go packet. Freeze these up and take them with you for all the refreshing cool energy you need. These are handy for people who suffer from Diabetes because they help replenish vitamins and electrolytes to revitalize and refresh. + BUY HERE!

Overwhelmed, busy and constantly on the go? Are you athletic, a sportsman or a hard worker? Sqwincher® Steady Shot® Energy Drinks are for you! This portable little 2-oz bottle is the pick you up you need to regain those fallen energy levels. Stay sharp both mentally and physically once you are revived with these handy drinks. Prevent dehydration and heat stress by carrying these in your pouch, back pack or purse along with a few cooling items and you will be hot weather ready. Available in three flavors - orange, berry, and fruit punch. + Interested? Grab a couple HERE!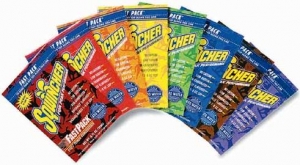 Sqwincher's® Fast Pack Liquid Concentrate is the most popular of the Sqwincher® family of electrolyte drinks and maximizes worker productivity in high heat environments. Work hard, revive harder with Sqwincher®. Just add to water to the pack as your cup and you have yourself the perfect energy booster! 1 pack makes 6 ounces.
+800.274.4637 | +716.668.4001 | [email protected] | Fax +716.668.4496 | MDS Associates