This TenActiv™ Safety Glove is All About The Palms
If you're a pipe or brick layer, or work in bridge construction, oil and gas, mining or handle scaffolding, then twice the grip from your work glove is a good thing. Part of the hot-selling TenActiv™ brand, this newly release TenActiv™ STAGBLPVB from Superior Glove® merges a 13-gauge seamless knit construction with exclusive ErgoHyde palms that is being well received by professional glove wearers.
Cover and protect your hands with super hero like effects! When you pick this glove up, you'll immediately feel the weight and realize the TenActiv™ STAGBLPVB is a serious work glove designed for heavy equipment industrial operators seeking serious hand protection.
Once this glove is secured on your hands, you might feel like you have Iron Man-like hand protection!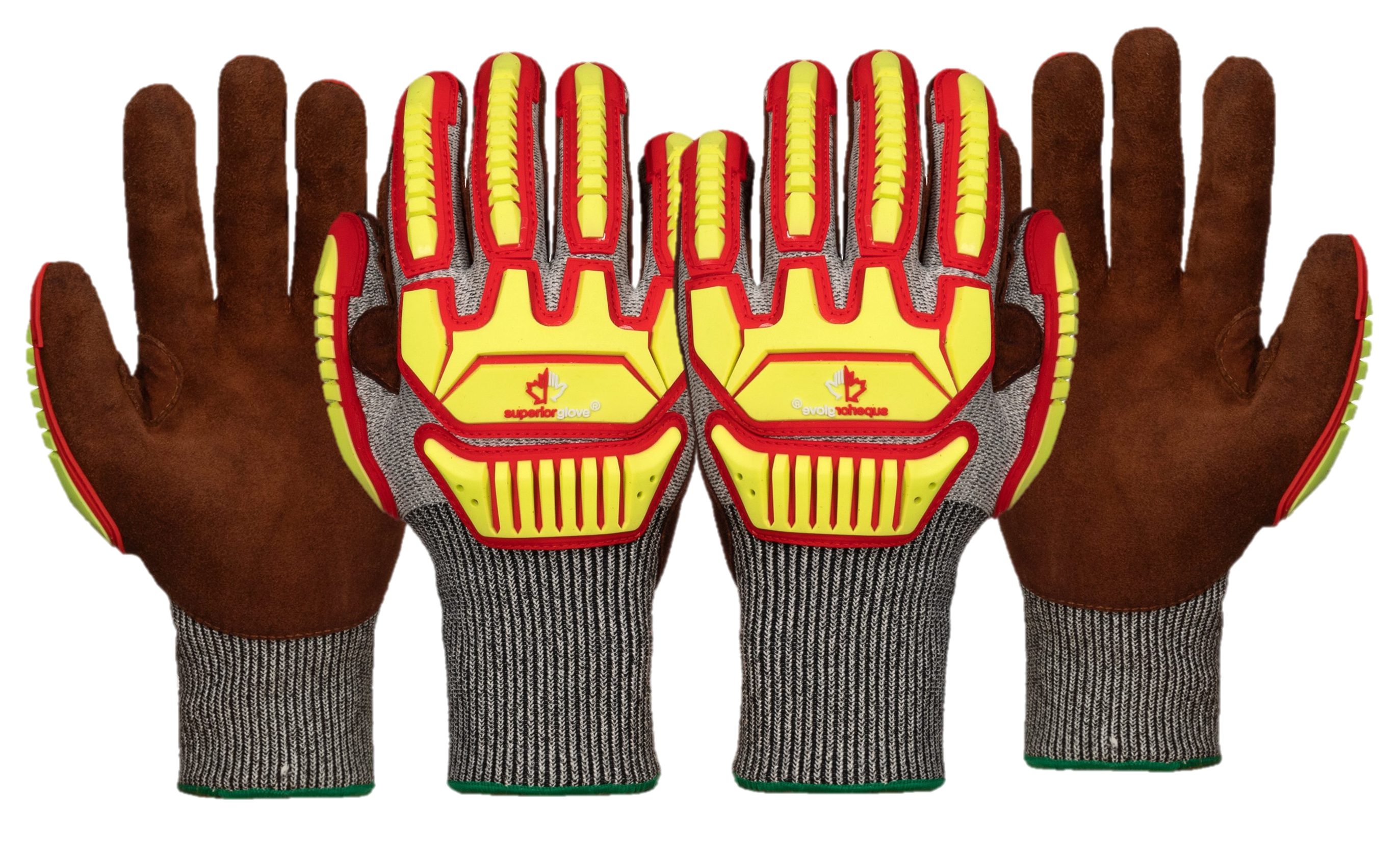 Superior Glove® has the unique ability to develop innovative hand protection products that are years ahead of the competition. Part of the secret is in the science. After identifying a hazard, their engineers visualize a glove to solve the problem then design it. Instead of relying on one strong fiber, these TenActiv™ gloves are knitted from yarns engineered to incorporate the benefits of two or more components to create unparalleled cut protection, performance and comfort.
ERGOHYDE PALMS
ErgoHyde palms provide maximum grip and durability on wet or oily surfaces while taking comfort and dexterity to a new level. ErgoHyde palms average twice the grip of typical leather palms and its exclusive thermoforming technology creates an ergonomic fit for a natural feeling palm that optimizes dexterity and reduces hand fatigue so the crew gets more done. The palms are also treated with proprietary Oilbloc™ to ensure they repel water and oil for greater gripping effects.
ERGONOMIC DESIGN
The engineers at Superior Glove® paired this ErgoHyde technology with an ergonomically designed TenActiv™ seamless knitted glove liner shell. This is done to add flexibility and breathability which translates to fresher hands that do more work.
SAFETY RATINGS
Brightly colored for enhanced hand awareness when working, the flexible thermal plastic rubber protectors (TPR) are strategically placed along the back of the hand to diffuse impact injuries to the finger and knuckle region without restricting movement. Other safety features include ANSI Cut Level A8 360° cut resistance, ANSI/ISEA Level 1 impact protection, and ANSI Level 5 puncture-resistant palms. ​​
The TenActiv™ STAGBLPVB Industrial Work Safety Gloves provide twice the grip of typical leather palms plus maximum durability, dexterity and an ergonomic fit. But don't take our word for it, tap the link and …
Orders. Questions. Volume Discounts.
Call or Click Today
Monday - Friday 8:30-4:30 EST
+800-274-4637 | +716-668-4001 | Fax +716-668-4496 |

[email protected]
"We Want You to Return Home Safely Every Day"