AlphaTec

® Breathable, Reusable Chemical-Splash-Resistant PPE Clothing
Every day, workers across the country face working in dirty, hazardous and challenging environments such as a chemical emergency. Are you protecting them properly?
A chemical emergency involves the discharge or release of hazardous liquids, gases or solids. It can happen as a result of an industrial accident, failed infrastructure or an intentional terror attack. Anywhere hazardous products are manufactured, transported or stored can potentially be the site of a future chemical release. The risks associated with a chemical release include explosions, poisoning and environmental contamination and exposure to these can be extremely dangerous to personal safety.
Selecting the appropriate chemical protective clothing to respond to a hazardous chemical exposure or chemical emergency can be very complex. Besides the specific chemical(s) encountered, other aspects such as the concentration, temperature of the chemical, mixtures of chemicals, flammability, toxicity etc. have to be considered. So does heat build-up. Anytime an operator covers his or her body with an impermeable protective barrier, it creates burdensome heat that can compound with elevated temperatures. Together, this could result in dangerous heat-stress.
ALPHATEC® IS SERIOUS CHEMICAL PROTECTION CLOTHING
MADE IN USA
Minimize the exposure to chemicals, fluids, pathogens with AlphaTec® series of breathable and reusable chemical splash protective garments. This line-up provides liquid splash protection while maintaining all-day breathable comfort!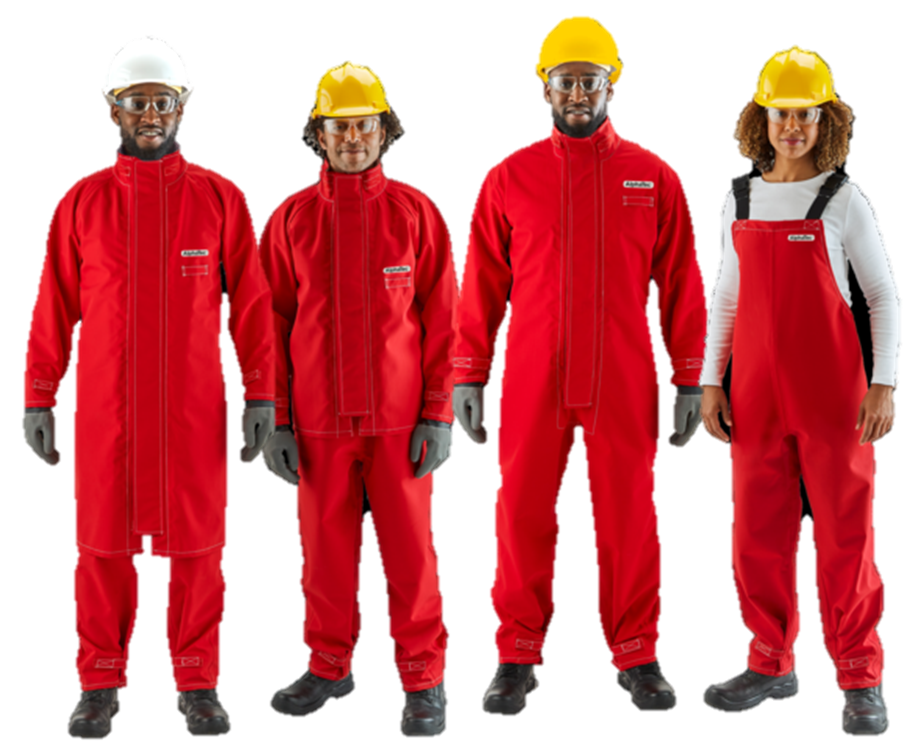 The AlphaTec® reusable chem splash series is made of a white polyester inner with a red polyester outer fabric containing a breathable GORE® membrane. It offers exceptional liquid chemical splash protection, while also helping to manage heat stress by wicking moisture away for the body and allowing body heat to disperse through the fabric. The worker is protected and comfortable throughout a full shift.
Other performance aspects include seams that are stitched with thermally stable and chemically inert GORE® Temara® sewing thread and heat sealed with GORE-SEAM® tape to protect against liquid strike-through so that they comply with the requirements of NFPA 1992 Standard on Liquid-Splash-Protective Ensembles and Clothing for Hazardous Materials Emergencies and ASTM F1671 Resistance to bloodborne pathogens.
Use these garments in accordance with applicable personal protective equipment regulations, which in the United States is 29 CFR 1910.132 and NFPA 1500. The garment may be used in temperature ranges from -40°F to 150°F (-40°C to 65°C). Never use the garment near open flames or intense heat.
STANDARDS OVERVIEW
Chemical splash fabric provides protection with penetration data for more than 70 chemicals including alkalis, acids and infectious agents

Breathable fabric maximizes comfort, reducing the risk of heat stress and increasing productivity

Durable laminated fabric system is machine washable for longer, cost-effective service life

Certified according to NFPA 1992 - 2018 - Liquid Splash-Protective Clothing for Hazardous Materials Emergencies
INDUSTRIES
Chemical

Food Processing

Mining

Maintenance

Metal fabrication
APPLICATIONS: Plant disinfection and sanitization, Chemical Handling, Repair and maintenance, Oil Platforms, Mining, Metal Plating, Food Processing, Sanitation, Paper Mills, Utilities, Energy, Marine operations, Water plants, Transport of hazardous substances, Pulp and Paper Production, Commercial fishing,
+Shop Now
AlphaTec® Breathable Chemical-Splash-Resistant Apparel
+ 66-660 AlphaTec® Jacket: Design features include a heavy duty zipper, raglan sleeves for ease of movement and comfort, adjustable hook and loop closure straps at the wrist, and front flap for a snug fit, double front zipper flap for a secure seal and front device tab.
+ 66-667 AlphaTec® Coverall: Design features include raglan sleeves designed for comfortable arm movement, adjustable hook and loop closure straps at the wrist, ankle and front flap for a snug fit, double front zipper flap for secured closure, heavy duty zipper and front device
+ 66-663 AlphaTec® Coat: Design features include a raglan sleeves designed for comfortable arm movement, adjustable hook and loop closure straps at the wrist, and front flap for a snug fit, double front zipper flap for a secure seal, heavy duty zipper and front device tab
+ 66-662 AlphaTec® Bib Overall: Design features include adjustable hook and loop closure straps at the legs for a snug fit and adjustable straps with parachute buckles
+ 66-664 AlphaTec® Detachable Hood: can be used with AlphaTec's jacket, coat and coveralls. It attaches to the collar by means of hook and loop fastenings and features a chin strap
Using the appropriate protective apparel can mean the difference between a good day and a bad day. Be sure you are properly equipped with an adequate level of specialized personal protection that reduces chemical exposure. Save money with convenient AlphaTec® clothing bundles! All you need to do is tap the link and ...
Monday - Friday 8:30am - 4:30pm EST
Call or Click
Questions. Samples. Special Requests.
Toll-Free +800-274-4637 | +716-668-4001 |

[email protected]
"We Want You To Return Home Safely...Every day!™