ANSI/ISEA 138: This New Glove Standard Will Have a Big Impact on Hand Protection!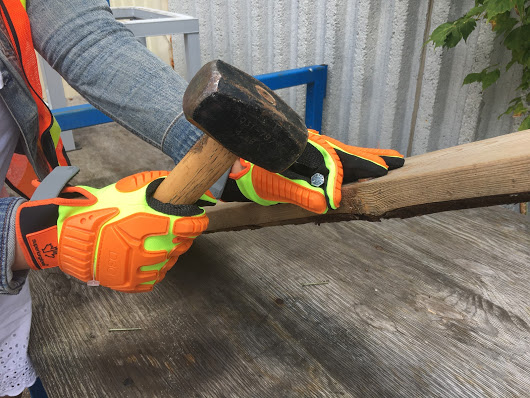 Have you heard the news? A new hand protection standard has arrived!
In case you haven't heard, the American National Standard for Performance and Classification for Impact-Resistant Work Gloves (ANSI/ISEA 138-2019) was officially released. This voluntary North American standard provides a uniform and accurate classification system for impact protection across all industrial safety work glove manufacturers and makes it easier for industries where impact protection for the hands is critical.
For those who work in construction, mining, demolition, lumber, shoring, oil and gas, you can now make better choices when selecting impact-resistant industrial work safety gloves!
Over the past decade, the market for impact-resistant gloves has grown tremendously. As such, the materials technology for impact-resistant gloves has grown as well, resulting in a glut of products offering back-of-hand protection and little information on how best to choose between them.
♦Why Introduce Another Standard?
Standards protect end users. Standards create a level playing field and ensure purchasers can compare different products accurately and be able to select those products that will best keep operators safe and compliant. Standardized testing methods provide dependable, clear classifications that enable purchasers to make better-informed decisions and ultimately provide superior protection to end users.
One of the main forces for this glove standard was the fact that there simply wasn't one. Given the vast variety of impact-resistant glove options available and the fact that testing methods weren't standardized, it was almost impossible for purchasers to make educated comparisons or substantiate claims made by manufacturers. And this can put operators at risk to injury.
♦Execution of ANSI/ISEA 138 Impact Standard
ANSI/ISEA 138 is the result of collaboration between: The American National Standards Institute (ANSI), the International Safety Equipment Association (ISEA), materials experts from material manufacturer D3O®, representatives from leading industrial glove manufacturers (including Superior Glove®), and plastic and reconstructive hand surgeon Dr. Lloyd Champagne.
* The standard outlines the precise requirements for testing and labeling in order for manufacturers to be able to display the ANSI/ISEA 138 pictograms on their products.*
♦How Impact-Resistant Gloves Are Tested
ANSI/ISEA 138 has standardized the method for testing impact-resistant gloves and provides exact instructions on the requirements for testing equipment and how the test needs to be run. One of the stand-out features of this standard is that unlike other standards, it does not rely on the 'honor system'. Manufacturers cannot claim their own test results and instead must have their gloves tested in a third-party lab that meets the ISO/IEC 17025:2017 standard. Using precise measurements, the new standard ensures impact force to the knuckles and fingers is accurately measured.
The test is conducted by dropping a 'drop striker' (a falling mass) on the impact points of the glove, recording the force transferred in kilonewtons (kN). This test is repeated eight times for the knuckles and ten times for the fingers. Gloves are classified based on all the test results and the mean. To classify as an ANSI/ISEA 138 level 1, 2, or 3, the mean and all test results must be within the classification parameters below.

♦Labeling of Impact-Resistant Work Gloves
All gloves claiming a performance level under ANSI/ISEA 138 must have an ANSI/ISEA 138 pictogram showcasing the level of protection offered by the glove on the glove itself or a label that is permanently attached to the glove. The pictogram marking must be visible and legible throughout the normal useful life of the glove. The pictogram is pictured below.

This new ANSI/ISEA 138 impact standard will help reduce workplace impact injuries in two major ways. First, it will drive functional, instead of cosmetic, innovation from glove manufacturers and material science research. Second, it will help safety managers compare and choose gloves that will really protect their workers.
At the time of publishing, glove manufacturers are testing their impact-resistant gloves under the new standard. As they are tested, we will be updating our impact-resistant gloves on our website.
Volume Discounts. Questions. Orders.
+800-274-4637 | +716-668-4001 | [email protected]
"We Want You To Return Home Safely Everyday"