Dial Up

the

Heat

with these

Patent-Pending Heated Winter Glove Liners
These New Battery Operated Boss® Therm™ Heated Glove Liners Are A Real Game Changer!
It's hard to grasp that in just a couple of months, many of us will be unpacking our winter apparel and gear. As "Buffaloians" we're subjected to extreme temperature swings that include sub-zero temperatures, negative wind chills, blizzards, sleet and freezing rain. Unfortunately cold hands and numb fingers are considered part of winter livinghere in the Northeast.
If you have spent time in cold conditions, you already know that your hands and fingers are usually the first thing to get cold. Numbness or tingling are signs that your body is trying to maintain its proper temperature and a clear indicator that your winter glove is not well suited for the frigid temperatures you are working in and should be replaced immediately.
Working outside with cold hands can be absolutely brutal, and extreme cold conditions require extreme hand protection. If you're seeking the ultimate hand warmth in sub-zero weather conditions, then we have something for you!
Get rid of instant hand warmers, bulky snow gloves or thermal liners that hinder dexterity. In as little as 60-90 seconds you can take a bite out of the frigid cold with these 3-stage activated patent-pending Boss® Therm™ warming glove liner!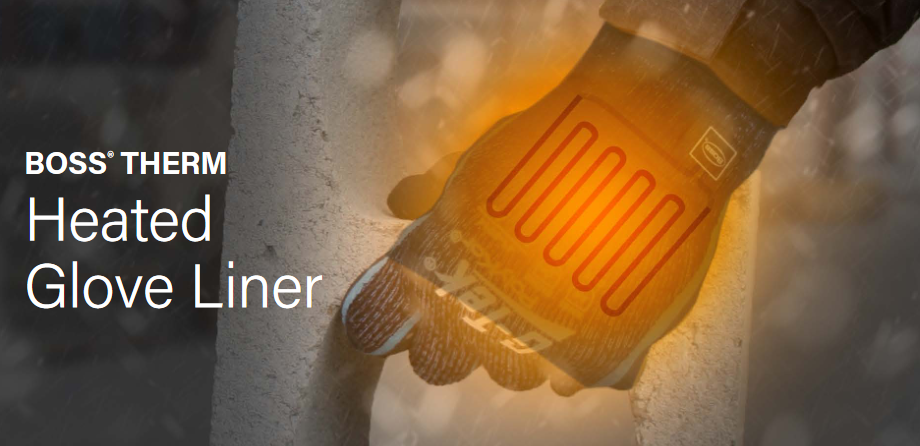 Enhance the Warmth of Any Glove
From the PIP® family of safety products, these one size fits all fingerless Boss® Therm™ warming glove liners will produce heat for up to 2.5 hours. Available with three temperature settings, the heating element quickly warms the blood as it circulates over the back of the hands while the outer glove traps in the heat making these a must for snow removal, snowmobiling, sports enthusiasts, outdoor laborers, fishermen, hunters, skiiers, snow boarders or for individuals suffering from Raynaud's disease, tendonitis or arthritis.
Simply plug the adapter into USB port and plug in the batteries. When the indicator turns green, the liners are ready to heat. Remove batteries and connect them to the glove liners and tuck away. Press and hold the power button, select desired color or temperature below:
LOW HEAT (green) - 90° F, MEDIUM HEAT (blue) - 110° F, HIGH HEAT (Red) - 125° F.
The battery operated Boss® Therm™ Heated Glove Liner is made with machine washable (50+ washes) soft 4-way stretch material that conforms to the hands without sacrificing dexterity while the extended cuff eliminates drafts or snow from entering the glove. Included with purchase are two USB rechargeable Li-ION Poly batteries.
Maximize Heating Efficiency with The Proper Insulation
A winter glove is only effective when worn and anytime a worker removes his or her glove in the extreme cold conditions the trapped heat escapes. When this situation happens, the cold hand is unable to heat up the internal temperature of the glove defeating the purpose of the glove. With the Boss Therm™ Glove Liner, the outer glove becomes an insulator and magnifies internal warmth so the hands remain comfortable.
A cold worker is an unproductive worker who is at jeopardy to a cold stress injury. When the cold weather arrives, be sure to keep them safe and warm. Now you can combine the technology of these Boss® Therm™ Glove Liners with the Boss® Therm™ Heated Vest. Worn as a base layer, these thin, flexible and adjustable heating vests maintain core body temperature without hindering movements. You can purchase these here: +300-HV100 Boss® Therm™ Heated Vest
Work longer, faster and feel better in moderate to extreme cold temperatures and environments all the way to tundra-awful cold! But take our word for it. All you need to do is tap the link and ...
+Click or Call
Monday - Friday 8:30am - 4:30pm EST
Questions. Samples. Special Requests. Orders.
Toll-Free +800-274-4637 | +716-668-4001 | [email protected]
"We Want You To Return Home Safely...Every Day!™
+click for PDF instruction sheet here
+click for PDF sell sheet here
+click for PDF specification sheet here
Replacement Batteries Available: 399-GLVBT (Contact MDS)