Innovative Bump Safety Caps
Head injuries in the workplace can be disastrous. According to the Bureau of Labor Statistics data, head and neck injuries are the third highest cause of work-related emergency room visits (ISHN, 2013). That's not to mention the lesser head injuries - bumps, cuts, scrapes and bruises - that are not reported or documented as hospital visits. These types of injuries are the ones that can impact not only productivity and profit, but also workers' mental and physical health.
Getting workers to be compliant in head protection, though, can be tough, especially in areas where hard hats are not required, in industries including aircraft manufacturing, heavy equipment and machinery assembly, brewing, electrical work, and food & beverage. In these situations where safety is still a concern, the Bump Cap is perfect to fill the void and we have just the solution.
A protective bump cap has a hard shell but is usually thinner than a traditional hard hat. Bump caps typically do not have a suspension system and are not required to conform to the same indutrial safety specifications of ANSI or EN standards. They may be as simple in design as a stand-alone plastic shell that looks like a "mini-hard hat," (see above) though these are often uncomfortable, do not breathe, and look oddly out of place. PIP® has introduced a line of innovative and sporty head protection - check out Hardcap bump caps that operators love to wear!
- - - - - - - - - - - - - - - - - - - - - - - - - - - - - - - - - - - - - - - - - - - - - -
Bump Cap Styles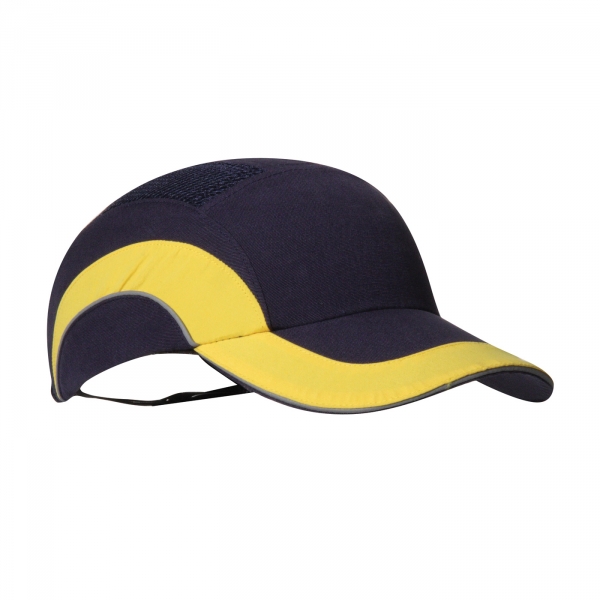 The Baseball Style Bump Cap (PDF) comes with a removable protective liner and a plastic brim to protect the wearer from minor injuries. Its ultra sleek design makes it almost indistinguishable from a low-profile baseball cap, increasing wearer acceptability while reducing injuries. The unique size adjuster slides on an elastic strip to give a quick, secure fit and is angled downward to fit under nape of neck. Available in six color combinations to fit everyone's style!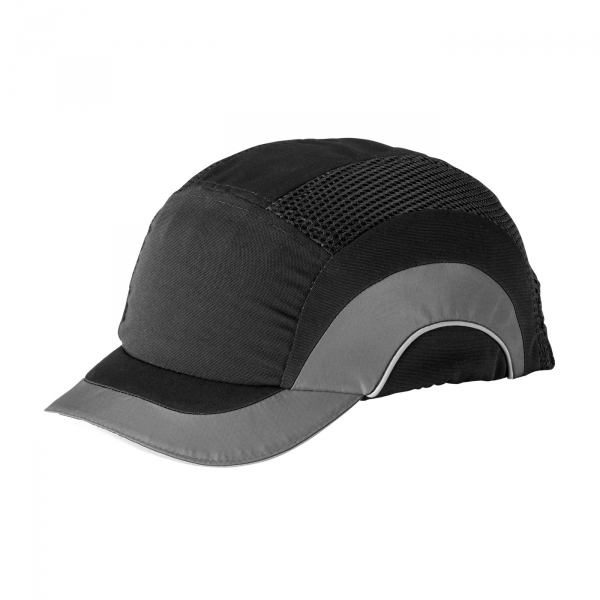 Working in tight spaces and don't have room for a regular sized brim? The Short Brim Bump Cap (PDF) provides a good solution. It angles downward to cover the nape of the neck, as well as washable, and comes with a terry cloth sweatband for comfort and absorption. There are holes in the liner that match up with panels in the cap to provide ventilation for coolness and comfort. A short brim bump cap provides better vision when looking up. The inner high-density polyethylene liner has foam cushioning for maximum protection and comfort. They are size adjustable using an elastic strap and clamp action buckle to ensure a good fit. Available in two color styles.
Or, if the space is so tight that even a short brim won't work, take a look at PIP's Micro Brim Style Bump Cap (PDF). Same great protection at a space-saving size. Available in navy or black.
---
How Do I Select a Bump Cap?
PIP®'s HardCap A1+™ Bump Caps are a novel alternative to plastic caps. They help to offer extra protection against incidental bumping or minor scraps. You gain protection, but with the amazing comfort and functionality of a simple baseball cap. They are sleek, stylish, and look almost identical to a regular baseball cap. Any workplace at risk of bumping or scraping of the head should invest in this inexpensive PPE safety gear. They are also adorned with reflective piping to increase employee visibility in the work environment and used exclusively in assembly operations.
There are three aspects to consider when choosing a bump cap:
1. First, and most importantly, is protection and functionality. The purpose of a bump cap is to provide head protection against knocks so if you can check that off, you're already on your way.
2. Second, your bump cap should be breathable. Look for a shell that has strategically placed vents and air channels in any foam padding that allow for airflow throughout the entire cap. The fabric cover should also be vented to align with the vents in the shell (ISHN, 2013).
3. Lastly, comfort is key. The bump safety cap chosen should be comfortable enough for workers to tolerate, if not enjoy, wearing it. Enforcing headwear that isn't technically required is hard enough on its own, so you don't need any complaints on comfort on top of that. Many of these bump caps are specifically engineered toward user acceptability and design, so it's not a chore to the wearer to slip one of them on.
---
Maintaining Your Safety Bump Caps
The liner should be cleaned with warm water and soap and should be dried with a soft cloth. Do not use abrasive chemicals or cleaners. The standard cover can be brushed clean and is hand washable. Store the bump caps out of direct sunlight, away from chemicals, and do not expose to temperature extremes. Make sure to inspect your headwear routinely for dents or cracks or any damage that could possibly prevent it from properly protecting the wearer.

**As a reminder, currently there are no standards for bump caps in the United States, so make sure to verify that your workplace does not require a more protective hard hat with ANSI or EN specifications.
---