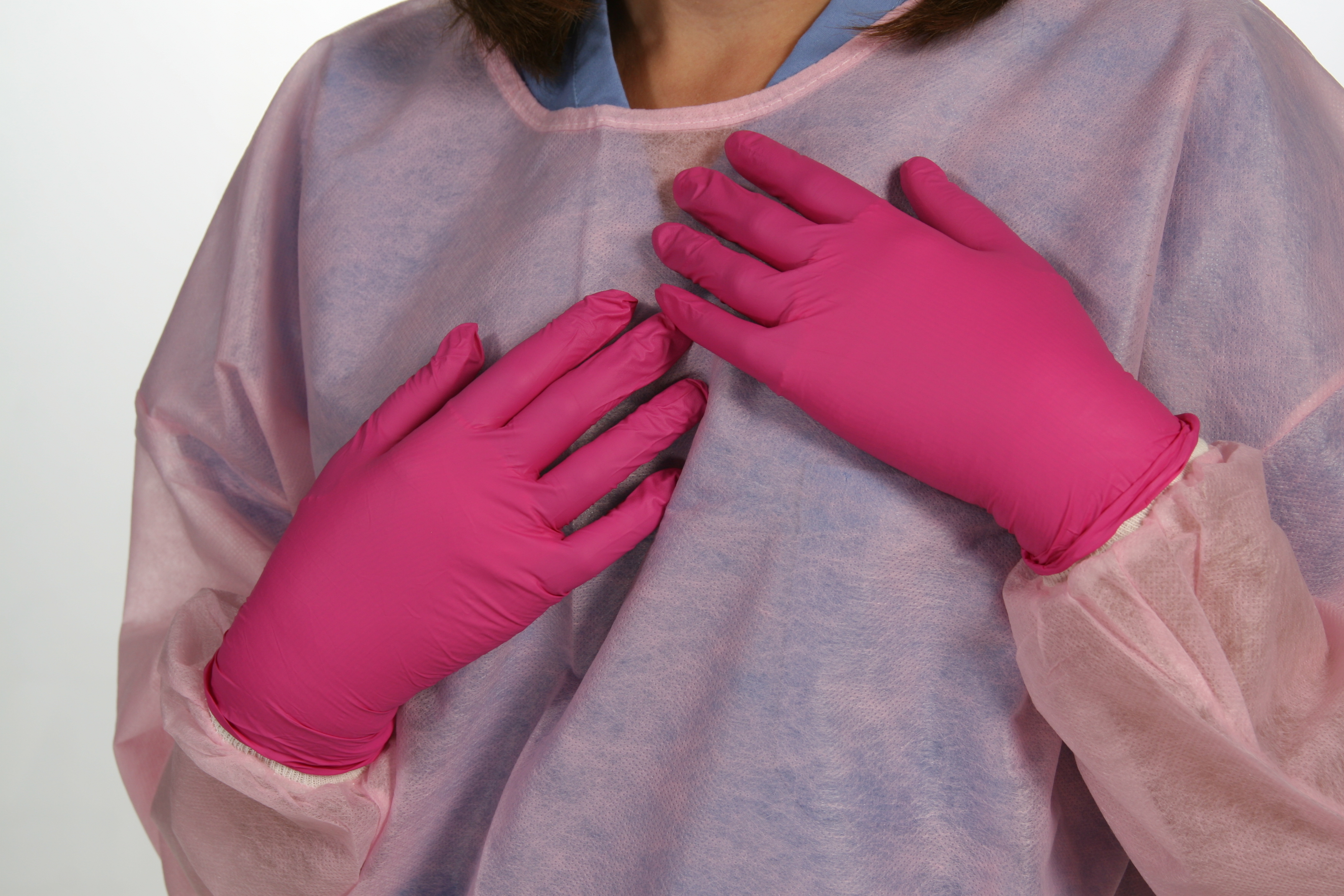 Pink.

It's More Than a Color-It's a Statement
The month of October is commonly referred to as National Cancer Awareness Month, an annual health campaign organized by major cancer charities to increase awareness of this disease and to raise funds for research into its cause, prevention, diagnosis, treatment and cure.
The use of the color pink during the month of October has grown in popularity year after year. From sporting events to patient exams, the color pink expresses moral support for cancer patients particularly women with breast cancer, and encourages women to seek preventative measures such as annual mammograms. Many organizations show their support by donning pink work apparel.
If you or your workplace would like to show your support, we have some pink safety supplies that you just might decide to implement for the month of October and perhaps for the other 11 months of the year!
Shop Now
Disposable Latex-Free Pink Nitrile Exam Gloves
Blush® Nitrile Powder-Free Exam Gloves are Aurelia®'s thinnest manufactured glove, but at 2.5-mil, they offer the strength and comfort with the tactile sensitivity many never experienced before. Blush® nitrile gloves have a beaded cuff and full textured fingers that provide wearers with wet/dry gripping power and are packed in 200-count dispenser boxes. For every case sold, Aurelia® will donate $2.00 to the Oral Cancer Foundation under Aurelia® Cares™. Shop for these now [+here]
General Duty Pink Colored Palm Coated Work Gloves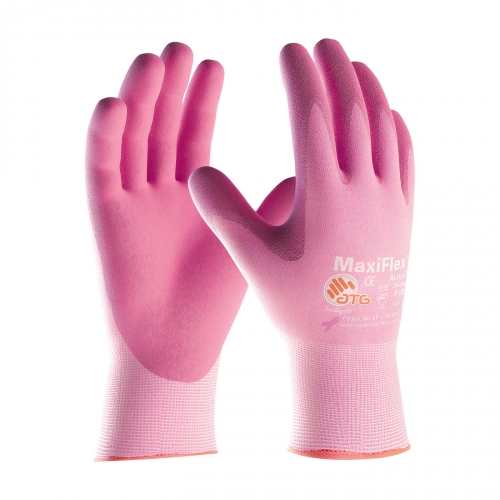 Designed and developed as a breathable general-duty work glove, MaxiFlex® Active™ Grip Gloves delivers a "well-being effect" during and after work through the release of thousands of micro-encapsulated specialized ingredients which include soothing Aloe Vera and Vitamin E. It is a healthier glove choice that mositurizes the hand as it works and keeps operators hands fresher and more productive. Shop for these #34-8264 MaxiFlex® Active™ Nylon/ Lycra® Gloves [+here] that feature a pink microfoam palm and fingertip coating.
Disposable Pink Ear-Loop Facemasks
Comfort™ Level 2 Latex-Free Pleated Ear-Loop masks offer great value. They are manufactured with a 3-ply non-woven polypropylene that's fluid repellent. They are perfume free, fiberglass-free, foam free for enhanced comfort and come with an adjustable noseband. Shop for these now [+here].
Disposable SMS (Multi-Ply) Pink Lab Jackets
These lightweight and drapable jackets made of SMS material are comfortable, breathable, fluid-resistant and professional appearing. Ideal for a number of protective uses in the lab with dialysis patients, reasearch, food service, pharmaceutical, healthcare as well as dental facilities. They feature knit wrist cuffs, pockets, snap fronts and a knit collar. Shop for these now [+here}
Disposable Isolation Gowns
Made of popular polypropylene, these Isolation Gowns are lightweight, breathable and provide affordable body protection against particulates, light fluid splashes. They feature over lapping back panels, long neck and waist ties. They are ideal for research, healthcare, pharmaceutical and more. Universal size. Shop for these now [+here}
Not listed but available are other pink safety supplies such as pink ear plugs, hard hats, safety glasses, safety vests and more. All you need to do is contact us!
---
Contact us for volume discounts, to place an order or for samples.
MDSassociates.com
Monday-Friday 8:30-4:30 E.S.T.
+800.274.4637 | +716.668.4001 | [email protected]
In Loving Memory Marianne Stec 12-07-2010