The Wetter

the

Surface,

the

Better

the

Kill!
Disposable disinfectant wipes are convenient - but how effective are they? There's a right and wrong way to use germicidal surface wipes!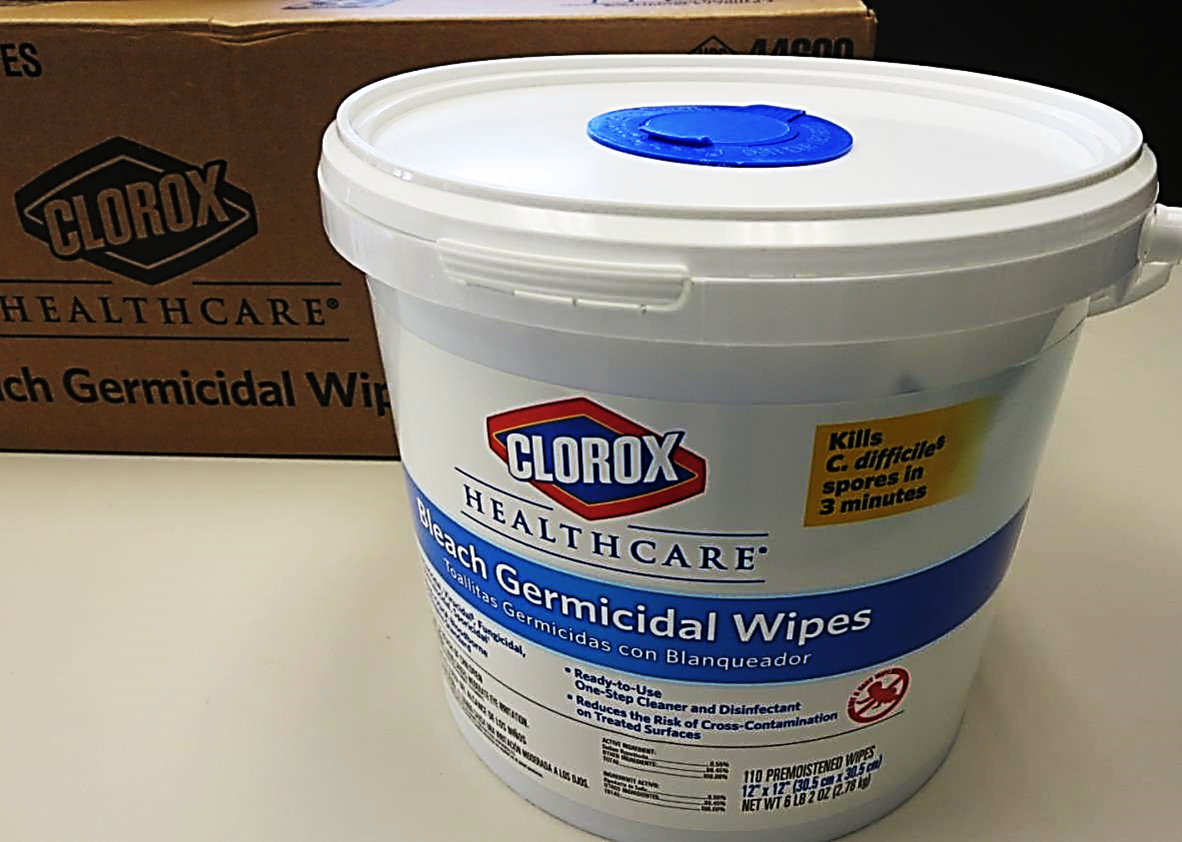 Surface disinfectant wipes are a vital component in helping prevent the spread of infection and many are grateful to see these coming back into stock. What many folks may not fully realize is there are certain factors that capture disinfection, and it goes beyond simply wiping down a contaminated surface.
To ensure that a U.S. Environmental Protection Agency (EPA)-approved hard surface disinfectant kills the microorganisms that it claims to, proper use according to manufacturer instructions is required.
Proper disinfection requires that dirty surfaces be pre-cleaned first. The second is to always allow the disinfectant product to remain wet on the surface for a specific period of time. The importance of contact time and visible wetness is what ensures effective disinfection.
CO-DEPENDENCY
To effectively kill a specific or targeted group of bacteria and viruses, treated surfaces need to be wet for the full contact time indicated on the product label. The contact time, also known as the kill time, dwell time or wet time, is the required time that the disinfectant needs to stay wet on a surface in order to ensure efficacy. It is determined by the manufacturer and based on the results of microbiological testing using EPA-approved methods. Contact times for disinfectants range from 15 seconds to ten minutes, the maximum time allowed by the EPA.
THE WET CHALLENGE
Kill times vary depending on the product and between products. Keeping a surface visibly wet can be difficult for disinfectants especially if it requires a long contact time, such as ten minutes. Environmental conditions, such as high temperatures and low humidity can be difficult even for disinfectants with contact times as short as three or four minutes to stay wet. And particularly challenging are disinfectants with high alcohol content as these evaporate quickly. If the disinfectant does dry on the surface before the contact time is acheived, label instructions usually require reapplication to ensure that the contact or wet time is met.
SURFACE AREA
If the wipe is used on too large of an area, then insufficient disinfectant may be applied, resulting in a failure to effectively decontaminate the surface. This approach presents an even more challenging situation. Afterall, how often does anyone stand around to ensure their surfaces stay wet for any real length of time? If you decide to walk away and it dries before the kill time is met, you haven't accomplished anything – pathogens could still be lurking and you could easily cross-contaminate!
Smaller size wipes are obviously only intended for small surface applications and are not really designed for large areas such as countertops, desks, tables, chairs. Typically spunlace material is used but this material typically do not hold vast amounts of fluids and tends to dry up very quickly. If you are seeking an easier and more effective solution to disinfecting surfaces, then look look no further.
LONG-LASTING WETTNESS
Designed for large surface area wiping, these Clorox Healthcare® Bleach Germicidal Wipes can make disinfecting tasks easier, faster and more effective. Here are some product features:
EPA Registered

Ready to Use

The serrated opening has strong cutting "teeth" that helps separate the perforated sheet from the next, one-at-a-time, and without tearing

Wipe dispenses from the container heavily saturated with disinfectant making wet coverage easier

The wiper material is very thick, strong and generously size (12" x 12")

Portable pail has handle and travels easily
ADDED CONFIDENCE
Many healthcare professionals and facilities trust these Clorox Healthcare® Bleach Germicidal Wipes to help overcome infection control challenges in many changing healthcare environments. They're used in healthcare settings including hospitals, schools, medical facilities, dental offices, veterinary offices and long term care facilities. Clorox Healthcare® Bleach Germicidal Wipes are premixed, ready to use and similar to the 1:10 bleach solution strength that is recommended by CDC guidelines for effective disinfecting and will eliminate 60 or more microorganisms - all in 3 minutes or less while leaving a gentle odor-masking scent.
Clorox Healthcare® Bleach Germicidal Wipes contain an anticorrosive ingredient that makes them less damaging to surfaces, equipment and are compatible with common healthcare surfaces including stainless steel, glass, plastic, porcelain, glazed ceramic, laminated surfaces and vinyl. Clorox Healthcare® products remain stable for up to 18 months after original manufacture date. A master carton includes two refillable canisters of 110 wipes each.
Make surface disinfecting easier and more effective. You'lll be glad you tried these, but don't our word for it – first you need to tap the link and …
Monday - Friday 8:30am - 4:30pm EST
Questions. Samples. Special Requests.
Toll-Free +800-274-4637 | +716-668-4001 |

[email protected]
"We Want You To Return Home Safely...Everday!™