Electrical Safety 101
When working with electricity, it is of the utmost importance that you take the proper safety precautions to protect yourself and those around you from serious harm. Those who work in electrical industry careers, such as an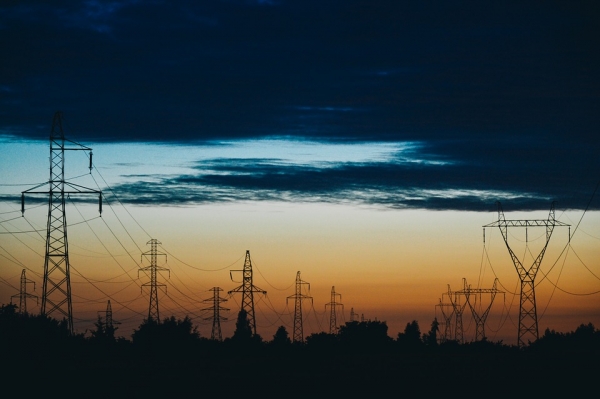 electrician or a line worker, are most susceptible to injury. They are the ones that need to follow strict industrial safety guidelines, such as the NEC (National Electric Code) for safety standards on how to correctly assemble and maintain electrical circuits and the NESC (National Electric Safety Code) for provisions of safety when installing, operating, or maintaining electric currents.
The equipment that is used on the job is just as important as safety procedures - choosing the correct gear can be the difference between life and death in some serious situations. So in order to make an educated decision, you should first become familiar with some of the terms and descriptions you will run into while browsing.
Flame Resistant (FR): these materials will resist ignition and/or self-extinguish when ignited, and they will not melt. They create a thermal barrier to help protect the wearer's skin when exposed to direct heat energy and may minimize the amount of 2nd and 3rd degree burns incurred.
Arc Rated (AR): these materials are designed and treated to help limit the exposure and burn percentage as a result of an electrical arc flash incident.
**Please note - all AR clothing is flame resistant, however not all FR clothing is rated for arc flash protection.
Hazard Risk Analysis: an analysis an employer must perform on the workplace to identify risks and set the appropriate boundaries in order to find out which level of protection is needed.
Arc Thermal Performance Value (ATPV): also known as Energy Break-open Threshold (EBT), represents the level of protection a garment is tested to provide when exposed to variable levels of heat in an electric arc flash. This should be equal to or greater than the energy level of the work area as determined by the Hazard Risk Analysis.
NFPA 70E: a document for Arc Flash Protection that covers electrical safety requirements for employees. This should be reviewed thoroughly and regularly to ensure compliance.
**In 2015, the term HRC (Hazard/Risk Category) was officially changed to PPE Category. This is used for determining which Arc Rating of PPE (Personal Protective Equipment) is required.
Electrical Safety Protective Equipment
Shop Now
The regulations on electrical safety have changed dramatically over the last few years and still many are not clear as to the extent. Enter PIP® with an impressive array of electrical safety products that include gloves, garments and tools to serve your safety needs:
-Novax® Rubber Insulating Gloves
Rubber insulating gloves have always been one of the most important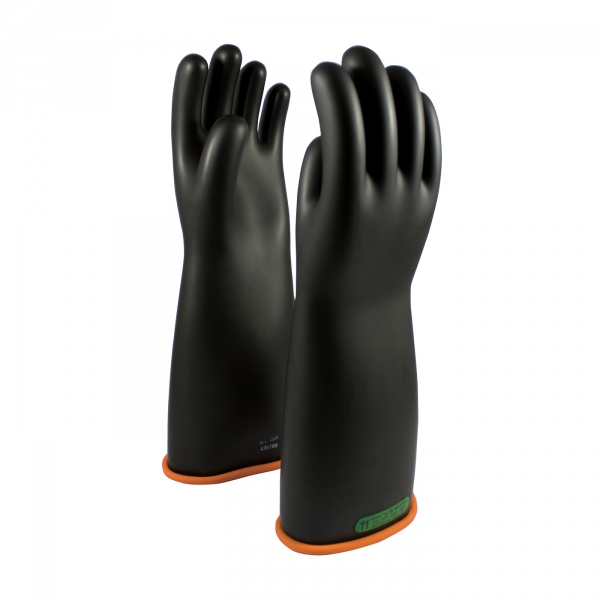 components of PPE for electrical and industrial workers. Novax® products meet all requirements of ASTM D120, insuring compliance with OSHA regulations and satisfying NFPA 70E requirements for protection against electrical shock hazards.
The natural rubber construction offers the required dielectric properties combined with flexibility, strength and durability. They are individually numbered for traceability and stamped with factory manufacturing date. All gloves meet ANSI/ASTM D120 standard and NFPA 70E for use around electrical hazards and arc flash protection. Silicone free.
View PIP's Rubber Insulating Gloves Sizing Chart
View an informational FAQ on Rubber Electrical Gloves
---
-Leather Protector Covers
Driver's Style
For use with Class 00-0 rubber insulating Novax® gloves, this Top Grain Goatskin Leather Protector for Novax® Gloves - Driver's Style has the softest, most abrasion-resistant leather and is highly recommended for applications requiring tactile sensitivity. A leather protector is only to be used for mechanical protection for rubber insulating gloves. Not to be used for electrical protection per ASTM F696-06.
Gauntlet Cuff
These Protector Glove's cowhide leather construction provides comfort, durability, excellent abrasion resistance, and breathability. The split leather gauntlet cuff for added forearm protection and allows for fast removal while straight thumb increases comfort in closed-fisted work. It features a nylon strap with buckle for a secure, personal fit and the cotton color binding denotes sizing. Gloves range from class 00-0 through class 3-4. Not to be used for electrical protection per ASTM F696-02.

PIP® Top Grain Cowhide Leather Protector for Novax® Glove w/ Gauntlet Cuff is for use with Class 1-2 rubber insulating Novax® gloves.
---
In need of an entire line-up of hand protection products? PIP offers a convenient option for multiple electrical safety needs. Their Glove Safety Kit contains: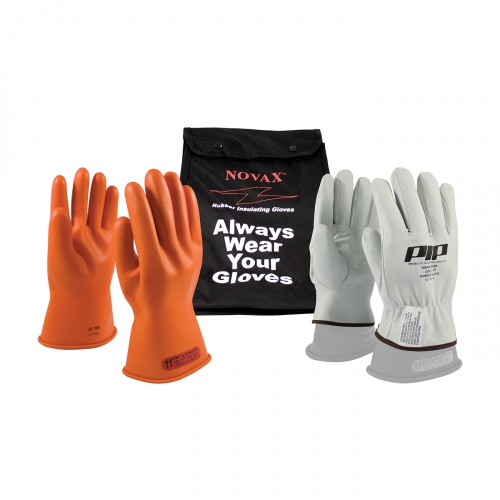 1 pair of rubber gloves

1 pair leather protectors

1 storage bag

Range from Novax® Class 0 - Class 2
For example, this PIP® Glove Kit is Class 00 with an 11" storage bag, 1 pair of goatskin protectors, and 1 pair of orange ESP gloves.
Browse our Glove Safety Kits.
---
-Arc Flash Protection Kits
Flash fires and arc flashes happen fast and can cause severe damage. PIP® offers a full line up of FR accessories, FR clothing, and FR protection kits for use in plant applications where FR is mandated or part of best practices. Their Arc Flash Protection Kits can include: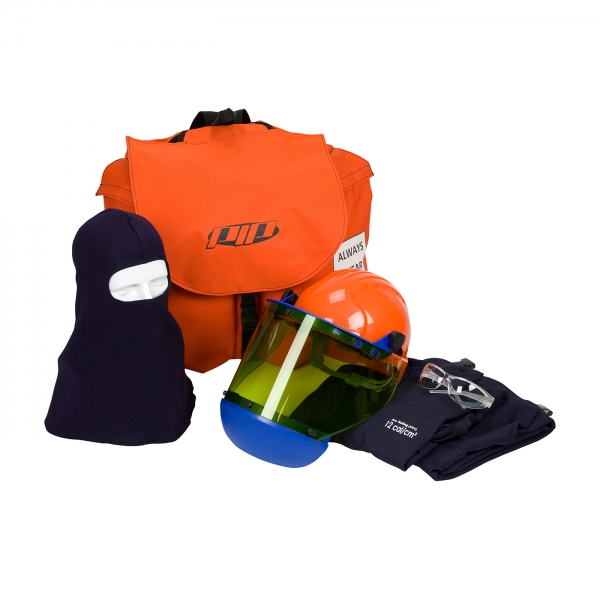 Cap Style Hard Hat (Evolution or Non-vented)

Storage Bag (Carry or Back Pack)

Safety Glasses w/ Arc Shield

Balaclava or Arc Hood

Jacket/overalls
Each kit is rated with a NFPA 70E PPE Category and listed with Cal/cm2. For example, This PPE 2 - 12Cal/cm2 Arc Flash Kit contains coverall, balaclava, hard hat with arc shield, safety glasses, head gear storage bag, and a carry bag.
-Class 2 Rubber Insulating Sleeves
PIP® has elevated electrical worker safety with their line of Novax® Class 2 Rubber Insulating Sleeves that compliment their line of rubber insulating gloves and leather glove protectors mentioned above.
Used exclusively for electrical purposes, such as power generation, electrical contractors, hybrid automotive repair/service, hybrid automobile manufacturing, industrial plant maintenance, utilities, these sleeves provide dielectric properties combined with flexibility, strength and durability. Work in confidence knowing you have continual barrier protection up to the shoulder!
Electrical Rated Sleeves Meet ASTM 496 and 1051 Standards and are available in sizes small - extra large.
---
Contact MDS for custom PIP® services, technical questions, volume discounts or to place an order today
We want you to go home safely, everyday™