Linemen Love These Endura

®

Lineman Gloves
A lineman, also called a journeyman lineman, is a particular type of tradesman or an electrician that constructs and maintains electric power transmission used in telecommunications lines and distribution lines. They typically work on outdoor power lines or may work at power plants, focusing on lines and generators used for electricity distribution. Linemen may also be responsible for the installation and maintenance of telephone, cable, wires and fiber-optic lines.
The origin of linemen began with the birth of the telegraph in the 1840's where telegraph lines were strung on trees. Eventually wooden poles were adopted and the term 'lineman' was used for those who set the wooden poles and strung the wire. The term lineman continued on with the invention of the telephone in the 1870's and the beginnings of electrification in the 1890's.
Utility work is essential for keeping electricity running into our homes, schools and businesses but working with high voltage equipment is highly dangerous. Linemen risk falls, cuts, electric shocks, burns and other injuries while on the job every day, and these incidents can even be fatal. So, what can utility workers do to minimize these risks?
Linemen workers need to ensure they're competent, well trained, wearing the right industrial safety and protective electrical gear that includes electrical gloves fit for work, and focused on the job at hand. We know that working as a linesman is very demanding and dependent on your hands and we want to ensure that every time you're required to climb up a telephone pole or install a transformer, you're using the very best hand protection available on the market.
The engineers over at Superior Glove® discovered that when it comes to linesman gloves, there's one type of leather that beats out all the rest: horsehide. This leather is what gives their Endura® deluxe linesman gloves their immense softness, unmatched flexibility, and longevity. It's also what protects their hands against even the harshest of abrasion threats. But Superior Glove's lineman gloves are more than just another work glove.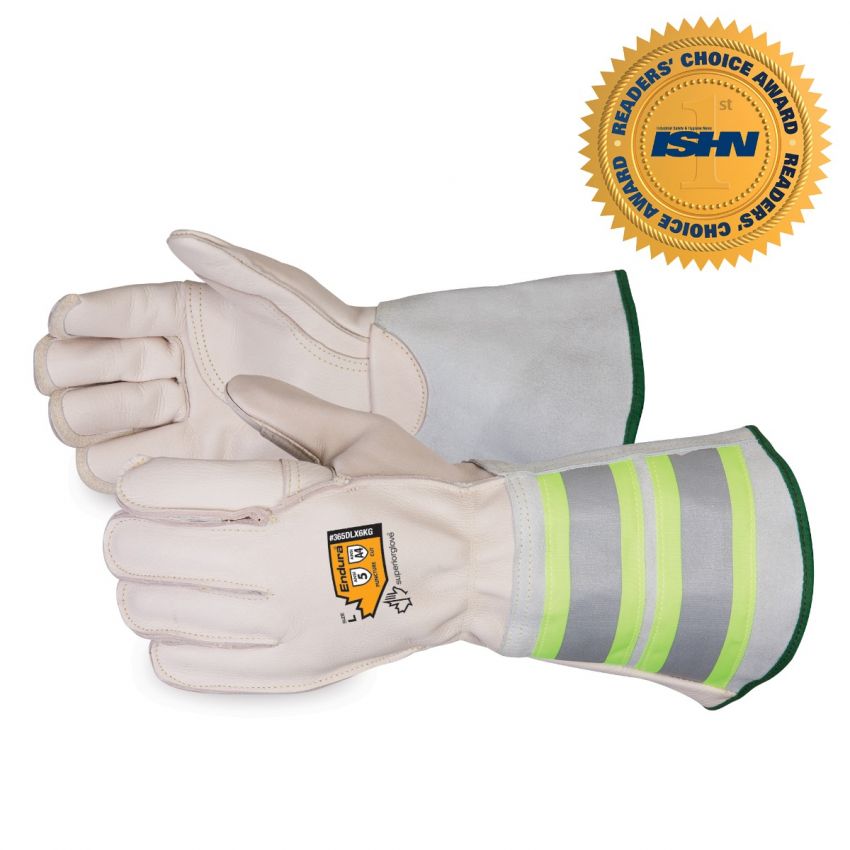 LINEMAN GLOVE FEATURES
Superior's lineman gloves and one-finger mitts are made with heavy-duty 3 1/2 oz. grain horsehide leather which is treated to give the leather excellent water, oil and stain repellant properties making them great for wet working conditions. The glove's critical wear areas are reinforced and they're sewn with Kevlar® stitching for strength and flame resistance throughout.
The Endura® series of lineman gloves and mitts feature 2-inch high –viz fluorescent-yellow fabric strips and retro-reflective silver strips on the back of 2-inch or 6-inch length cuffs for enhanced nighttime visibility and are available with thermal insulation. Most styles feature an ANSI puncture resistant safety rating with some styles boasting additional ANSI rated cut resistance as well.
ENDURA® DELUXE LINEMAN GLOVES
The Endura® Kevlar®-lined Lineman Gloves 365DLX2KG (2-inch gauntlet cuff) and the award winning 365DLX6KG meet the ANSI/ISEA 107-2015 standard for high visibility accessories and are ANSI safety rated against cuts (A4) and industrial punctures (level 5). If you're seeking an economy glove version without all the bells and whistles, then check out the 365DLX6 version. If you need a shorter gauntlet cuff, then the 365DLX2 will do the trick.
ENDURA® DELUXE LINEMAN ONE-FINGER MITTS
If you're seeking protection against the extreme cold, 361DLXWL has a removable wool liner for winter protection to -50°F. The Endura® style 361DLXFTL One-Finger Mitt is fully lined with Thinsulate™ for warmth up to -5°F while the 361DLXTKG provides winter protection to 5°F plus an ANSI A4 cut level rating AND an ANSI level 5 puncture resistance rating. 361DLX6KG meet the ANSI/ISEA 107-2015 standard for high visibility accessories and are ANSI safety rated against cuts (A4) and industrial punctures (level 5). If you're seeking an economy one-finger lineman mitt, then check out the 361DLX6 style.
For the linemen that put their mark on the world one electric pole at a time, these Endura® Leather Deluxe Lineman Work Gloves keep utility work productive, fulfilling and safe. But don't take our word for it, hit the button and …
Orders. Questions. Volume Discounts.
Monday - Friday 8:30am - 4:30pm Eastern Time
+Free Shipping on Orders +$499
+800.274.4637 | +716.668.4001 | [email protected] | Fax +716.668.4496
"We want you to go home safely everyday"