Get

the

Beauty

of

Graham
Graham Beauty® Is The Premier Provider of Single-Use Solutions for Salons and Barbers
Graham Beauty® is a FDA Registered Facility and ISO 9001: 2015 Certified subsidiary of Little Rapids Corporation. Located in Green Bay, Wisconsin they're your single source for products that beauty professionals trust and a leading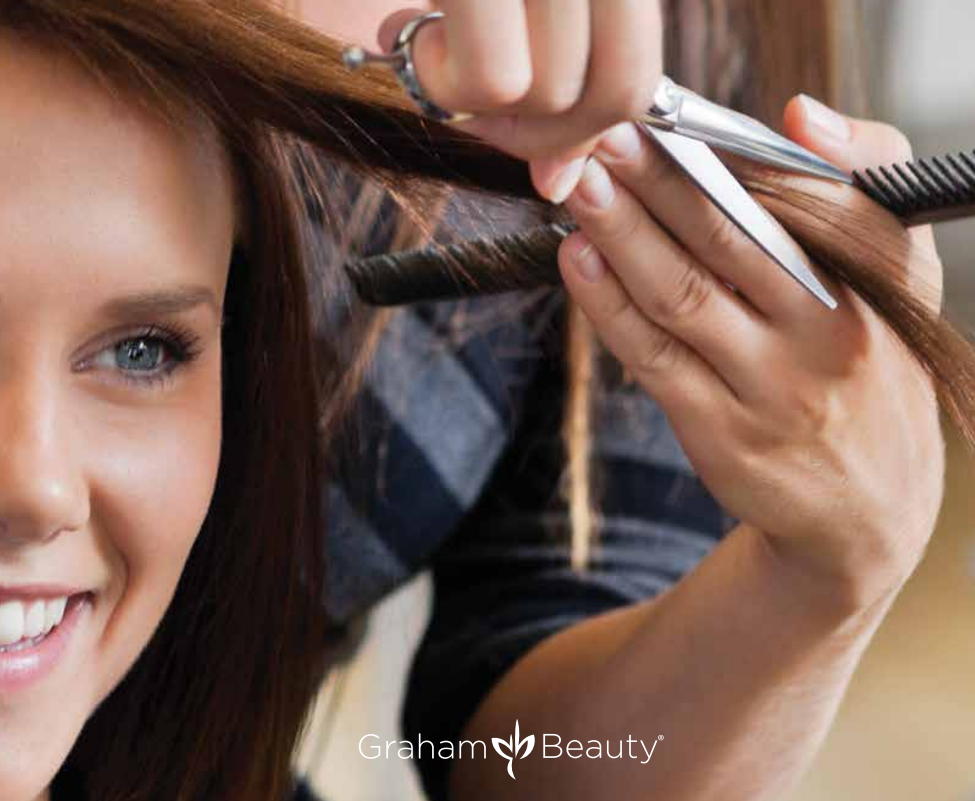 provider of sundry products for salon, spa, nail technicians, and barber professionals.
Popular is everything from SANEK® neck strips to Barbee® disposable gloves, PST® professional towels to See-Thru™ foil, CelluCotton® beauty coil to TrueWave® end papers and Spa Essentials® spa products to HandsDown® nail products.
With Graham Beauty® in your station, you've got the right tools to save time and money while making clients' look great! Their line of disposable product innovations are designed to make a professional's job easier and give clients a comfortable, enjoyable experience.
If your establishment offers a variety of cosmetic treatments and cosmetic services for men and women that include services such as professional hair cutting and styling, manicures and pedicures, and cosmetics, makeup and makeovers, then you need to consider incorporating these high performing Graham Beauty® supplies.
NECK STRIPS
SANEK® Neck Strips prevent soiled hair-cutting capes from touching the clients' skin and comfortably stretch around the neck to catch hair clippings and absorb perspiration.
END PAPERS
TrueWave® End papers are made from absorbent paper that maintains strength when wet and will ensure the best results when rolling hair.
FOIL
SANEK® See-Thru Foil eliminates the need to repeatedly open foils to check color saving you time and reducing the possibility of bleeding.
DISPOSABLE TOWELS
Disposable Towels are sanitary, convenient and save on time and laundering required with linens. Barbers have trusted the PST Towels as neck drapes during shave and cutting services for decades while BARBEE® and Wubbies® Towels are a thick all-purpose towel ideal for blotting perms.
BEAUTY COIL
CelluCotton® premium cotton or rayon beauty coil products feature quality and versatility needed for a variety of salon and spa services such as facials, manicures, skin care or to absorb excess perm solutions.
WRAP/STYLING STRIPS
Wrapp-It® Styling Strips provide the optimal way to wrap sleek, sculpted and molded hairstyles with confidence. They offer exceptional strength, both wet and dry, and superior stretch to ensure a secure wrap. The soft, high-stretch material is comfortable against the client's skin and available in different sizes and colors.
SINGLE-USE GLOVES
Protect your hands from chemicals and sense changes in water temperatures quickly with Graham Beauty's line of disposable gloves. BARBEE® Beauty Gard®, BARBEE® SalonFit® and Spa Essentials® Nitralon® latex-free gloves allow for optimal sensitivity and freedom of movement combined with the strength to handle the most demanding tasks.
Graham Beauty's innovative disposable salon supplies offers the convenience professionals need while creating a comfortable experience for their clients. If you're in the hair cutting, coloring and styling business, then be sure to use Graham Beauty® Salon and Barber Solutions at yours! All you need to do is tap the link and …
Monday – Friday 8:30am – 4:30pm EST
Call or Click
Samples. Non-Published Volume Discounts. Questions.
Toll-Free +800-274-4637 | +716-668-4001 |

[email protected]
"We Want You To Return Home Safely...Every Day!™