MDS

Economy Hazmat Boot Covers w/ Non-Skid Sole

Take the first step in safety, cleanliness and cross contamination protection.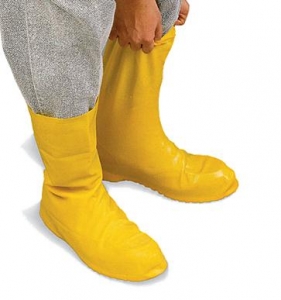 The use of personal protective equipment has mainly focused on what we've all come to recognize - gloves, gowns, eye protection, hair caps and disinfectants. How you protect your feet is just as critical in achieving successful personal protection as well as prevention of cross contamination.
Along with exposure, the transfer of hazardous chemical toxins, dirt, pathogens, allergens and other residuals are even more likely without proper footwear protection. Any residuals you may have on your feet can have a major impact on health and safety at home or within the facility.
Let's take a closer look at the impact cross contamination can have at a crime scene in the law enforcement setting. Trace evidence like hair, fibers, paint and blood, is by its very nature readily transferred from item to another. This raises the risk of cross contamination, where the source of trace evidence found on a significant item is uncertain. The trace evidence may have attached itself to a relevant item during the crime itself, in which case it becomes significant evidence. However, it is also possible that the evidence was transferred to the item via a third party (example: the bottom of shoes) during the investigation. This would be cross contamination, and such evidence is detrimental to an investigation. When a case comes to court, expert witnesses will always be on the lookout for the possibility of cross contamination.
With proper use of MDS economy hazmat boot covers, along with other preventive measures, the possibility of cross contamination at a crime scene can be greatly reduced.
Many different industries are at risk for cross contamination and exposure as well. Those such as utility companies, automotive and automotive manufacturing, food service, commercial fishing, coroner, lawn care industry as well as laboratory services can spread hazardous materials. Meat and poultry plants are also a dirty environment and are constant risk of cross contamination throughout the facility.
Designed to be donned over work boots, these semi-stretchable 12-inch .60mm latex Hazmat Boot Covers, also referred to as Nuke Boots, protect against chemicals, liquids, dust and other contaminates and are "user friendly" for easy on and removal. They offer additional safety features with a bright yellow design and a pronounced ribbed, textured sole designed to provide reliable traction and prevent accidental slips or falls. MDS economy hazmat booties are inexpensive enough to be thrown out or they can be re-used-simply wash and dry. These over-the-shoe rubber booties are available in sizes Large through 3X-Large.
---
Proper Protection is critical, take the first step with MDS economy hazmat boot covers! +
Click here
to order our most popular style Hazmat Nuke Boots today. Shop
MDSassociates.com
and look for valuable coupons that save you money!
+800.274.4637/+716-668-4001 | [email protected]