BEWARE

OF

FALLEN LOADS
The top of the foot, referred to as the metatarsal area is prone to impact injury. Unfortunately steel toe work boots aren't enough protection to diffuse a falling load of bricks, wood or pallet of product.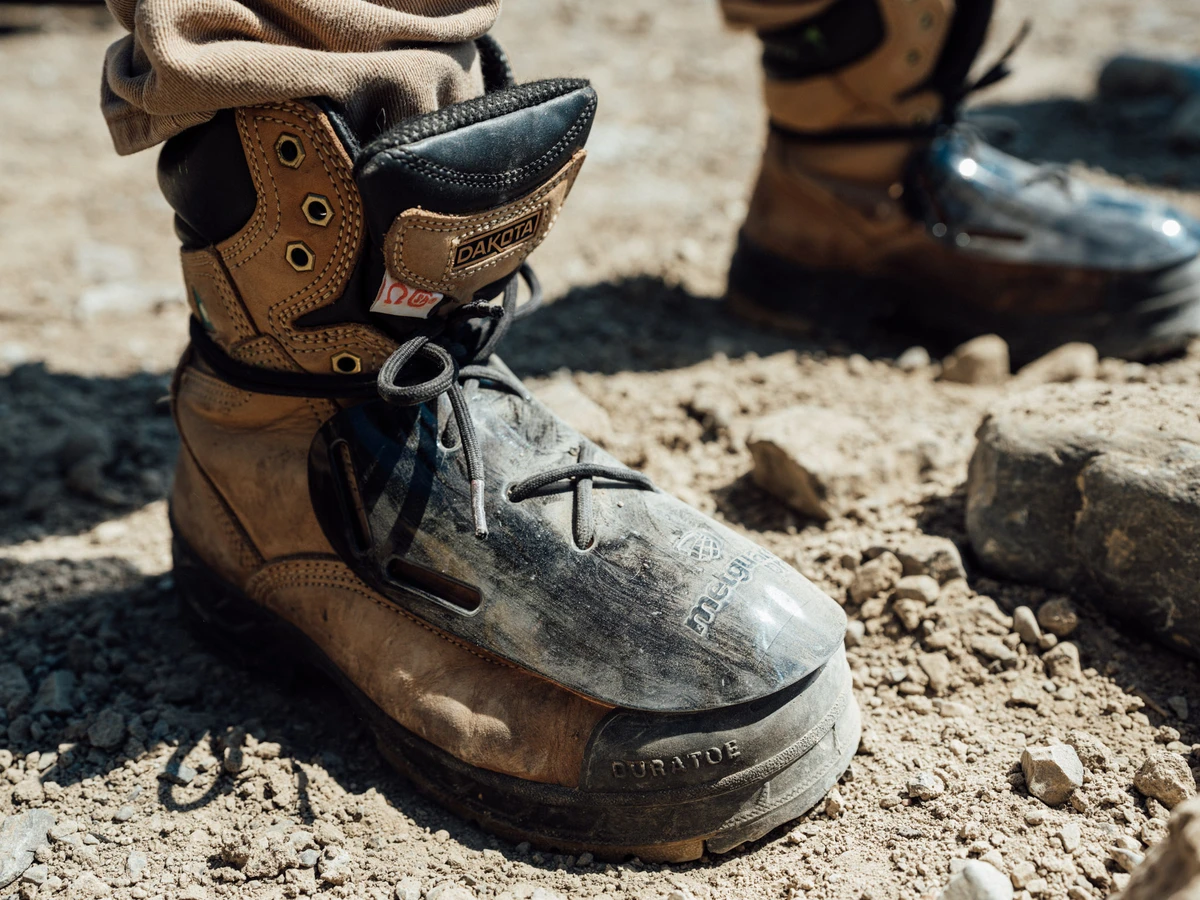 According to the Bureau of Labor Statistics, there are more than 53,000 foot injuries per year leading to missed work days. If you are seeking to enhance the protection of your workforce, adding Impacto metatarsal guards to your safety footwear will enhance PPE compliance without sacrificing performance!
These Metguard Lace-Up Metatarsal Protectors from Impacto® are a unique safety device that deflects and disperses the impact of falling loads in the metatarsal area of the foot keeping operators safer.
EXTENDED FOOT PROTECTION
Designed to deflect and disperse impacts from falling loads, MetGuard Metatarsal Protectors are extremely durable, non-conductive to heat and electricity, practical, easy to use and travel nicely allowing workers full range or movement. Less expensive than metatarsal footwear, MetGuard is used with existing footwear and is easily transferable between users and shoes.
Fits all safety shoes and boots with optional attachment straps

Used with existing footwear and transferable between users and footwear

Practical, comfortable, easy to fit and simple to use

Tested to conform with stringent Worldwide Safety Footwear Standards

One size fits all

Unisex design
Meets ASTM Standard F2413/F2412 (ANSI Z41) and CE Certified
This unique safety device is designed and tested to compliment steel or composite toe cap footwear. It is constructed with extremely lightweight, yet extremely tough polycarbonate material – the same material used in football helmets. The MetGuard meets the minimum impact resistance of 75 pounds as per ASTM standard F2413/F2412 (ANSI Z41) and CE certified.
The MetGuard Metatarsal Protector is suitable for all workplaces with safety shoes, boots and can be used with high boots. The lip of the METGUARD sits on top of the steel cap at load point and is secured with existing laces or optional attachment straps.
Suitable for use in all workplaces and industries including mining, construction, utilities, manufacturing, transport, storage, forestry, retail trade and warehousing. MetGuard is a perfect economical solution for visitors, temporary workers, landscapers, pressure washers, clerical or sales people or any workplace where there's requirement for metatarsal protection. MetGuard can also be used when using industrial high pressure water washers.
Injury prevention is just a click away - all you need to do is tap the link and …
Orders. Questions. Volume Discounts. Special Requests.
Call or Click Today
+800-274-4637 | +716-668-4001 | Fax +716-668-4496 |

[email protected]
"We Want You to Return Home Safely Everyday"