Protect

the

Toes

with

TurboToe® Toe Caps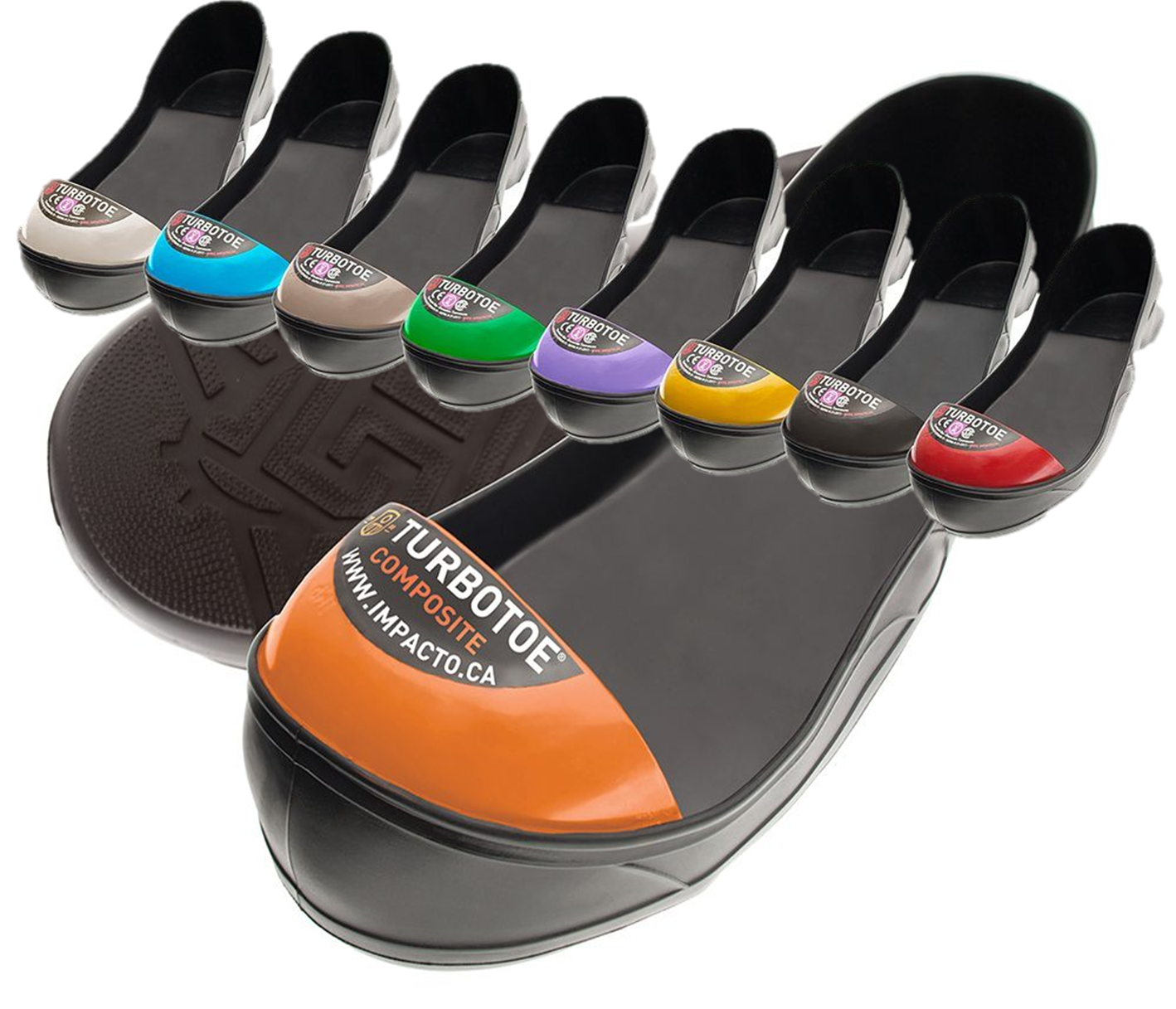 The human foot and ankle contain 26 bones, 33 joints and more than a hundred muscles, tendons and ligaments. Injuries to the foot can be especially painful and slow to heal. There's so many ways to hurt the feet – falling objects, loose nails, rotary mowers, feet trapped between objects are just a few.
Believe it or not, foot injuries are among the most common workers' compensation injuries that include breaks, fractures and heel injuries. Foot injuries are also costly. A study of over 250,000 worker's comp claims found the average final settlement for a foot injury is more than $17,000.
There are two major categories of work-related foot injuries. The first includes foot injuries from punctures, crushing, sprains and lacerations. The second includes injuries resulting from slips, trips and falls. Slips and falls do not always result in a foot injury but lack of attention to foot safety plays an important role in their occurrence. OSHA identifies six common work-related foot injuries and causes as:
Crushed or broken feet, amputation of toes or feet

Punctures of the sole of the foot

Cuts or severed feet or toes

Burns

Electric shocks

Sprained or twisted ankles, fractured or broken bones during slips, trips or falls
Prevent Foot Injuries in the Workplace
With the proper protective footwear, many of these injuries could have been prevented. Impacto® TurboToe® Toe Cap Overshoes are a great first step to reducing workplace foot injuries. These snug-fitting safety overshoes are designed to fit most footwear and protect the toe area from accidental impact, crushing, stubbing and compression hazards.
TurboToe® safety footwear is recommended for use in any industry and heavy work environments with risks for toe damage or has a toe protection requirement. They're ideal for visitors, casual or temporary workers, management, clerical staff, sales people and less expensive than steel-toe work safety boots. They can be sanitized for re-issue and can be comfortably worn over low-heel, dress and running shoes and most boots.
TurboToe® Toe Cap Overshoes are made with flexible pliable PVC that is 100% waterproof and will not harden, stiffen or crack. Pronounced treads under sole are designed to prevent slipping and help fluids flow away from the foot for better traction.
TurboToes are available in either steel or composite toe cap materials. Steel toe caps feature color-coded toe caps to indicate sizes easily and are tested to conform with stringent Worldwide Safety Footwear Standards. Composite toe caps are non-conductive and ideal for work environments that have EHS Requirement as they minimize the risk of static discharge or static shock.
Accidents causing foot injuries tend to happen when the worker is distracted or in a hurry. Do your part and pay attention to what you are doing. Wear the correct footwear, practice good housekeeping and clean up spills promptly. Now all you need to do is tap the link and …
Orders. Questions. Samples. Volume Discounts.
Monday - Friday 8:30am - 4:30pm EST
+Free Shipping on Orders +$499
Toll-Free +800-274-4637 | +716-668-4001 | [email protected]
---
+click for TurboToe® Steel Toe Caps PDF