BOSS

®

INDUSTRIAL FOOTWEAR
ADVANCED PROTECTION & COMFORT IN WET, SLICK, MUDDY WORKING CONDITIONS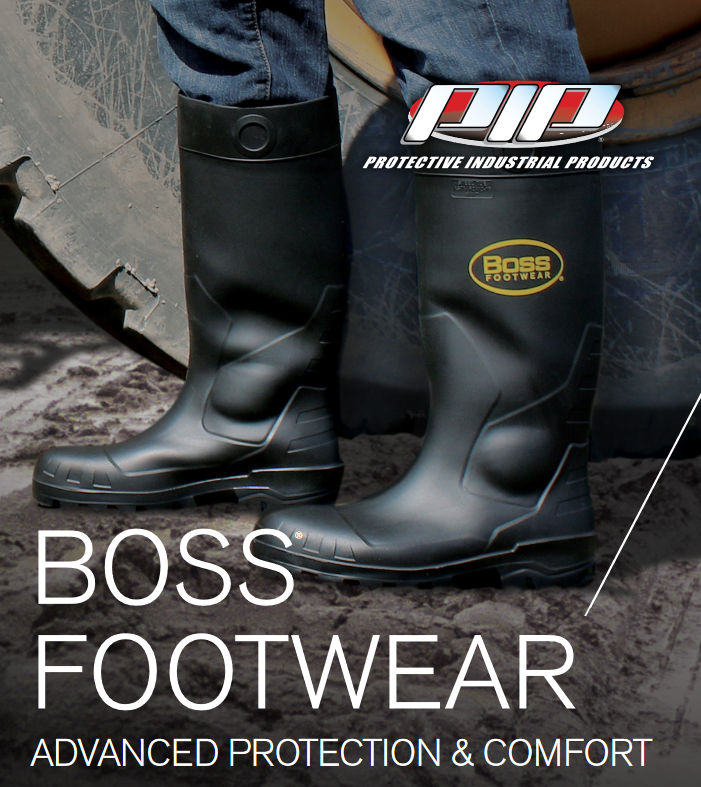 Like a good pair of work gloves, industrial footwear such as waterproof boots can help keep individuals stay safer and more comfortable, especially during a wet spring or fall.
From the farm to the construction site, muck boots can handle anything the weather or job dishes out. From mud to tar, grease to fluids, industrial footwear can protect the feet and keep work areas and vehicles cleaner. And they're easy to wash clean!
Whether you're trampling through mud or snow, standing in water, dealing with a serious downpour, or strolling on slippery sidewalks, the right waterproof boots will ensure that your busy feet stay dry, healthy and stable with every step.
STAY DRY
There is nothing enjoyable about having cold, wet feet. In fact, cold wet feet can cause a loss in productivity or lead to an injury. Part of the PIP® family of safety products, Boss® Footwear is made in the USA and designed with advanced materials that offer workers maximum all-day comfort and protection against work safety hazards in the work field across a multiple of industries. And they're designed to last for years!
From handling heavy objects, to standing on wet or uneven substrates, or handling chemicals, PIP® offers rubber, neoprene, polyblend and PVC industrial waterproof boots to protect your workers on the jobsite.
What separates Boss

®

from others? It's simple…Boss

®

Footwear is NOT JUST A BOOT.
Ideal for use in construction, remediation, agriculture, fisheries, food processing, oil, gas, mining, environmental cleanup, concrete work, forestry and municipalities Boss® Footwear separates itself from the competition in three categories.
Innovative Design -

Made with materials that are up to 25% lighter than traditional, heavy PVC boots. Optimized design follows the shape of legs and ankles to improve comfort when walking. Available in over-the shoe and over-the-boot styles.

Injected-Molded Technology -

Results in higher quality boot PLUS greater flexibility, durability and more advanced protection.

Energy-Absorbing Outsoles -

Paired with an energy-absorbing outsole design that channels water, grease and mud outward, PIP's Boss® Footwear is designed to provide better coverage, flex and traction. Boss® boots features pre-formed insoles and are available in PVC, Neoprene or Polyblend materials with ASTM F2413 steel toes or without.
Outfitting employees with appropriate footwear reduces injuries and keep them comfortable and more productive. When your staff works outdoors it is vital that their shoes fit properly and offer protection against rain, snow, chemicals, falling objects or industrial punctures. Protecting employees' feet with good industrial footwear reduces lost work hours, lowers worker's compensation claims, improves productivity, and heightens morale.
Protective footwear provides a vital layer of protection for a company's most valuable asset, its employees. Keep them covered and comfortable - all you need to do now is tap the link and …
Monday - Friday 8:30am - 4:30pm EST
Questions. Samples. Special Requests.
Toll-Free +800-274-4637 | +716-668-4001 |

[email protected]
"We Want You To Return Home Safely...Everyday!™