Promote Better Hand Hygiene

with

Kleenex® Reveal™ Ultra Moisturizing Foam Hand Sanitizer
Made for Healthcare Professionals | 70% Ethyl Alcohol
Serious infection control starts with proper hand hygiene, and instant hand sanitizers are a key component to preventing healthcare associated infections (HAI's) and cross-contamination. Alcohol-based instant hand sanitizers are designed to kill germs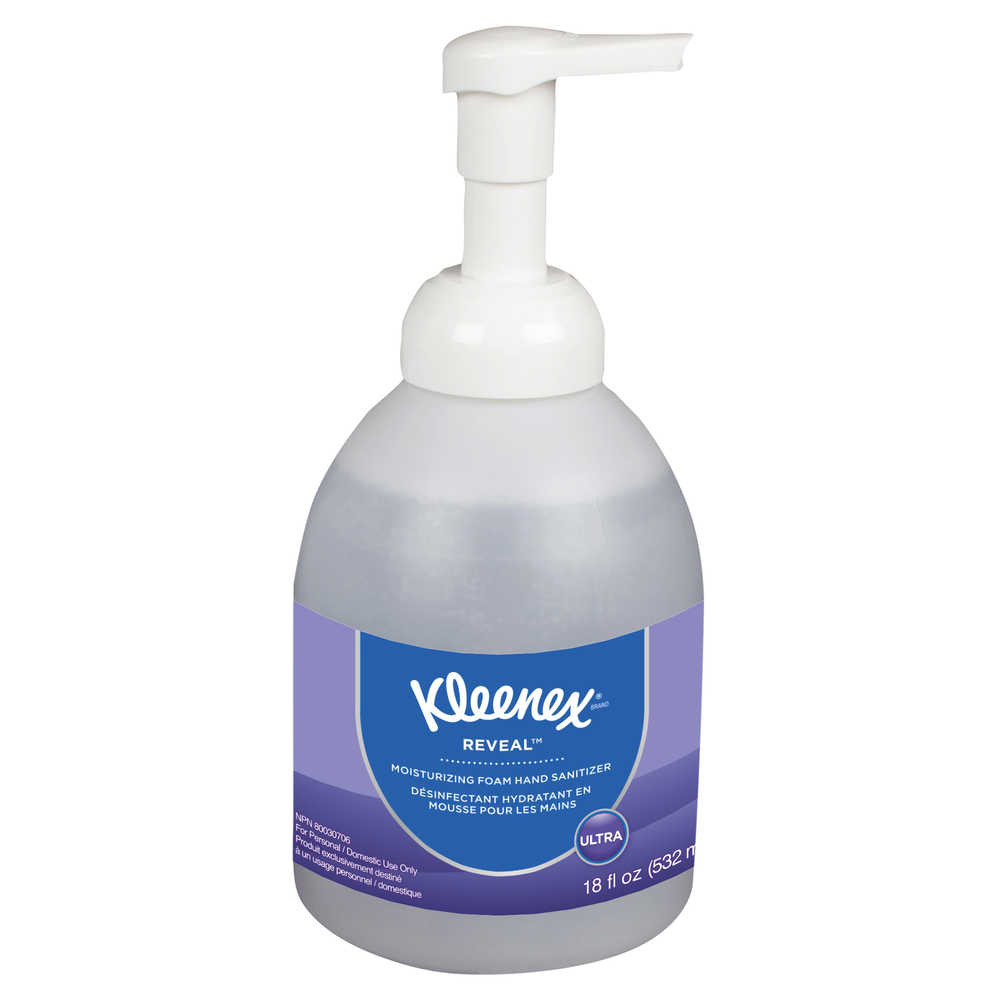 and provide the best in protection when used in conjuction with soap and water.
As many are learning, repeated daily use of typical hand sanitizer causes the skin to dry out putting workers at risk to infections. Dry, chapped hands can also lead to further skin irritations such as Dermatitis. Regular use of traditional alchol-based hand sanitizers may also leave the hands tacky and this causes healthcare providers to waste much time and energy putting on powder-free gloves.
Staying clean and healthy should feel good and using Kleenex® Reveal™ Ultra Moisturizing Foam Hand Sanitizer is an easy Choice!
Dermatologist Tested! Improves Skin Hydration by 30%
Kleenex® Reveal™ Ultra Moisturizer Foam Sanitizer is ideal for healthcare profssionals who use hand sanitizer regularly. It contains cucumber, green tea, sugar beet extract and is designed to moisturize skin for up to 2 hours - and is clinically proven to improve skin condition in 5 days. This fast-drying innovative formula leaves the hands feeling nourished, soft and much healthier without the sticky residue. In fact, healthcare providers report faster and easier glove donning. This fragrance and dye-free formula is NSF International-listed as a category code E3 hand-sanitizing product for use in USDA-regulated food processing environments.
Made for Professionals Who Sanitize Frequently
This antimicrobial formulation has been specifically developed with the needs of healthcare workers in mind - a highly effective and nourishing sanitation product that offers 70% ethyl alcohol protection against bacteria and fungi typically found in healthcare environments. Kleenex® Reveal™ Ultra Moisturizing Foam Hand Sanitizer is proven to kill 99.9% of the germs that can cause serious infection, contamination or illness and will stay on the hands during use better than gel types.
Cost-Effective
Kleenex® Reveal™ Ultra Moisturizing Foam Hand Sanitizer is cost effective because it delivers nearly twice the number of shots as gel products of the same size and 1 shot provides an adequate dose. The pump bottle is designed to dispense small amounts of foam at a time, so your guests and employees get what they only need. Packaged in a 18-oz dispenser pump bottle. 4-Bottles per carton.
Get Clean and Stay Healthy...
Monday - Friday 8:30 - 4:30 EST
+800-274-4637 | +716-668-4001 | [email protected] | Fax +716-668-4496
"We Want You to Go Home Safely Everyday™"