Sustainable Takeout Food Containers
That Will Save You Money!
---
Highly Functional Low Cost Food Containers for Curbside Pickup or Delivery
With take-out food sales reaching all-time highs during the pandemic, concerns over the environmental toll of all the extra waste being sent to landfill makes sustainable packaging is more important than ever.
---
Foodware regulations are popping up in communities and cities everywhere with many banning the use of single-use plastic and Styrofoam (polystyrene) food packaging such as the hinged "clamshell" takeout container. Often used by restaurants and foodservice operations, these food containers have demonstrated significant negative impacts on our planet. In addition, its composition includes a known carcinogen chemical called styrene, which has the potential to migrate into foods and the environment. Expanded polystyrene is also difficult to recycle due to its high volume and low weight which unfortunately escapes waste management and ends up as litter.
When it comes to selecting take-out food containers, many food service establishments struggle to find that right balance between cost, performance and environmental impact, especially during times of high inflation, high fuel costs and upticks in take-out service.
If Your'e Considering New Packaging Options That Offer Great Value, Our eco-Friendly Takeout Food Containers Offer Performance You Can Depend On and That Your Customers Will Appreciate!
Expanded polystyrene containers are eventually buried in landfill where it can take 1000+ years to decompose. With over 28 million tons of petroleum-based plastic being disposed in U.S. landfill each year, the DEC encourages the use of reusable, recyclable, compostable, source reduction and items made using recycled content where possible as a way to reduce carbon footprint, landfill and micro-plastics that leach harmful BPA's.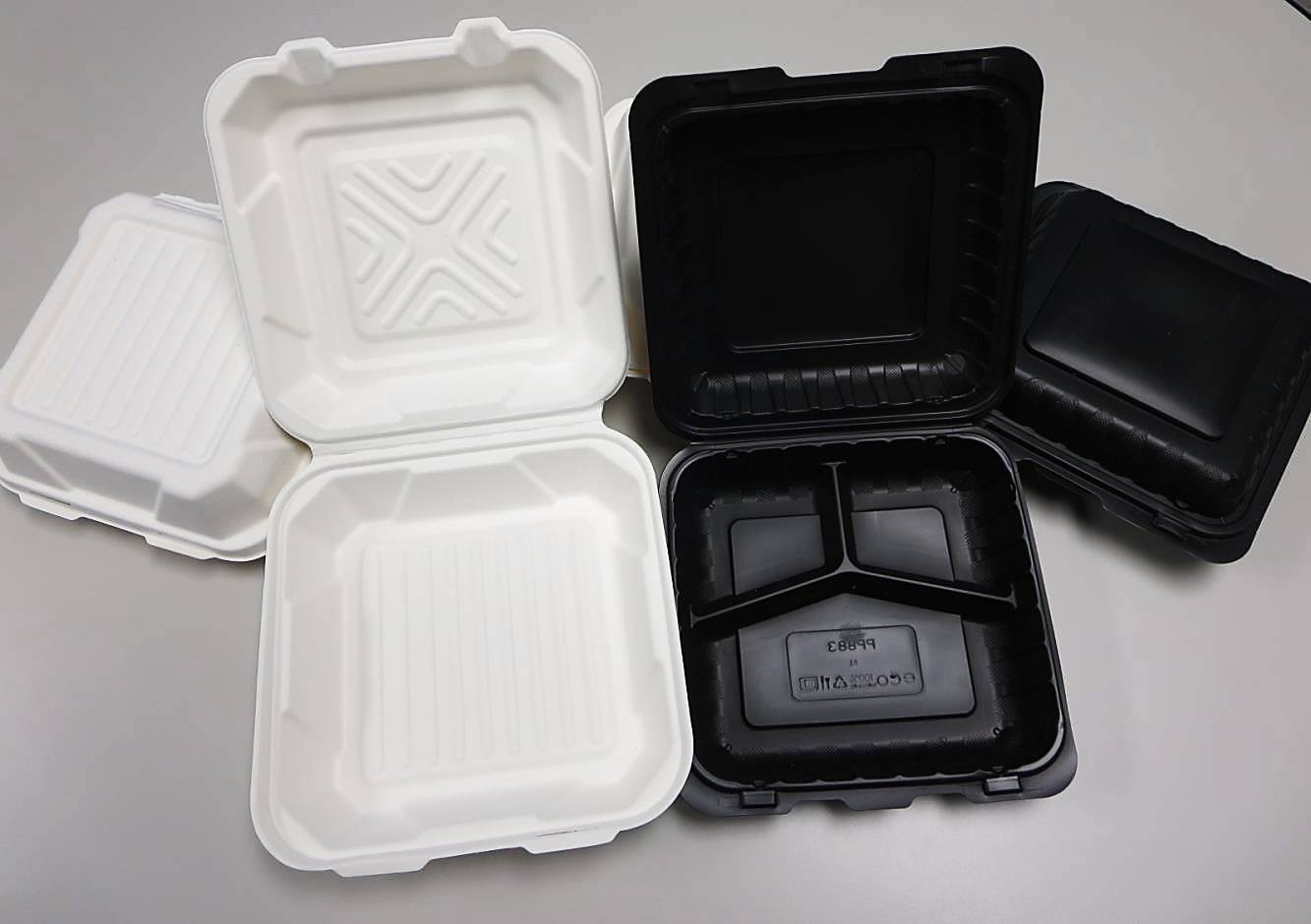 Eco-Friendly Alternatives Designed to Save You Money
With a competitive per-unit cost, our Emerald Eco-Friendly Takeout Food Containers are one way to lessen environmental impact without breaking the bank. Available in Bagasse (Sugar Cane) and Mineral Filled Polypropylene, Emerald commercial food containers are the perfect solution to sustainable packaging for salads, sandwiches, fruit, hamburgers, sandwiches, fries, snacks and more.
Available with one or three compartments, these price friendly carry out food containers provide efficient food service and allow you to prep orders with ease thanks to the hinged design. A locking tab closure keeps food contents contained and protected while the stable stackable feature makes for easier delivery. The durable soak-through resistance will stand up to heavy or greasy foods, moisture and liquids.
TAKEOUT CONTAINER FEATURES:
Hinged with Lockable Closure

Stackable

Nestable packaging

Textured Sidewalls

Use with Hot/Cold Food

Cut and Soak-resistant
Material science in the eco-friendly and compostable product categories has advanced considerably since its inception to the mass market in the last two decades. Innovation in food packaging has driven a new era of durable, soak- and leak-proof options that keep food intact. With a competitive per-unit cost, our Emerald Eco-Friendly Takeout Food Containers are one way to lessen environmental impact without breaking the bank. Below are two options for your consideration.
Shop Now
Price-Friendly, Eco-Friendly Take Out Food Containers
option 1 | BAGASSE (SUGAR CANE) MOLDED FIBER FOOD TAKEOUT CONTAINERS
Provide a takeout experience on par with premium dine-in options. Constructed for hot and cold fo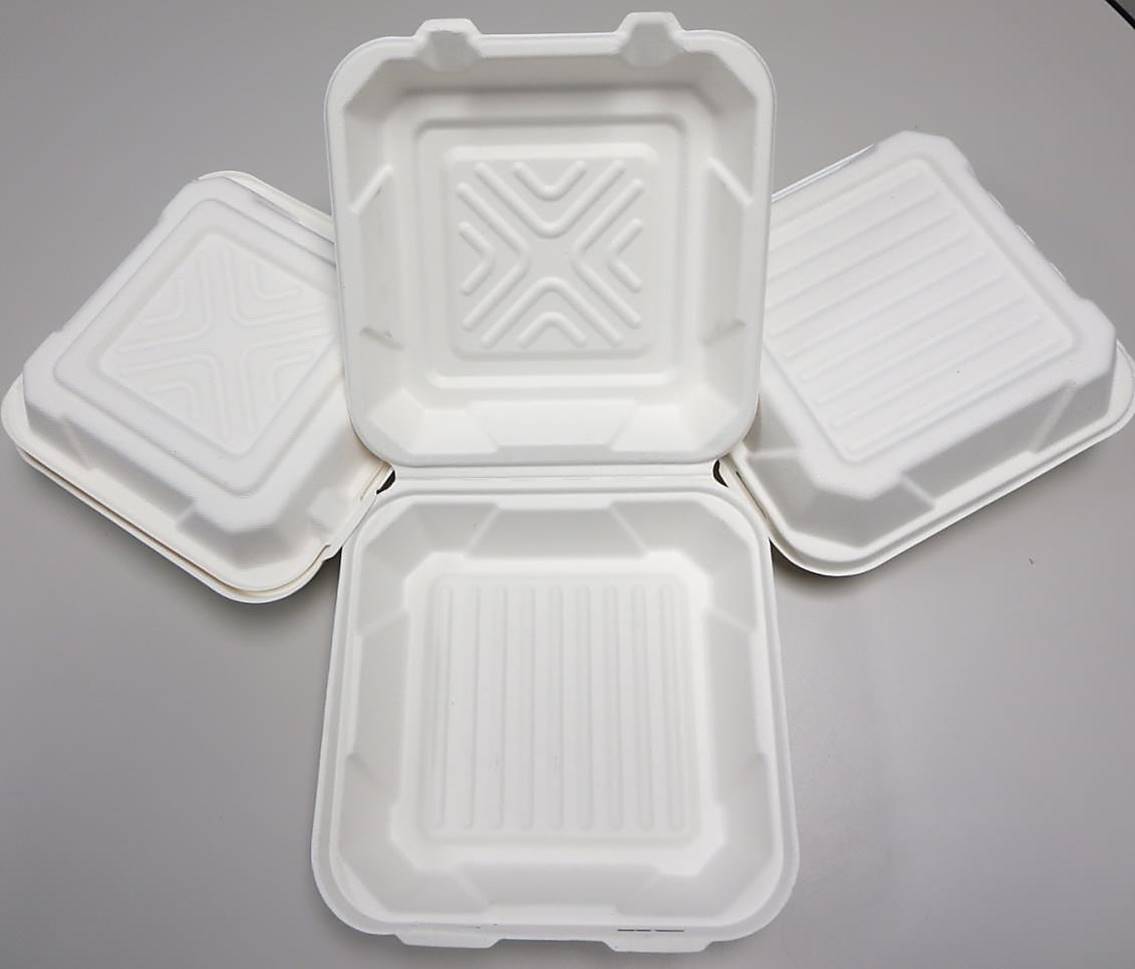 ods, these PFAS free, commercially compostable molded pulp fiber or bagasse food takeout containers are made of a renewable plant-based material derived from sugarcane. The biodegradation process turns the food container materials into healthy, nutrient-rich fertilizer of nitrogen, potassium, phosphorus and calcium that is returned to the soil providing as much value as lawn or yard clippings or other carbon materials in making nutrient rich compost!
Made With Renewable Resources

Commercially Compostable

Recyclable

Microwavabe

No Added PFAS
These Emerald Bagasse Containers are available in two styles:
THREE COMPARTMENT HINGED CONTAINERS
SS38 8-in x 8-in x 3-in 200 per case
SS39 9-in x 9-in x 3-in 200 per case
ONE COMPARTMENT HINGED CONTAINERS
SS600 6-in x 6-in x 3-in 400 per case
SS800 8-in x 8-in x 3-in 200 per case
SS900 9-in x 9-in x 3-in 200 per case
SS960 9-in x 6-in x 3-in 200 per case
Bagasse containers require less energy to manufacture and produce less pollution than petroleum and wood based products. They help save biodiversity and habitats. Composting also bypasses the need for international shipping of waste products that contribute to the carbon footprint of recycling. Furthermore, food is not a contaminant for compostable products.
---
option 2 |

MINERAL-FILLED POLYPROPYLENE (MFPP) FOOD TAKEOUT CONTAINERS
Reduce, Reuse, Recycle! Emerald eco-friendly mineral-filled polypropylene containers are constructed for hot and cold foods and made with up to 40% natural mineral content mixed with polypropylene which reduces plastic polymer usage used to manufacture containers up to 50% across the supply chain. This reduced amount of total plastic being used to manufacture each takeout container and reduces waste footprint to help establishments meet sustainability goals – especially useful in areas where recycling isn't available. Many MFPP containers can be washed on the top rack of dishwashers for reuse making these a practical and versatile choice for serving food on the go.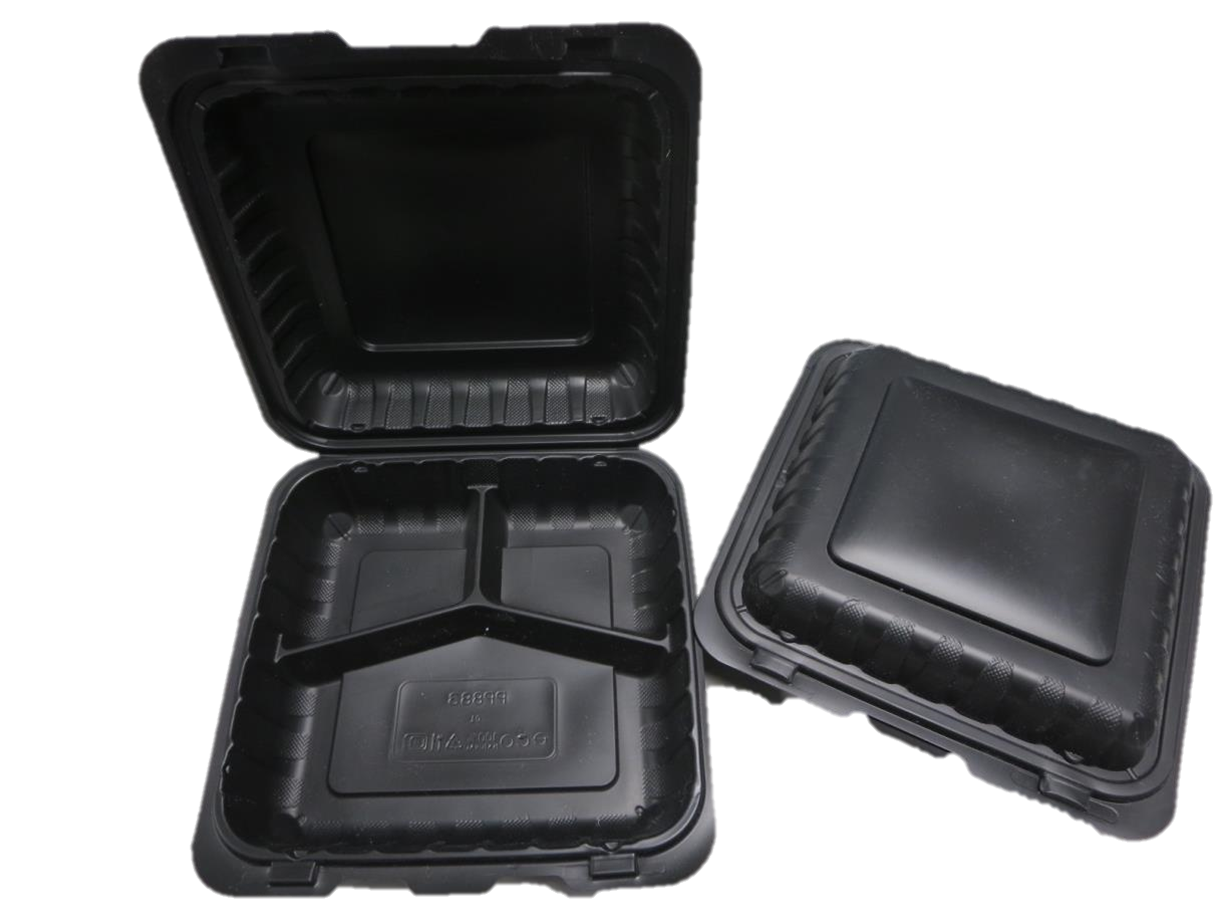 Recyclable

Source-Reduced
These Emerald Mineral-Filled Polypropylene Containers are available in:
THREE COMPARTMENT HINGED CONTAINERS
9933W 9-in x 9-in White 150 per case
9933B 9-in x 9-in Black 150 per case
8833W 8-in x 8-in White 150 per case
8833B 8-in x 8-in Black 150 per case
ONE COMPARTMENT HINGED CONTAINERS
9931W 9-in x 9-in White 150 per case
9931B 9-in x 9-in Black 150 per case
8831W 8-in x 8-in White 150 per case
8831B 8-in x 8-in Black 150 per case
6631W 6-in x 6-in White 250 per case
6631B 6-in x 6-in Black 250 per case
As customers become more educated on the buildup of waste due to their disposable demands, restaurants are in a key position to green their businesses and create positive change. With studies showing that consumers are willing to pay more for single-use items that utilize environmental materials or processes, incorporating green practices into the "to-go" experience shows customers that you care about the environment.
Our highly functional low cost containers are great for curbside pickup or delivery. All you need to do is tap the link and …
Monday - Friday 8:30am - 4:30pm EST
Call or Click
Questions. Samples. Special Requests.
Toll-Free +800-274-4637 | +716-668-4001 | [email protected]
"We Want You To Return Home Safely...Every Day!™