ATG® Series | MaxiCut® Ultra™ MicroFoam Nitrile Grip Gloves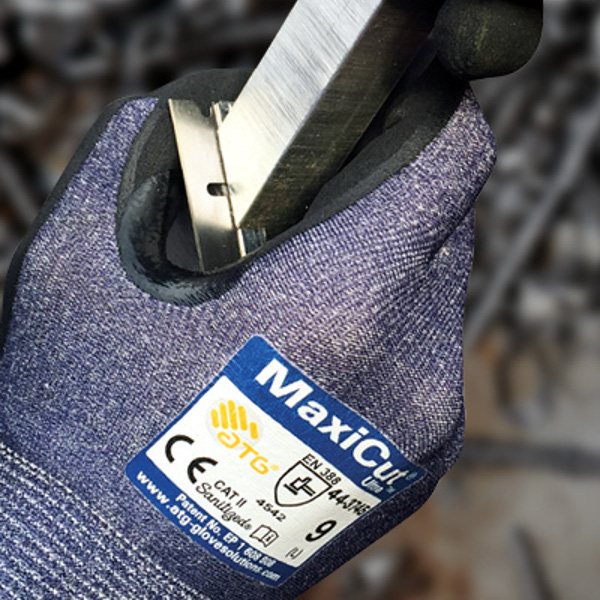 High Cut-Resistance, Breathability and Tactility
Certain tasks require higher cut protection levels to help prevent lacerations and other hand injuries. The MaxiCut® Ultra™ line of hand protection from PIP® (Protective Industrial Products) provides ANSI Level A3 cut protection.
The superior grip in dry and oily conditions in addition to maximum dexterity and comfort help further reduce injury risks and increase worker compliance. For highly repetitive applications requiring precision handling, MaxiCut® Ultra™ DT™ Gloves feature raised micro dots that increase durability and offer more cushioning.
Flexible, dexterous and comfortable, these 15-gauge blue seamless knitted MaxiCut® Ultra™ Gloves are engineered with innovative ATG® CutTech® technology for the latest in knitting technology and cut protection. They feature a reinforced thumb patch for additional cut protection and longevity in an inherently weak area of the glove.
Unmatched MaxiCut® Features
Class Leading Breathability
ATG® AIRtech® patented technology, which enables 360◦ breathability of the hand, is delivered through PIP®'s patented foam technology that allows air to circulate making MaxiCut® Ultra™ Gloves cooler to wear.
Gripping Power
This glove series feature a proprietary black micro-foam that's constructed of millions of tiny particles that sit in the liner but away from the hand. This foam coating technology optimizes a grip delivered through a unique silicone-free micro-cup finish that's designed to channel away liquids when handling objects in wet and dirty conditions. The micro foam nitrile coating provides extra abrasion and tear resistance and compatible with oils, petrochemicals, fuels and most acids. Optional raised micro dots increase durability and offer more cushioning in highly repetitive applications requiring precision handling.
Class Leading Fit, Form & Feel
ATG® proprietary technology platforms resulted in the Maxiflex® Cut™ Gloves being ultra-thin and snug fitting. Thinner than most foam nitrile gloves but offering twice the mechanical performance in form, fit and feel, MaxiFlex® Cut™ delivers exceptional levels of dexterity, flexibility and twice the durability.
ATG® ErgoTech® technology features advanced manufacturing processes that are utilized to mimic the natural contours of the hand while smooth, rounded fingertips reduce hand fatigue. Combine ergonomics with a thin palm coating and the result is increased comfort and tactility like no other!
The Oeko-Tex® Association has evaluated and certified MaxiCut® Ultra™ Gloves to be skin safe and free of DMF and THF - two potentially harmful compounds that can be absorbed through the skin. This style glove also complies with FDA food handling requirements (21 CFR 177.2600).
MaxiCut® Ultra™ Gloves are Available in Styles Below:
Ideal for Handling Glass Panels, Ceramics, Metal Sheets, Corrugated Sheets, Plastic Injection Molds, Metal Fabrication, Construction, Automotive, Aviation, Non-Deburred Sharp Small Parts Handling, Primary, Secondary, & Final Assembly, Maintenance & Repair, Paper Mills.
---
Contact us for volume discounts, samples, to place an order or for PIP® optional customized services (imprinting, vend-pack etc.) or glove styles not posted on web today!
Monday - Friday 8:30am - 4:30pm Eastern Standard Time
+800.274.4637 | +716.668.4001 | [email protected]