MEGAComfort® | PAM® Puncture-Resistant Industrial Orthotic Insoles
Protection for the Feet From Sharp Objects Such as Shards of Glass, Rebar, Metal, Wire, Cabel and Nails
Construction sites are a health and industrial safety nightmare – almost every conceivable hazard exists within this ever changing working environment. Fortunately, the hazards associated with construction are well known and most employers are fully aware of their duty to protect employees and visitors. Prevention measures and risk assessments are carried out by management and to further protect personal safety, specific PPE (personal protective equipment) is mandated to use and wear while on the job.
One of the most common injuries in the construction industry involves stepping on nails and other sharp objects. Even if debris is cleaned up regularly, puncture accidents will still occur. Stepping on nails or other sharp contaminated objects is one way people can be exposed to tetanus spores with a trip to the emergency room inevitable. When a job requires a worker to stand on his feet for long periods of time and work in potentially hazardous areas or with hazardous materials, there will always be some risk of foot injury. With the proper foot protection, a significant number of injuries, ailments and lost workday accidents could be prevented.
"Take Steps to Protect™" | PAM®

Puncture-Resistant Insoles
Ideal for contractors, construction, recycling, waste management and renovation, MEGAComfort® PAM® puncture-resistant industrial insoles are ergonomically designed by a Podiatrist and feature a flexible steel plate made from U.S. steel meeting and exceeding ASTM F2413-11 standards is securely placed between a patented dual layer memory foam to prevent plate separation. When worn in industrial footwear, puncture-resistant PAM® insoles provide greater heel and arch support, superior shock absorption and all-day comfort. PAM insoles are a lighter and less expensive alternative than steel shank industrial work boots.
PAM® Puncture-Resistant Insole Features: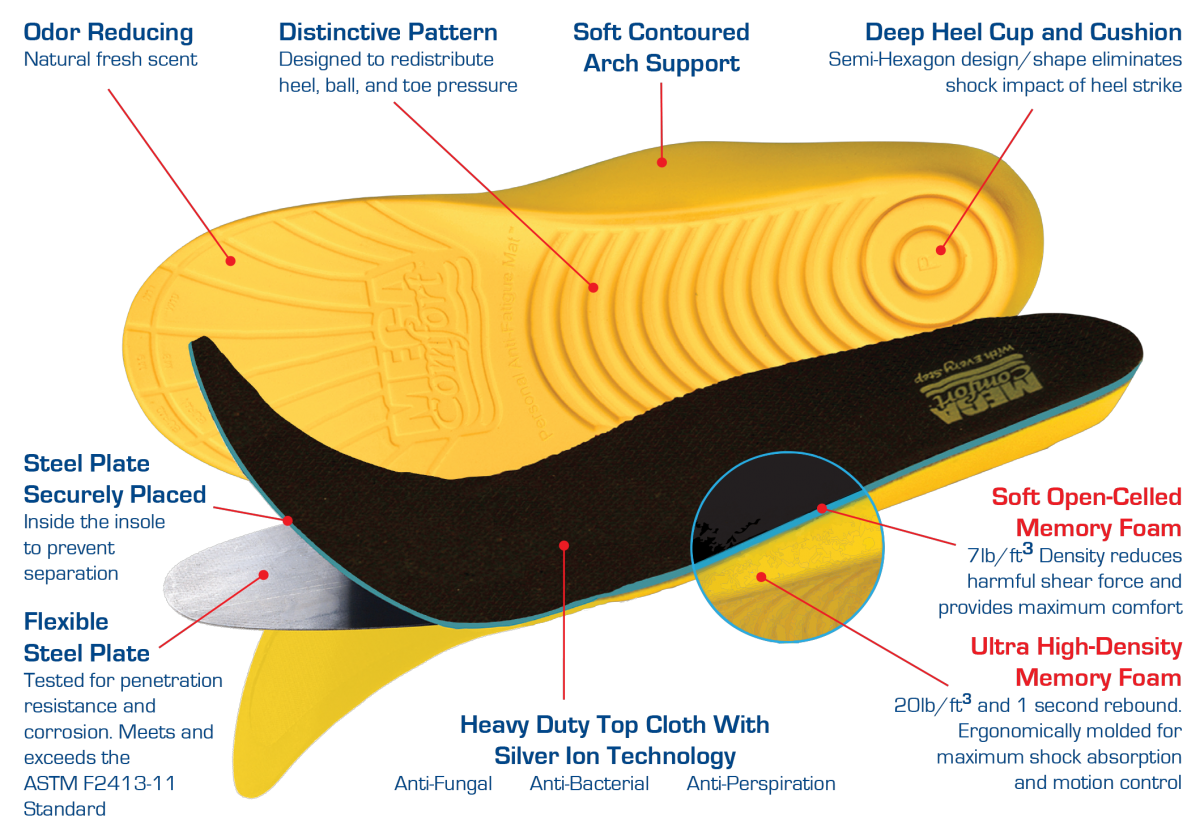 Flexible Steel Plate Tested for Penetration Resistance and Corrosion

Meets and exceeds ASTM F2413-11 Standard

Steel Plate Securely Placed Inside of the Insole to Prevent Separation

Foam Technology Compresses for Safe Clearance in Steel Toe Footwear

Soft Contoured Arch Support

Extra Deep Semi-Hexagonal Heel Cup

Machine Washable

Heavy Duty Top Cloth with Silver Ion Technology

Anti-Fungal, Anti-Bacterial, Anti-Perspiration, Odor Reducing Scent
Reduce Lost Work Days, Lower Workplace Liabilities and Increase Productivity!
---
Contact us for volume or corporate discounts, to place an order or to answer questions.
+800-264-4637 | +716-668-4001 | [email protected] | MDS Associates Authorized Wholesale Distributor