Microporous - a Tyvek® Alternate Fabric
Dupont™ created Tyvek® under the research efforts of William Hale Charch in 1944 but it did not reach the market until 1961. Tyvek® is a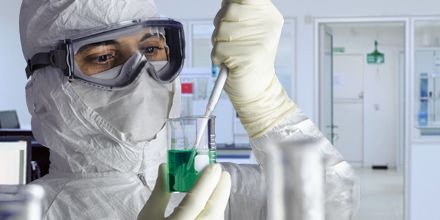 brand of flashspun high-density polyethylene fibers, a synthetic material; the name is also a registered trademark of DuPont. Sold and coverted by the roll, Tyvek® material is often used:
As a vapor barrier in homes (known as house wrap)
As shipping or mailing envelopes
In pharmaceutical packaging
To protect buildings during construction
As PPE (personal protective equipment) such as single-use coveralls, sleeve protectors and frocks that are worn in industrial, medical and clean-room safety applications.
For operators mandated to wear
limited-use protective garments
to guard against
exposure to particulates, liquids and airborne pathogens
,
Tyvek® protective apparel
was the staple in
personal safety
but it has one major down side - Tyvek® is very expensive.
When economies slow and the cost of doing business escalate, many companies are forced to reduce their expenditures and often procurement and safety personal search for alternate safety garments to offset costs. Unfortunately, Tyvek® is proprietary and it can't be completely replicated. For decades Dupont™ could basically name their price and there wasn't a thing PPE users could do. But, good news, recent advances in technology has finally created a fabric called Microporous and it similar to Tyvek® in look, touch and performance and protective garments are sold at a fraction of the cost.
Microporous film is a polypropylene membrane that is thermally laminated to a polypropylene nonwoven. The microporous size is smaller than a water drop and larger then moisture vapor to hold out liquid and blood pentration. Microporous fabric offers a good barrier to biological agents to be wildly used in disease prevention. The nonwoven side offers a soft feeling and provides a great wearing experience to the wearers. This material was developed in 1987 through improved processing of polypropylene and came into the commercial market in 1993. For many, it can be a great alternate to Tyvek®.
The basis of use for each of these materials within facilities is the amount of protection they give as well as comfort level. Tyvek® and microporous film materials will yield the highest particulate filtration efficiency. These materials will filter out dry particles up to 0.5 microns. The microporous film material has a barrier coating to allow for the low filtration rate, but it is not very breathable. This works well in areas that are constantly wet and optimum protection is needed. Tyvek® however does breath to an extent, more so than microporous, but both of these materials will be hot to wear in most situations. When optimum protection is needed though, these materials work extremely well.
If you searching for a cost saving solution to limited-use Tyvek® protective apparel, then you should check out the KeyGuard® line of disposable coveralls, sleeve protectors, bouffant caps and lab coats. Safety Zone® also has a line of Tyvek® alternative micoporous coveralls, labcoats, sleeve protectors and to insure cleanliness, they are often bagged individually.
---
Keystone® Safety recently introduced their line of
KeyGuard® cleanroom compatible protective garments
. Available are microporous, sleeves, hoods, frocks and bunny suit coveralls for use in ISO Class 6 cleanroom applications. These protective garments are low shedding, low-lint, low particulate and antistatic treated to protect against sensitive products. Designed for controlled environments where fibers and particulate contamination is a concern, they are ideal for use with asbestos abatement, food processing, paint spraying, pesticide spraying, fiberglass handling, lab/biohazards, cleanroom, medical, general cleaning, metal surface treating, pharmaceutical industry.
---
Shop
MDS Associates
and view the many alternatives to Tyvek® protective garments and if you see something you like to evaluate, please send us a sample request. Contact us for volume discounts, styles not listed or questions Monday-Friday 8:30am - 5:00pm EST.