INNOVATIVE WATER-REPELLING WORK GLOVES
High-Tech Nano Coating Repels Liquids & Oil While Maintaining Breathability for More Comfortable Hands
Industrial safety work gloves and liquids typically don't mix well. When gloves become saturated, they can become slippery and heavy to wear which leads to fatigue. Leave them on long enough and they become cold against the hands. Cold, wet or tired hands hinder productivity and is an accident waiting to happen! If you work outdoors in the elements and required to wear hand protection, then you need to consider these water repelling, oil-resistant seamless knit work gloves.
For Operators That Demand High-Dexterity, Grip & Basic Cut-Safety Hand Protection in Wet Conditions!
Keep the hands warm, dry and comfortable. Available for professionals are two water and oil repelling Portwest® brand of industrial work glove styles featuring advanced nano-tech repelling technology. The nano collection has been dev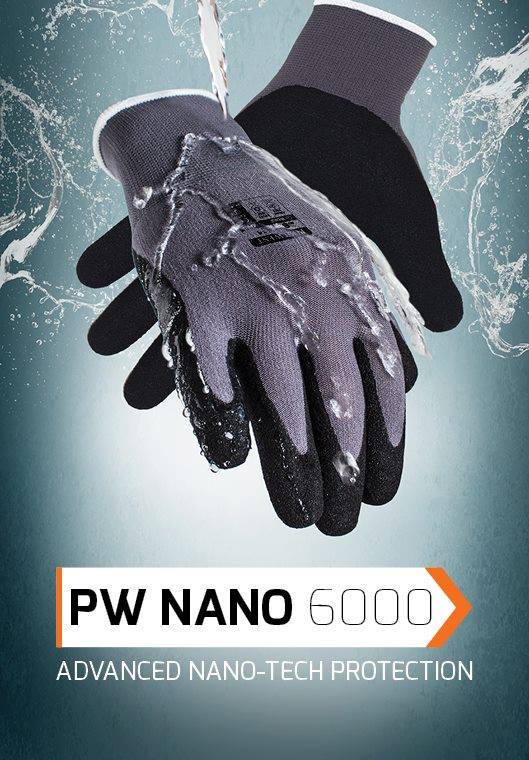 eloped with a revolutionary coating which makes the glove super hydrophobic and oleophobic. This creates a barrier between the glove and the underlying surface that is unlike anything ever seen before and is revolutionary on the glove industry.
PREVENTING FLUID PENETRATION
Nano coating is a patent-pending proprietary treatment applied to the knitted glove shell that acts as a protective barrier that limits staining and causes water, dirt, contaminates and even oil to bead or bounce off the work glove's surface.
Shop Now
+AP62 Dermiflex Aqua Work Gloves are constructed with a snug-fitting and lightweight 15-gauge cut level A1 seamless knit glove shell featuring a sandy nitrile palm coating for exceptional grip in water, oil and grease.
+AP02 Therm Pro Ultra Hi-Viz Work Gloves are specially designed for use in cold conditions and feature a twin liner that traps heat for increased insulation when working in cold conditions. The 10-gauge cut level A2 seamless knit glove shell has a sandy palm coating for exceptional grip in water, grease and oil. The hi-viz orange color provides enhanced safety features and is easily distinguishable making these ideal for hand signaling.
Work Gloves that feature nano technology are ideal for inclement outdoor tasks making them ideal for construction workers, ports and shipping, landscapers, fence installers, plumbers, engineering, commercial fishermen, masonry, delivery and roofers. Wearers will appreciate the powerful grip, dry texture and cleaner hands!
Wholesale priced, these low cost quality crafted work gloves are bulk packaged to save your facility money and reduce ordering frequency. Prevention is just a click away - all you need to do is tap the link and
Bonus! Free Shipping on Orders Over $498
Monday - Friday 8:30am - 4:30pm EST
● Orders. ● Questions. ● Volume Discounts. ● Special Requests. ● Samples.
+800-274-4637 | +716-668-4001 | Fax +716-668-4496 | [email protected]
"We Want You to Return Home Safely Every Day"
+watch YouTube video and learn more about Portwest®