Say No to Nomex® & Yes to Rhovyl®: Sure Knit™ Gloves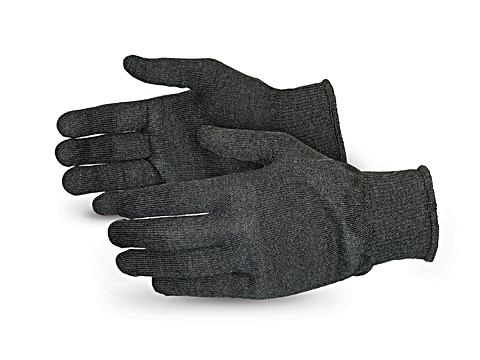 Invented by a scientist back in the early 1960's, Nomex® is the brand name for a heat-resistant and flame-resistant* meta-aramid, the cousin of para-aramids like Kevlar® made by the DuPont™ chemical company.
Apart from race-car drivers, it's worn by astronauts, fire-fighters, law enforcement and military personnel in the forms of balaclavas, protective suits, helmet linings and protective gloves. Nomex® is an amazing material but it's also very expensive!
In a quest to provide quality hand protection that won't starve budgets, Superior Glove® has introduce their Sure Knit™ Anti-Static String Knit Gloves constructed with Rhovyl® - the brand name for polyvinyl chloride. This naturally non-flammable hypo-allergenic fiber protects users from heat and flame and is one of the most cost-friendly options - nearly half the cost of Nomex®!
Due to a low thermal conductivity and a low heat capacity, Rhovyl® absorbs and transfers the least amount of heat and has the highest LOI of any textile fiber including Nomex®. This means that Rhovyl® limits flame spread not only when the fire starts but also in the early stages of fire (other flame-resistant materials typically become less effective during early stages of fire).
Another benefit of Rhovyl® is that burning fibers don't produce any incandescent droplets that could burn the skin or spread the flame to other materials. Rhovyl® is also hypo-allergenic and resists chemicals, mildew, fungi and other destructive biological agents (sun salt and mold). Machine washable and quick drying, the gloves will wick moisture away from the hands.
Sure Knit™ Rhovyl® Anti-Static String Knit gloves are as light as nylon and exceptionally non-absorbent, thin, seamless and soft, they provide great insulation and warmth of wool without the bulk or itchiness. Knitted using THT™ (True Hand Technology), these gloves provide a great fit and reduced hand fatigue. The engineers over at Superior Glove® have also added ESD-carbon filament for anti-static properties (surface-resistance rating between 10 to the 10th Ohms, to 10 to the 7th Ohms). As an added bonus, you can launder them without having to worry about damage to any of their protective properties!
Use these gloves for applications involving petrochemical, oil workers, electronics, automotive, paint lines, cleanroom, welding, gas companies, military and mining. Try a pair for yourself today - just hit the button below and ...
Monday - Friday 8:30am - 4:30pm EST
+(800) 274-4637 | +(716) 668-4001 | [email protected] | Fax +(716) 668-4496
*Fire-retardant materials should not be confused with fire-resistant materials. A fire resistant material is one that is designed to resist burning and withstand heat, however, fire-retardant materials are designed to burn slowly.